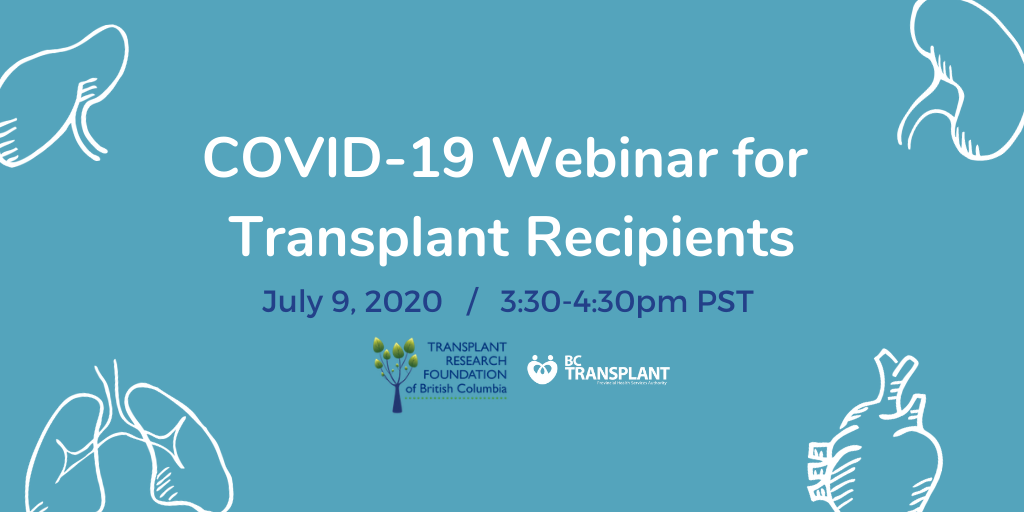 In partnership with BC Transplant, the Transplant Research Foundation of BC (TRFBC) are hosting a webinar on COVID-19 for transplant recipients and caregivers, which will include a focus on current research.
When: Thursday, July 9, 2020 at 3:30pm PT
Where: Zoom
As the pandemic continues and public health restrictions ease, this webinar will include:
Updates on the current state of organ donation and transplant in BC in the context of COVID-19.
Information on what is known about COVID-19 and transplant, including research taking place in BC.
Answers to common questions on COVID-19 and transplant recipients, and what they should consider for medical appointments, social interactions, travel, use of masks, etc.
While there will be time during the webinar to ask some questions, they are asking you to please submit questions in advance to info@bct.phsa.ca so their panel of experts can be prepared.
Panelists
Dr. James Lan, transplant nephrologist (VGH)
Dr. Robert Levy, Medical Director, BC Lung Transplant Program
Dr. Alissa Wright, transplant infectious disease specialist (VCH)
About TRFBC
The Transplant Research Foundation of BC (TRFBC) is the only charitable foundation in Canada dedicated solely to funding peer-reviewed organ donation and transplantation research. Originally founded as the BC Transplant Research Foundation, the TRF was established in 1992 with funding and administrative support provided by the BC Transplant Society (BCT).
"The Transplant Research Foundation of BC (TRF) wants to change the story. We are dedicated to supporting innovative transplantation research to benefit the lives of organ recipients. Each year the TRF provides funding to BC scientists through the Venture Grant program and our National Research Partnerships. We are looking for researchers who are exploring new areas of science and medicine that will ultimately improve the lives of pre and post transplant patients.
Our Mission: To support BC based transplantation research that will provide solutions to benefit British Columbians whose lives are threatened by organ failure.
Our Vision: Leading edge research, newly developed treatment strategies, technologies and therapies will ultimately eliminate the need for organ transplantation."
Please visit their website for more information.