TRFBC and BC Transplant Webinar: COVID-19, Transplant and Children
BC Transplant and the Transplant Research Foundation of BC will host their second COVID-19 webinar for transplant recipients on September 8, 2020 at 4:30pm PT.
With back-to-school just around the corner, the focus of this webinar is children, transplant and COVID-19. This webinar will cover questions about:
What we know today about COVID-19 and children
Considerations for children who have a transplant and for transplant recipients with children/siblings
Answers to common questions on COVID-19 and transplant
With transplant specialists: Dr. Jag Gill, Dr. Hana Mijovic and Dr. Tom Blydt-Hansen.
Please submit your questions to info@bct.phsa.ca in advance when you register.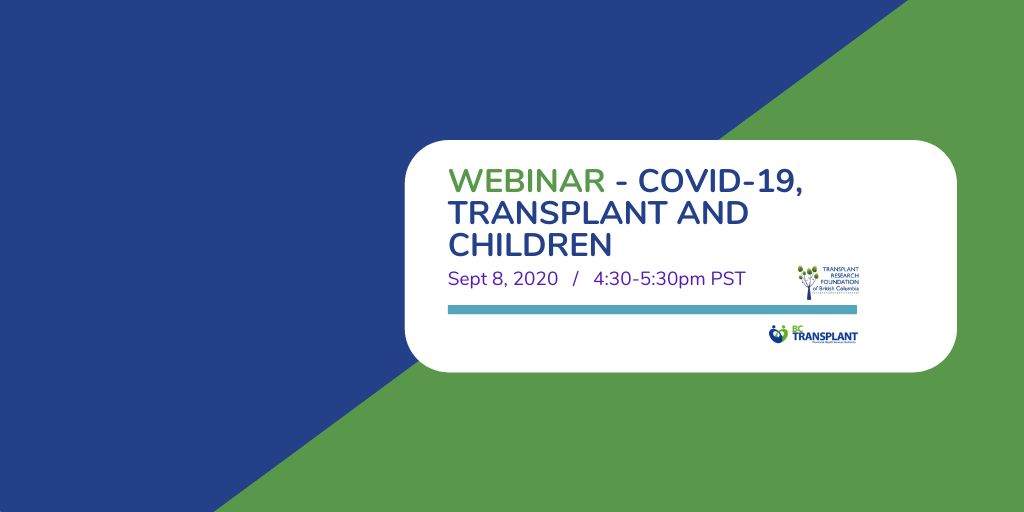 About Transplant Research Foundation of BC (TRFBC)
"Originally founded as the BC Transplant Research Foundation, the TRF was established in 1992 with funding and administrative support provided by the BC Transplant Society (BCT). We are the only charitable foundation in Canada dedicated solely to funding peer-reviewed transplantation research."
Their Vision
To support BC based transplantation research that will provide solutions to benefit British Columbians whose lives are threatened by organ failure.
Their Mission
Leading edge research, newly developed treatment strategies, technologies and therapies will ultimately eliminate the need for organ transplantation.
---
About BC Transplant
"BC Transplant oversees all aspects of organ donation and transplant across BC and manages the BC Organ Donor Registry."
"BC Transplant manages the BC Organ Donor Registry, offers a variety of programs to help you start your own awareness campaign and provides a locations map and contact list of BC transplant centres and clinics."