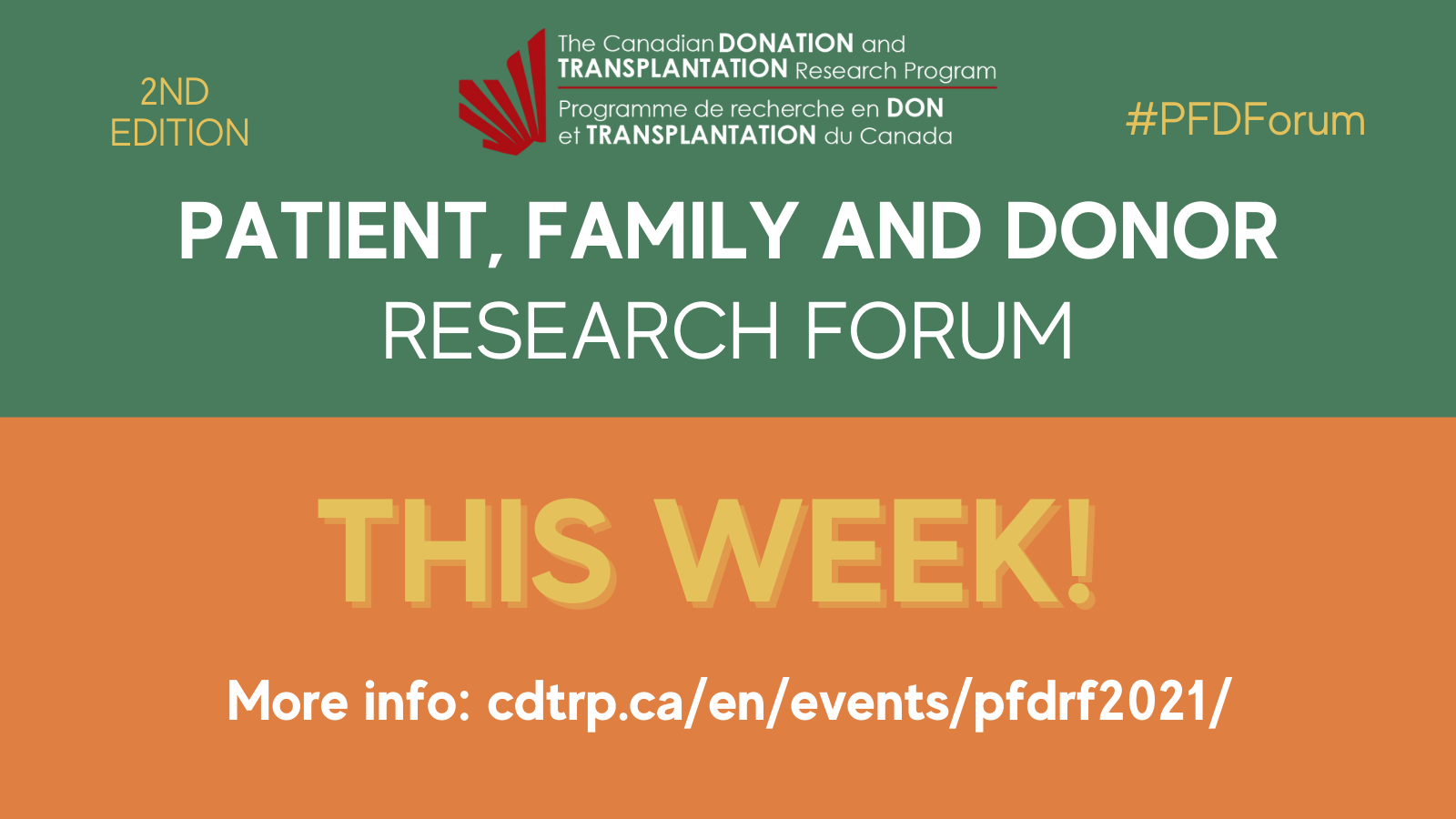 THIS WEEK! CDTRP Patient, Family and Donor Research Forum
The Canadian Donation and Transplantation Research Program in cooperation with the Organ Donation and Transplantation Collaborative and Canadian Society of Transplantation is pleased to welcome you this week for the second edition Patient, Family and Donor Research Forum devoted to donation and transplantation research partners across Canada this Thursday and Friday, November 4-5, 2021.
This year's meeting chairs are Linda Powell (caregiver to a waitlisted patient) and Larry Worfolk (lung transplant recipient)! Our Planning Committee also includes Sarah Middleton (non-directed living donor), Joanna Mitchell (caregiver to a pediatric heart transplant recipient), Sarah Douglas (ODTC – Health Canada) and Dr. Rahul Mainra (Canadian Society of Transplantation).
EACH DAY WILL HAVE TWO BLOCKS OF DESIGNATED CONTENT:
Thursday, November 4 (AM): Family and Caregivers

Thursday, November 4 (PM): Transplant Recipients

Friday, November 5 (AM): Living Donation & Education

Friday, November 5 (PM): Engaging Patients/Family/Donors in Research
All blocks will contain cutting edge research, panels and discussions from both investigators and patient, family and donor perspectives.
Thanks to our supporters
We wish to thank the following institutions, foundations and associations for their support in promoting the 2021 CDTRP Patient, Family and Donor Research Forum (in alphabetical order):