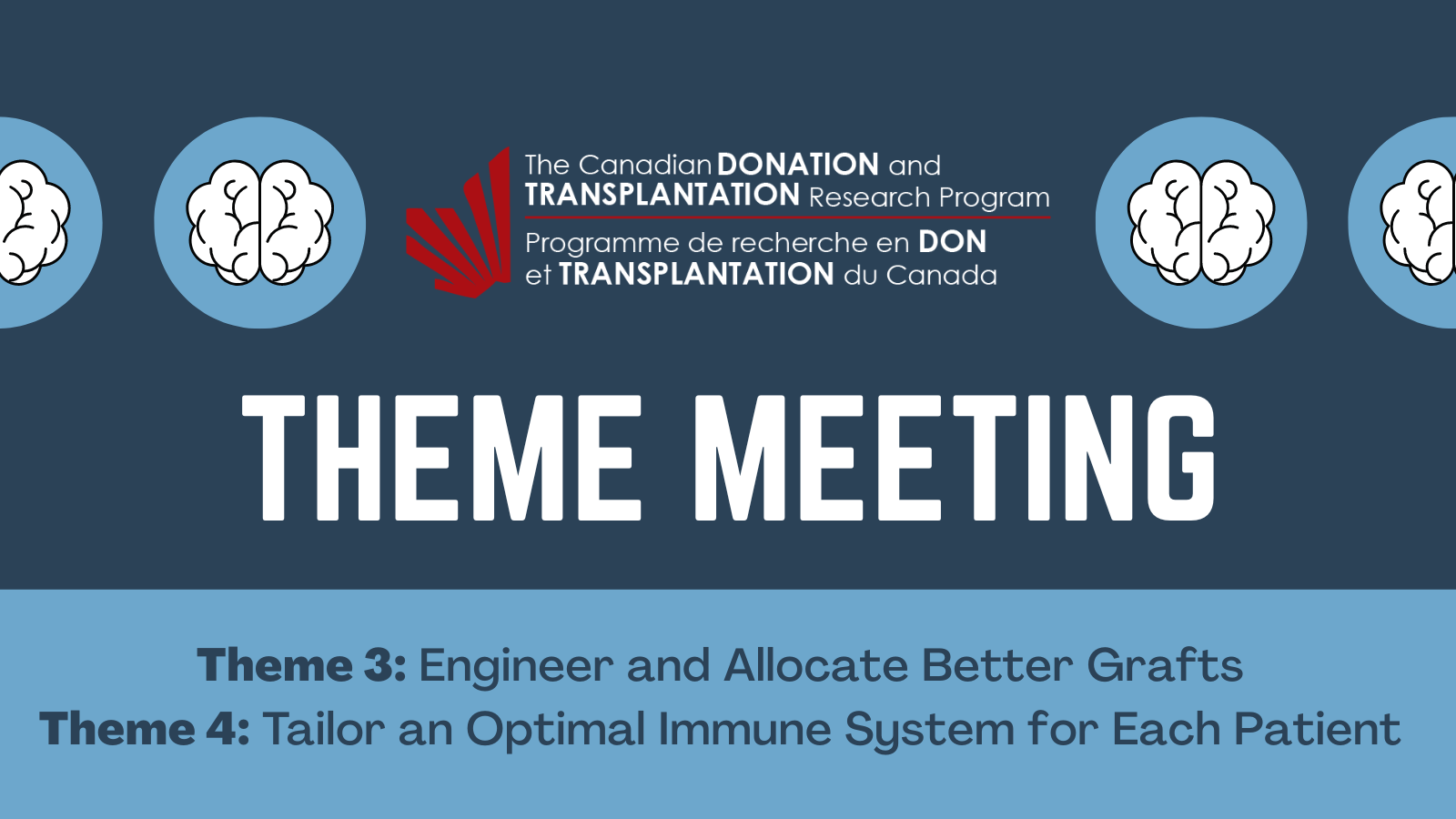 Themes 3 & 4 – October 25 Meeting Agenda: Dr. Lakshman Gunaratnam
Each of the five CDTRP Research Themes holds regular meetings to discuss new ideas, present the latest research results, and make new connections. CDTRP Theme meetings are open to all CDTRP members (including trainees and PFD partners). If you would like to attend or present at an upcoming Theme meeting please email Research Manager Demitra Yotis at dyotis@cdtrp.ca.
Theme 3 – Engineer and Allocate Better Grafts & Theme 4 – Tailor an Optimal Immune System for Each Patient
Tuesday, October 25, 2022
3 pm ET
Agenda:
Welcome and CDTRP Updates
Presentation: Dr. Lakshman Gunaratnam: "Defective KIM-1 phagocytosis does not predispose to acute graft dysfunction after kidney transplantation in humans" – link to the paper here.
Discussion
About Dr. Lakshman Gunaratnam
Dr. Gunaratnam is a nephrologist and Associate Professor of Medicine at Western University. He currently holds the Dr. Robert Zhang Chair in Translational Transplant Research at Western and is Medical Director of Kidney Transplantation at the London Health Sciences Center. Dr. Gunaratnam leads a basic and translational research program focused on the biological mechanisms underlying acute kidney injury, prolonging the lifespan of kidney transplants, and novel treatments for kidney cancer. His research program is supported by peer-reviewed funding from several agencies including:  the Canadian Institutes for Health Research, the Kidney Foundation of Canada, the Natural Sciences and Engineering Research Council of Canada, the Government of Ontario, and the Canadian Foundation for Innovation.  He holds several advisory and leadership positions in Canadian medical organizations, including, Canadian Institutes of Health Research, Canadian Blood Services, Trillium Gift of Life Network, Canadian Society of Transplantation, and the Ontario Medical Association.
Dr. Gunaratnam completed his undergraduate and graduate training at the University of Toronto in immunology, before attending medical school at the University of Ottawa. He went on to complete research and clinical fellowships at Harvard Medical School before being recruited to Western University.