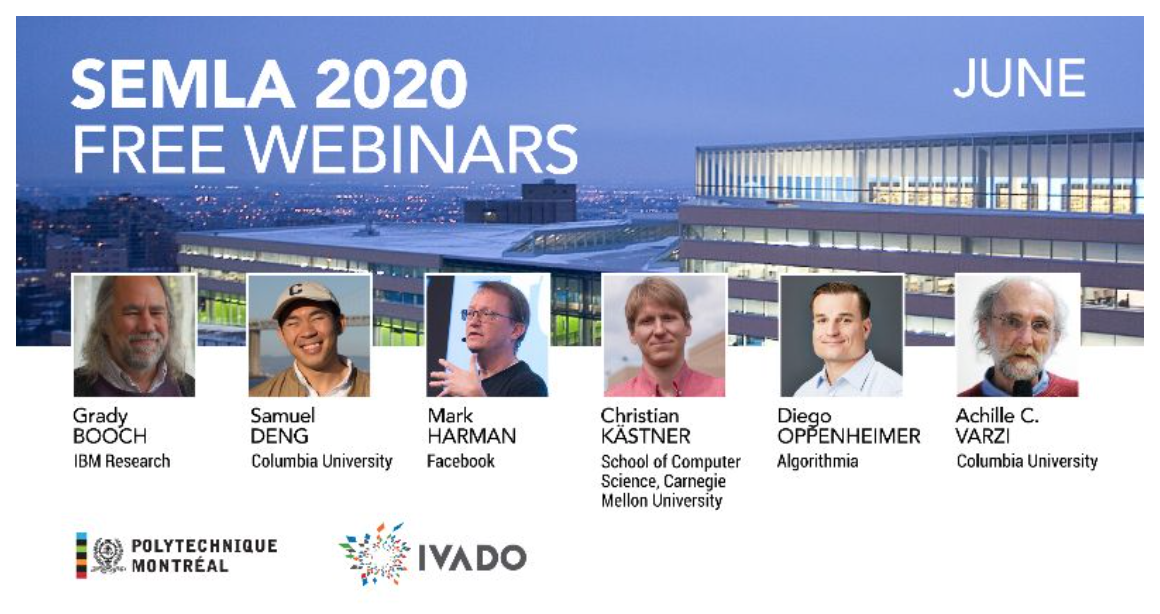 The Software Engineering for Machine Learning Applications (SEMLA) international symposium is held throughout the month of June.
SEMLA aims at bringing together leading researchers and practitioners in software engineering and machine learning to reflect on and discuss the challenges and implications of engineering complex data-intensive software systems. IVADO is very proud to support this important event.
While everyone agrees that the development of new machine learning algorithms will enhance the potential of data analytics, only their implementation in real-world systems will allow them to realize their full potential. From an engineering perspective, once an algorithm is implemented, it requires a solid architecture, model/data validation, proper monitoring for changes, dedicated release engineering strategies, judicious adoption of design patterns and security checks, and thorough user experience evaluation and adjustment. All these activities require a combined knowledge in software engineering, data science, and machine learning.
Hence, SEMLA invites all practitioners and researchers to get to know the results and opinions of world leaders in both machine learning and software engineering and to discuss their views on the above problems.
For more information, please vite the SEMLA website.
Past webinars
June 30, 2020 – Mark Harman, Facebook – A Hidden, Bot-only Platform to Learn About Trolls and Scammers 
June 23, 2020 – Grady Booch, IBM Research – Software Methodology and Lifecycle In AI
June 22, 2020 -Samuel Deng et Achille C. Varzi, Columbia University –Methodological Blind Spots in Machine Learning Fairness: Lessons from the Philosophy of Science and Computer Science
June 18, 2020 – Christian Kästner, Carnegie Mellon School of Computer Science – Engineering AI-Enabled Systems with Interdisciplinary Teams
June 17, 2020 – Diego Oppenheimer, Algorithmia – DevOps for Machine Learning and other Half-Truths: Processes and Tools for the ML Lifecycle
To learn more on the guest speakers, visit the SEMLA website.
You can also find the full program here.