TAP Webinar Series: Starting March 15, 2023!
The Transplant Ambassador Program is excited to present a series of webinars featuring the inspiring stories of TAP Ambassador recipients and living donors. These webinars are hosted on Zoom Medical, an encrypted and private version of the popular video conferencing platform. CDTRP is proudly supporting this year's series!
We invite you to join them for TAP Webinar Wednesdays in 2023!
MARCH 15 – 'I Had Two Kidneys, But I Only Need One': Living my Best Life After Kidney Donation

MAY 3 – 'The Big Tell': Sharing their Sorties Led to These Recipients and Donors to Unexpected Kidney Matches

JUNE 7 – Ever Thought About Being a Living Kidney Donor? Kidney Donors Share Their Inspiring Experiences

JUNE 21 – Kidney Transplant in Your 60's or 70's? Getting a New Lease on Life in Your Golden Years

SEPTEMBER 13 – Advocating For Kidney Transplant For Yourself or a Loved One: Charting a Path to Kidney Transplant

OCTOBER 25 – Pre-emptive Transplant: 'I Had a Kidney Transplant Before I Went on Dialysis – Maybe You Can Too'

DECEMBER 6 – On Dialysis and Hoping for a Transplant? Practical Advice from Kidney Patients Who've Been There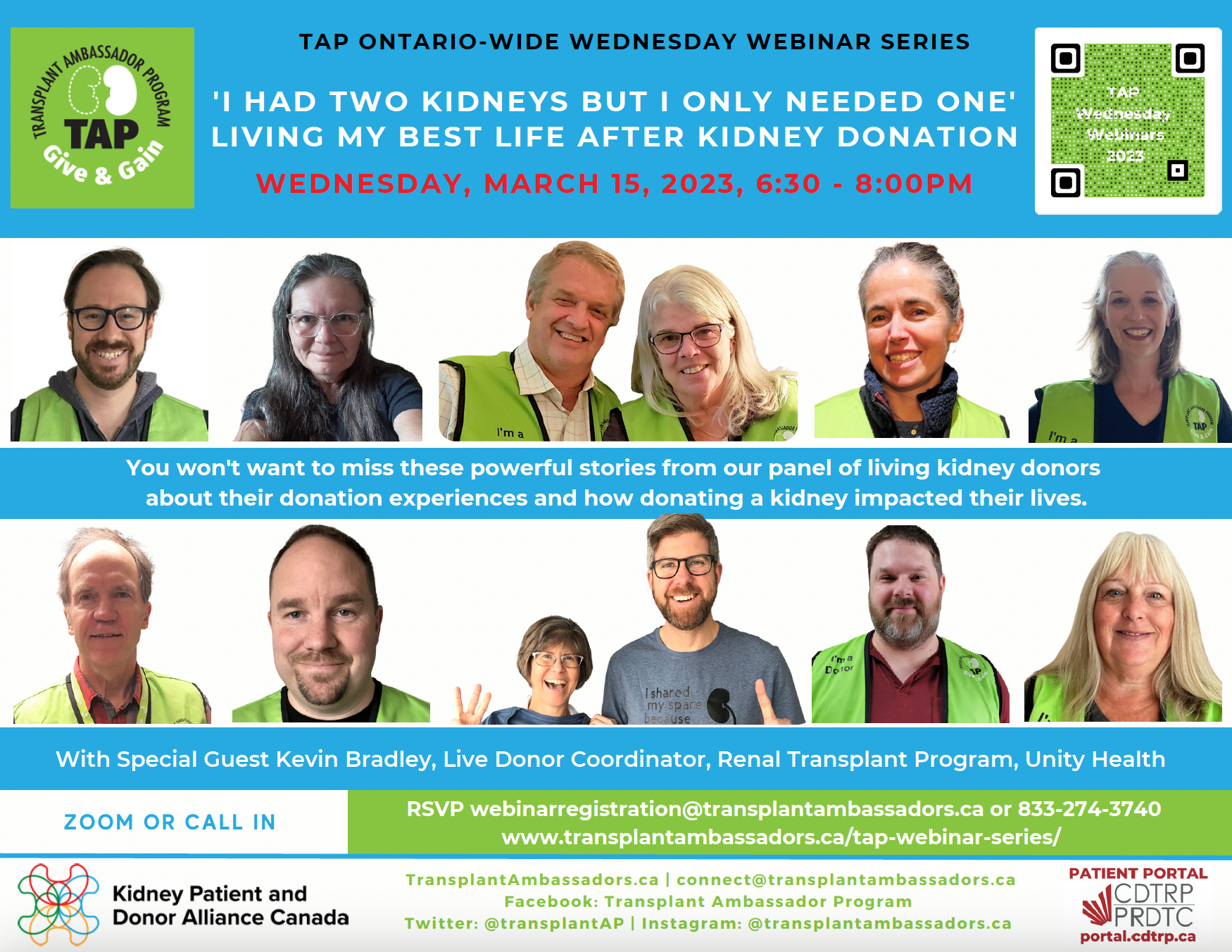 MARCH 15: 'I Had Two Kidneys But I Only Needed One': Living My Best Life after Kidney Donation
Join TAP for their first Webinar Wednesdays with special guest Kevin Bradley, Live Donor Coordinator in the Renal Transplant Program at Unity Health, who will be discussing the journey of providing life-saving donation and how to continue to live your best life after a generous act of kindness. Many TAP Ambassadors will also share their powerful stories about their donation experiences and how donating a kidney impacted their lives. Don't miss your chance to learn and be inspired by these incredible stories.
Date: Wednesday, March 15, 2023
Time: 6:30 – 8:00 pm EDT
Location: Zoom