Simon Keith C.M.
Keynote Speaker | Social Entrepreneur | Humanitarian | Philanthropist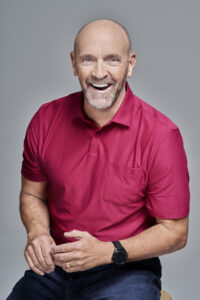 Simon Keith is a successful businessman who is recognized as an expert in how to 'Build Great Teams' and 'Build Great Leaders'.
Simon's rich and unique background allows him to travel across various channels of enterprise with great ease and confidence.  Keith is not just a former professional soccer player—he's one of the longest-living organ transplant recipients in the world, having received a heart transplant in 1986, when he was just 21 years old.  He has successfully built and sold businesses, travels the world advocating for more efficient organ donation and transplant systems, speaks to foreign governments and corporations alike, while sharing his passion that all organizations – no matter the industry – must Build Great Teams and Build Great Leaders.
In 2011 Simon travelled to Newport, Wales to meet his heart donor's family, and it was there that the course of his changed life forever.  Simon returned from the UK and got involved with the Organ Procurement Organization (OPO) in Las Vegas, Nevada – initially sitting on the Board of Directors and later taking a much more active role as the Chief Operating Officer.  Simon has been credited with delivering uniquely entrepreneurial philosophies into a traditionally staid and medically driven industry that subsequently led the Nevada OPO to become then most productive OPO not only in the US, but around the world.
During this time Simon also served as a founding Board Member in his role of creating the State of Nevada's first and only human allograft processing company – Origin Biologics.
In 2012, he founded The Simon Keith Foundation, an organization dedicated to increasing organ donor awareness and educating transplant recipients. His autobiography, Heart for the Game, details his unique life-journey.  In the decade since, the Simon Keith Foundation has raised millions of dollars to support kids who have had transplants as well as spread organ donation awareness around the world.
More recently Simon has built a robust consulting business – Cambridge 85 LLC – focused on delivering unique solutions to the business of OPO's in the US and around the world.  Leadership Development at all levels, sophisticated financial transactions (specifically New Market Tax Credit deals), and targeting operational efficiencies are just a few of the channels that Simon works in.
Simon is an investor – and acts as a consultant– for Rejuvenate Kidney Transplant Solutions, a unique kidney care provider for large self-insured American companies.  Partnering with Kidney Transplant Surgeon Michael Rees MD, PhD. and Stanford Professor and Nobel Prize winner, Al Roth, PhD., RKTS delivers a most unique solution to companies struggling with chronic kidney disease and end stage renal disease (ESRD).
In 2022, Simon was awarded one of Canada's highest civilian awards being named a Member of the Order of Canada.
Simon has also been named Canada's Humanitarian of the Year award in 2015.  Keith sits on the Southern Nevada Sports Hall of Fame Executive Committee, as well the Donate Life Canada Board of Directors.
Simon lives in Las Vegas, Nevada and has been married for more than 30 years to Kelly. They have three children together – Sarah, Sam and Sean.