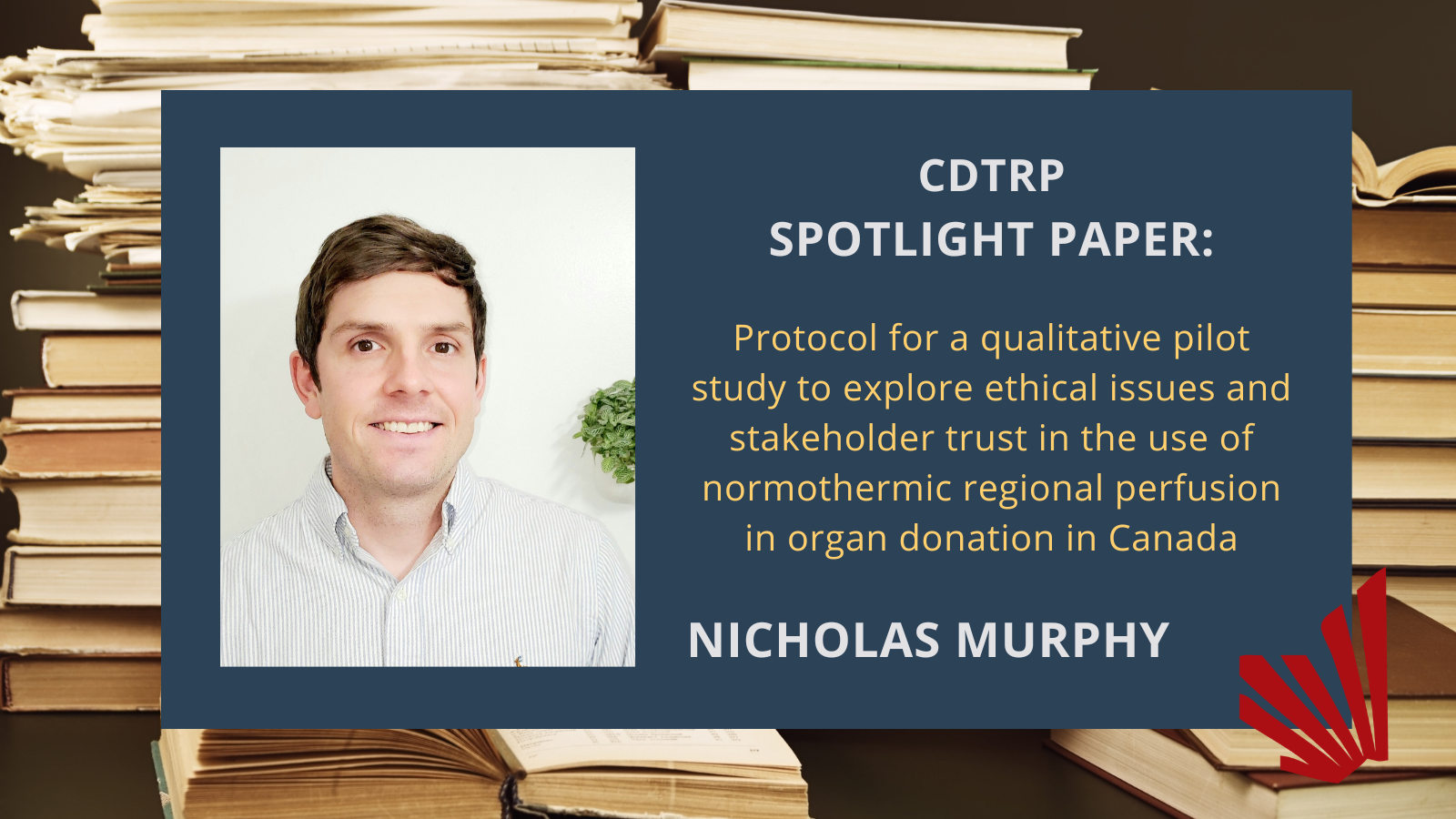 Spotlight paper in BMJ Journals: Dr. Nicholas Murphy
The CDTRP would like to congratulate Dr. Nicholas Murphy, postdoctoral fellow in the Department of Medicine and Philosophy at Western University, for his publication entitled "Protocol for a qualitative pilot study to explore ethical issues and stakeholder trust in the use of normothermic regional perfusion in organ donation in Canada" recently published in BMJ Journals! Several CDTRP researchers and patient partners are also included in the article's authors. This study stems from a 2021 CDTRP TGLN Ontario Health Research Innovation Grant for the project entitled "Pilot Study to Explore Ethical Issues and Stakeholder Trust in the Use of Normothermic Regional Perfusion in Organ Donation in Canada", led by Dr. Charles Weijer. Learn more here.
Our Communications Manager, Stéphanie Larivière, asked Nicholas and Charles a few questions about the publication that you can read below.
How do you think the research will advance the field?
Normothermic regional perfusion (NRP) is a perfusion technology used in some jurisdictions internationally in the context of organ donation after circulatory death. The technology seeks to "recondition" organs damaged during the dying process by recirculating oxygenated blood in the donor's body after they have died, but before organs are recovered for transplant. Despite its promise as a means to improve the quality and quantity of organs available for transplant, NRP represents a departure from usual deceased donation processes and its use is controversial. Our study will identify ethical issues in NRP and engage with key stakeholders to determine how the implementation of NRP in Canada could impact trust in deceased donation and transplantation systems. Our findings will inform the development of policy governing NRP in Canada, paving the way for the responsible adoption of a life-saving technology in organ donation.
How has the CDTRP supported the project?
Our study would not have been possible without a CDTRP Innovation Grant awarded in July 2021. With this award, our team has been able to initiate a program of research that we hope will lead to direct benefits for Canadians. And without the support of CDTRP's networks and dedicated staff, it would not have been possible to assemble our highly interdisciplinary team of researchers and a patient partner. Moreover, CDTRP has helped to bring discussion of the barriers to NRP in Canada to the top of the research agenda, for example by including a session on the ethics of NRP at the 2021 CDTRP Annual Scientific Meeting and inviting our team to present our research protocol at a Theme 1 meeting. CDTRP's support has helped to position our team to successfully conduct research that will help preserve trust in donation and transplantation systems.
How could the CDTRP support the future directions of this work?
The findings of our study will not by themselves translate into policy governing NRP's implementation and use. For our study to have the positive impact we envision, a program of knowledge translation and knowledge sharing is essential. In this CDTRP's support will be critical. We hope that CDTRP can help us with knowledge translation activities, communicate our findings through its diverse channels to inform policy development, and connect us with stakeholders who will need to be involved if NRP's adoption is to move forward. Our team is just one small part of a larger effort to bring NRP to Canada's donation systems, and we are pleased to have CDTRP's expert support every step of the way.
Abstract
Introduction
The process of controlled organ donation after circulatory determination of death (cDCDD) results in ischaemic injury to organs and leads to poorer outcomes in organ recipients. Although not yet used in Canada, normothermic regional perfusion (NRP) is a perfusion technology used postmortem with cDCDD donors to selectively restore perfusion of oxygenated blood to target organs in situ, reversing ischaemic injury and improving organ viability and post-transplant outcomes. However, NRP poses significant ethical challenges. To preserve trust in deceased donation, these ethical challenges must be addressed to the satisfaction of Canadian stakeholders before NRP's implementation. This study will identify ethical issues pertaining to NRP and explore perspectives of NRP among key stakeholders. By developing an explanatory framework delineating how stakeholder perceptions of NRP's ethical implications impact trust in Canada's donation and transplantation systems, this study will inform the development of responsible policy on NRP's use in Canada.
Methods and analysis
This study includes two workstreams. Workstream 1 is a scoping review of medical and bioethical literature to identify ethical issues stemming from NRP. We will apply a common search string across Medline, PubMed (other than Medline) and Embase to identify relevant articles. We will identify grey literature through Google searches, websites of organ donation organisations and consultation with our research network. No date limits will be applied. All peer-reviewed publications, commentaries, editorials or documents that engage with ethical issues in NRP (or conceptual and empirical issues as they relate to these ethical issues) will be included. News articles, conference abstracts and publications not in English will be excluded. Workstream 2 consists of interviews with healthcare providers, institutional stakeholders, organ recipients and deceased donors' family members (n=24–36), as well as focus groups with healthcare providers involved in deceased donation and transplantation (n=20–32). Constructivist grounded theory methodology will guide data collection and analysis in workstream 2.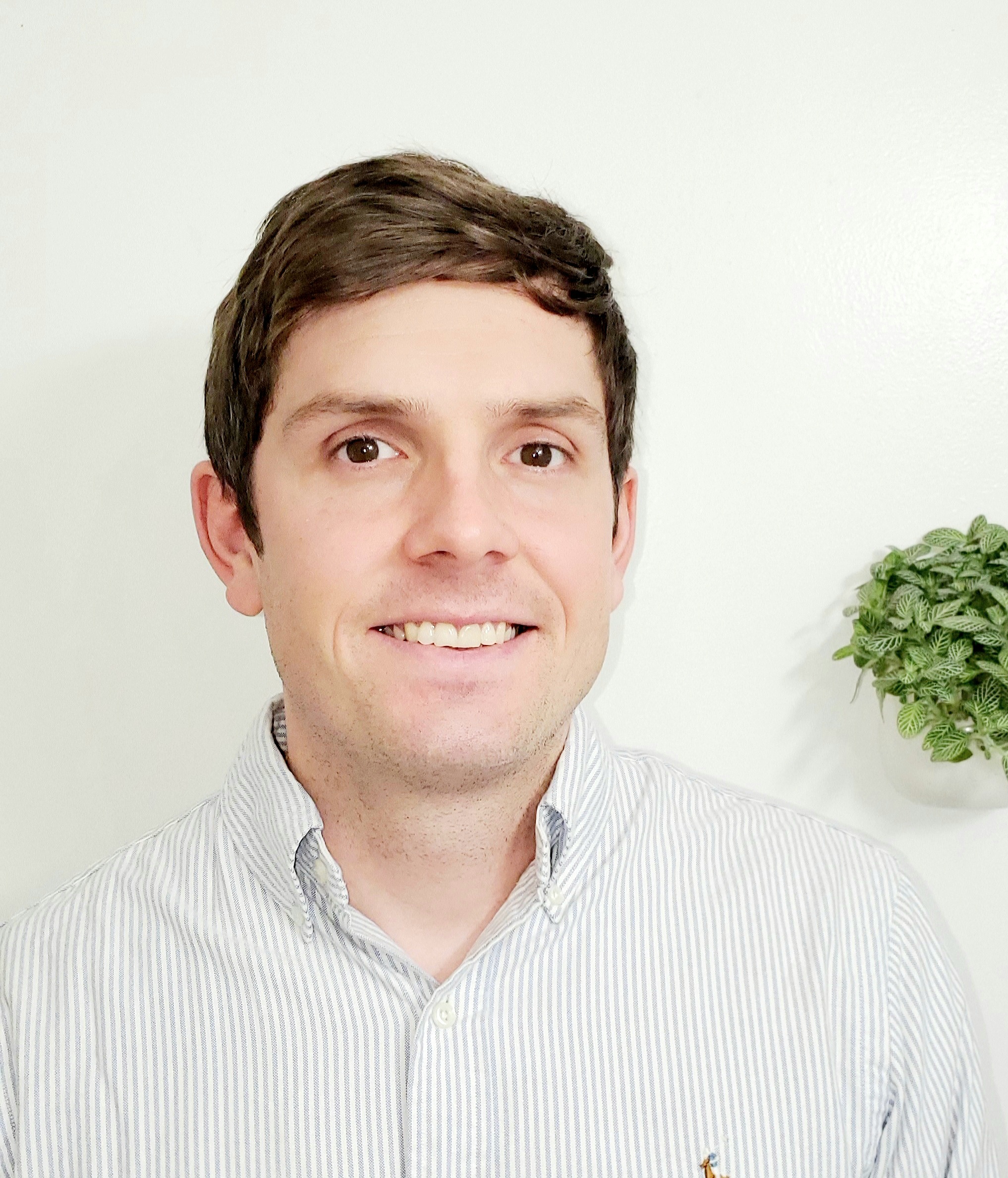 About Dr. Nicholas Murphy
Nicholas Murphy is a postdoctoral fellow in the Department of Medicine and Philosophy at Western University in London, Ontario. Supervised by CDTRP Investigators Drs. Charles Weijer and Marat Slessarev, Dr. Murphy's research explores ethical issues in organ donation and transplantation, particularly as they relate to research with human participants.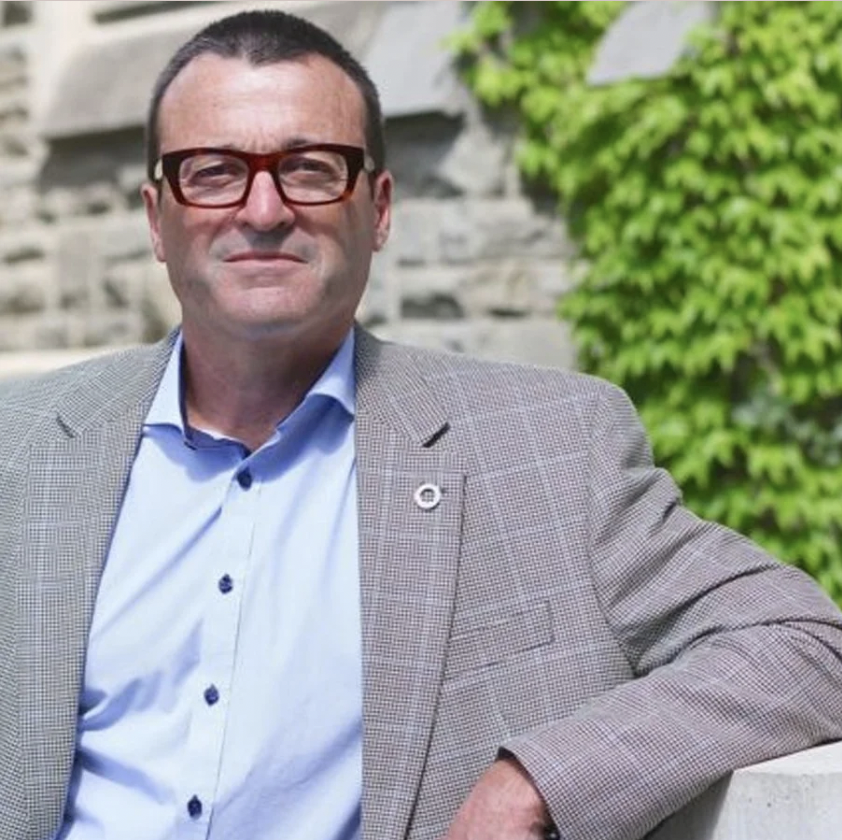 About Dr. Charles Weijer
Charles Weijer is a professor of medicine, epidemiology & biostatistics, and philosophy at Western University in London, Canada. Charles is an internationally recognized expert in research ethics. His publications on the duty of care in clinical research, the ethical analysis of study benefits and harms, and empowering communities in research have been broadly influential. From 2008 to 2013 Charles co-led a collaboration that produced the first international ethics guidelines for cluster randomized trials. From 2014 to 2018 he collaborated with Dr. Adrian M. Owen on a project exploring the ethics of functional neuroimaging after severe brain injury. Charles' current work explores the ethics of research involving imminently dying patients, and ethical issues in organ donation, including the use of normothermic regional perfusion. He held the Canada Research Chair in Bioethics from 2005 to 2019. In 2014, Charles received Western's Hellmuth Prize for Achievement in Research, and, in 2016, he was elected to the Royal Society of Canada.