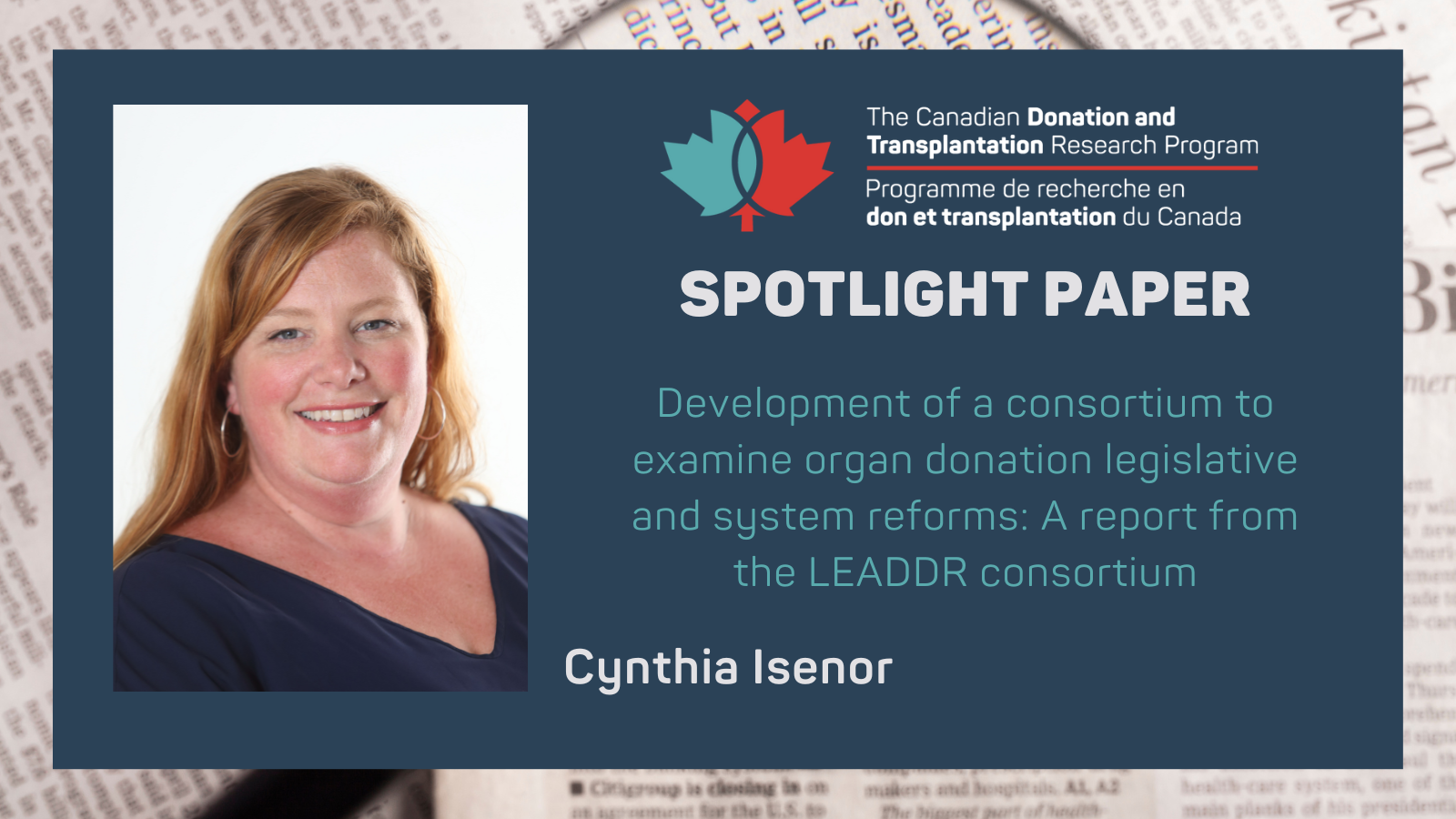 Spotlight paper in The Canadian College of Health Leaders Journal: Cynthia Isenor
The Canadian Donation and Transplantation Research Program (CDTRP) is proud to congratulate Cynthia Isenor and her team for her recent article in The Canadian College of Health Leaders Journal, titled "Development of a consortium to examine organ donation legislative and system reforms: A report from the LEADDR consortium." The article sheds light on the the Legislation Evaluation: Assessment of Deceased Donation Reform (LEADDR) consortium that aims to examine various legislative and system reforms for organ donation. As a CDTRP member and organ donation advocate, Cynthia's research has contributed important insights to the field of organ donation and transplantation. 
We have asked Cynthia a series of questions about the article, that you can read below.
What is the LEADDR consortium and what is its purpose? 
The LEADDR consortium is a collective of national colleagues who came together to evaluate the organ donation and transplantation (ODT) legislative and system reforms in Nova Scotia. The consortium was started by a group of national ODT colleagues in response to a funding opportunity through Health Canada.
How might organ donation legislative and system reforms impact the healthcare industry? 
This can be examined within context and outside of context; context being the reforms. Within context, the reforms occurring in Nova Scotia have far reaching impacts across the health system. Improving access to deceased donation opportunities directly impacts the availability of organs and tissues available for transplantation. From a longitudinal perspective, improving access to organs for transplantation can reduce the care needed for medical management while waiting for a transplant as increased access to organs can reduce the system level impacts of patients who are waiting and require thorough care and medical management during this waiting period; this is a long-term goal which will take years to possible realize. Increasing access to tissues available for transplantation creates a sustainable model for the healthcare system, whereby programs can be reliant on product recovered and banked locally.

Outside of context, the reforms being undertaken in Nova Scotia can be examined from their conceptual approaches, including our LEADDR consortium approach. The integrated model of operations and research has made our collaborative work a very successful approach to change and system reforms. This approach can be easily adapted to any changes happening in other areas in the health system. LEADDR was strategic in how they engaged both local leaders in Nova Scotia and knowledge experts nationally; operational leaders, researchers, and government influencers from Nova Scotia were involved in both the steering committee and in some of the research activities. This enabled immediate knowledge acquisition from the related research activities to be considered for change activities within operations.
How can the public be better educated and informed about organ donation and the benefits of legislative and system reforms?
This requires an ongoing commitment from both government and healthcare organizations to use mixed methods of media, social media, and other platforms to continue to inform the public of what the local/provincial laws and care delivery approaches are for deceased donation.
What are the next steps and how could the CDTRP support the future directions of this work? 
We are only two years out from the reforms that have happened in Nova Scotia; we know that the impact of such changes can take years to realize. As a next step, we are examining our ability to continue the work of LEADDR to go beyond our completed funding from Health Canada. CDTRP has been an active and beneficial partner of the LEADDR consortium; the next iteration of this work should include this continued partnership. I personally look forward to our ongoing collaborative work.
Abstract
In April 2019, the province of Nova Scotia became the first jurisdiction in North America to pass legislation that incorporated deemed consent for deceased organ donation. The reform included many other important updates, including the hierarchy for consent, enabled donor and recipient contact, and mandatory referral of potential deceased donors. Additionally, system reforms were implemented to improve the deceased donation system in Nova Scotia. A collection of national colleagues identified the magnitude of the opportunity to develop a comprehensive strategy to measure and evaluate the impact of the legislative and system reforms. This article describes the successful development of a consortium from both national and provincial jurisdictions that included experts from a variety of backgrounds and clinical and administrative disciplines. In describing the creation of this group, we hope to offer our case example as a model for the evaluation of other health system reforms from a multidisciplinary perspective.
About the LEADDR Program
The Legislation Evaluation: Assessment of Deceased Donation Reform (LEADDR) Program was created in 2019 to evaluate the implementation and full impact of Human Organ and Tissue Donation Act (HOTDA) in Nova Scotia. LEADDR is the result of the collaboration of five key partners: Nova Scotia Health Authority (NSHA) including the Legacy of Life and Critical Care Organ Donation Programs, Nova Scotia Department of Health and Wellness (NSDHW), The Canadian Donation and Transplant Research Program (CDTRP), Transplant Québec, and Canadian Blood Services (CBS), with funding support from Health Canada's Health Care Policy Contribution Program. Read the 2021 Health Canada's media release.
The purpose of LEADDR Program is to gather evidence to inform legislative strategies to improve donation and to rigorously evaluate the impact of the overall implementation. While Nova Scotia implements new health system reforms, there is a need to evaluate the implementation and impact of this change to inform not only Nova Scotia, but other provincial, national, and international stakeholders.  
Learn more about Nova Scotia's Human Organ and Tissue Donation Act.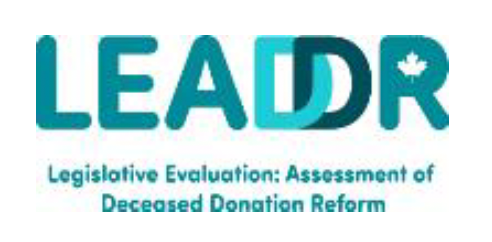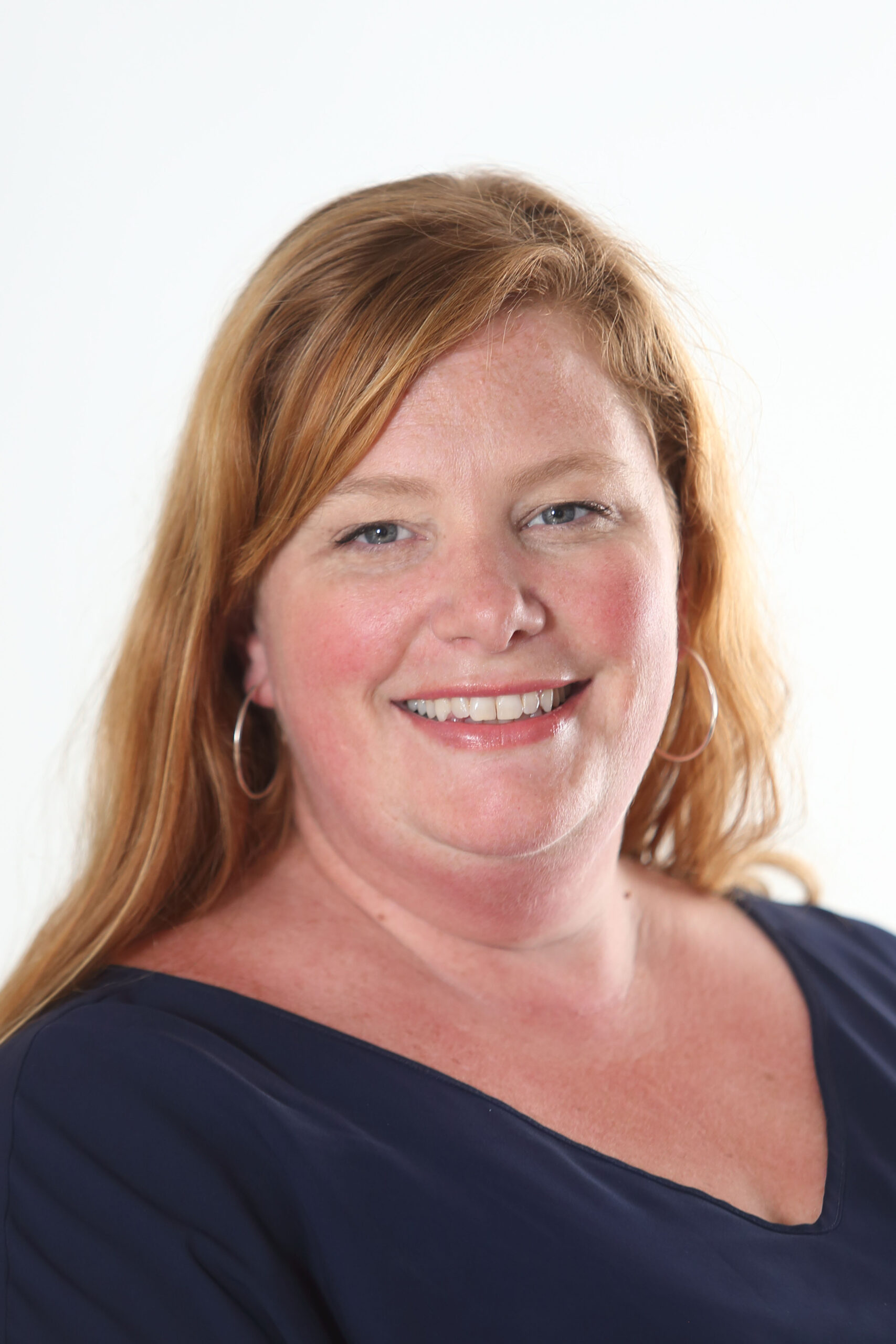 About Cynthia Isenor
Cynthia Isenor is the Health Services Director for Critical Care Services in the Halifax Region and Provincial Organ/Tissue Donation and Transplantation at Nova Scotia Health. With over two decades of experience in healthcare, Cynthia has been a committed leader focusing on improved healthcare access and delivery. Cynthia's passion for integrating multi-methods of evaluation into projects has blossomed over the years and she enjoys integrating Quality Improvement into her projects. During her free time, Cynthia is a devoted mother to 2 teenagers and can be found at the soccer pitch cheering on her daughter's team.