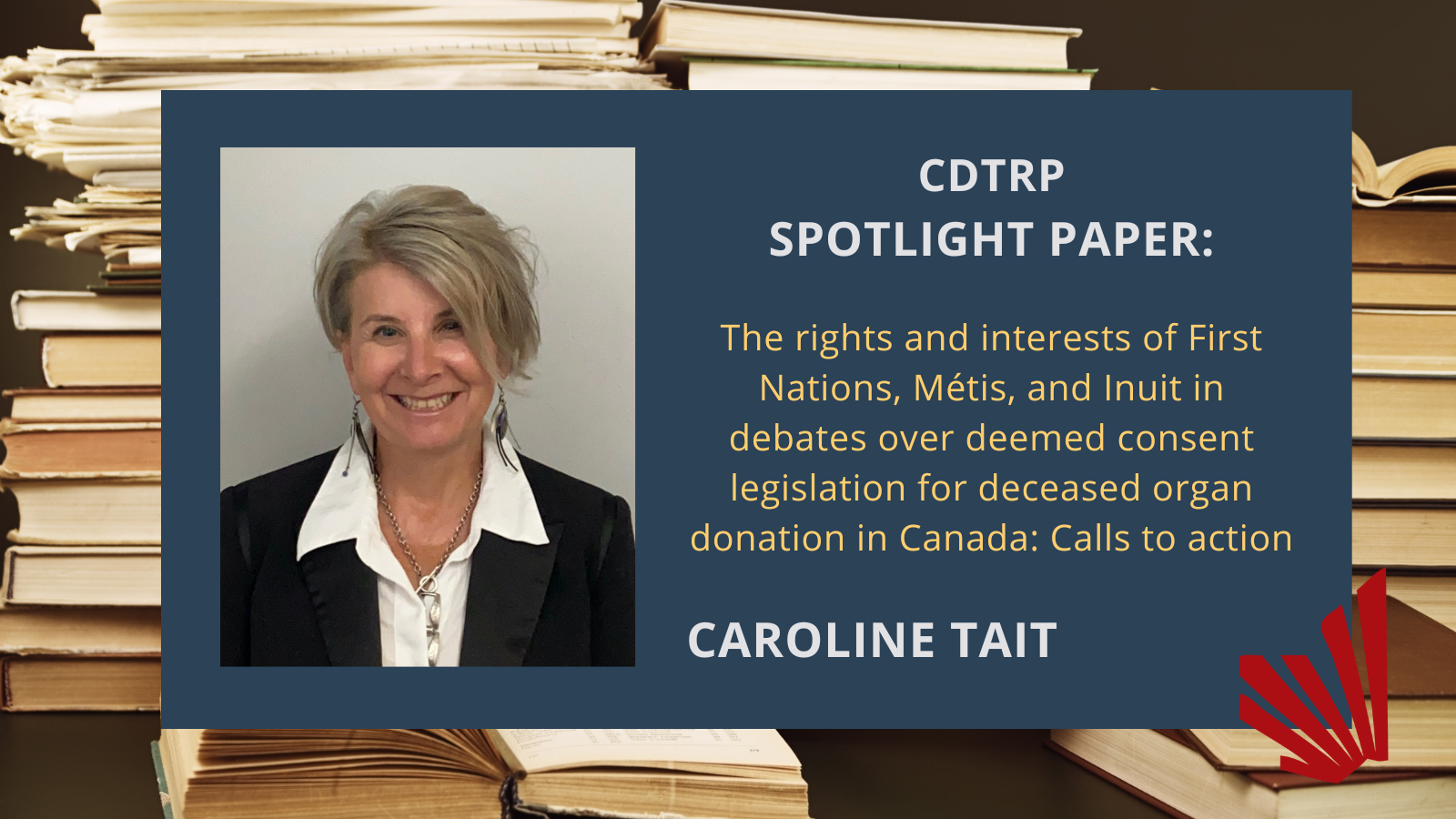 What are the biggest challenges First Nations, Inuit, and Métis (FNIM) face regarding donation and transplantation research? 
A key challenge is the lack of organ donation and transplantation (ODT) healthcare utilization data that distinquishes First Nations, Metis and Inuit (FNMI) patient groups. In general there is a lack of distinction-based FNMI data. To address gaps in ODT research we need a national transdisciplinary research program led by Indigeous health leaders and in coordination with research leaders from multiple disciplines (e.g. population, clinical, social science, health policy).
What are the next steps and priorities for the calls to action?
The next step is regional and national engagement strategies that inform FNMI healthcare decision makers about deemed consent legislation. This should involve ODT experts who hold various expertise and positions on the adoption and application of deemed consent legislation.
As a research network in the organ donation and transplantation ecosystem, how could the CDTRP support the work, research, and inclusion of FNIM?
CDTRP could designate research funding for ODT research projects that partners with FNIM peoples; inclusion of FNMI on planning committees for research conferences, initiatives etc.;  supporting FNMI student researchers.
Summary
Nova Scotia, Canada is the first jurisdiction in North America to pass deemed consent legislation for organ donation. Individuals medically suitable to be deceased organ donors are considered to have authorised post-mortem organ removal for transplantation unless they opt out of the system. While governments do not have a legal duty to consult Indigenous nations before passing health legislation, this does not diminish Indigenous interests and rights in relation to the legislation. This analysis discusses impacts of the legislation, specifically intersectionality with Indigenous rights, trust in the healthcare system, transplant inequities, and distinctions-based health legislation. How governments engage Indigenous groups about the legislation is yet to unfold. Consultation with Indigenous leaders and engagement and education of Indigenous peoples is, however, key to moving forward legislation that respects Indigenous rights and interests. What happens in Canada is being watched globally, as deemed consent is debated as a solution to organ transplant shortages.
About Dr. Caroline Tait
Dr. Caroline Tait is a medical anthropologist with particular research interests in Indigenous health and social justice. She earned her MA at the University of California (Berkeley), and her PhD at McGill University. Dr. Tait is a member of the Métis Nation-Saskatchewan and grew up in a small Métis community in central Saskatchewan. With Dr. Michael Moser, Dr. Tait established the Saskatchewan First Nation and Métis Organ Donation and Transplantation Network made up of Knowledge Keepers, persons with lived experience, researchers, physicians, and students. Dr. Tait has joined the Faculty of Social Work and the Cumming School of Medicine (Department of Community Health Sciences) at the University of Calgary in January 2023.