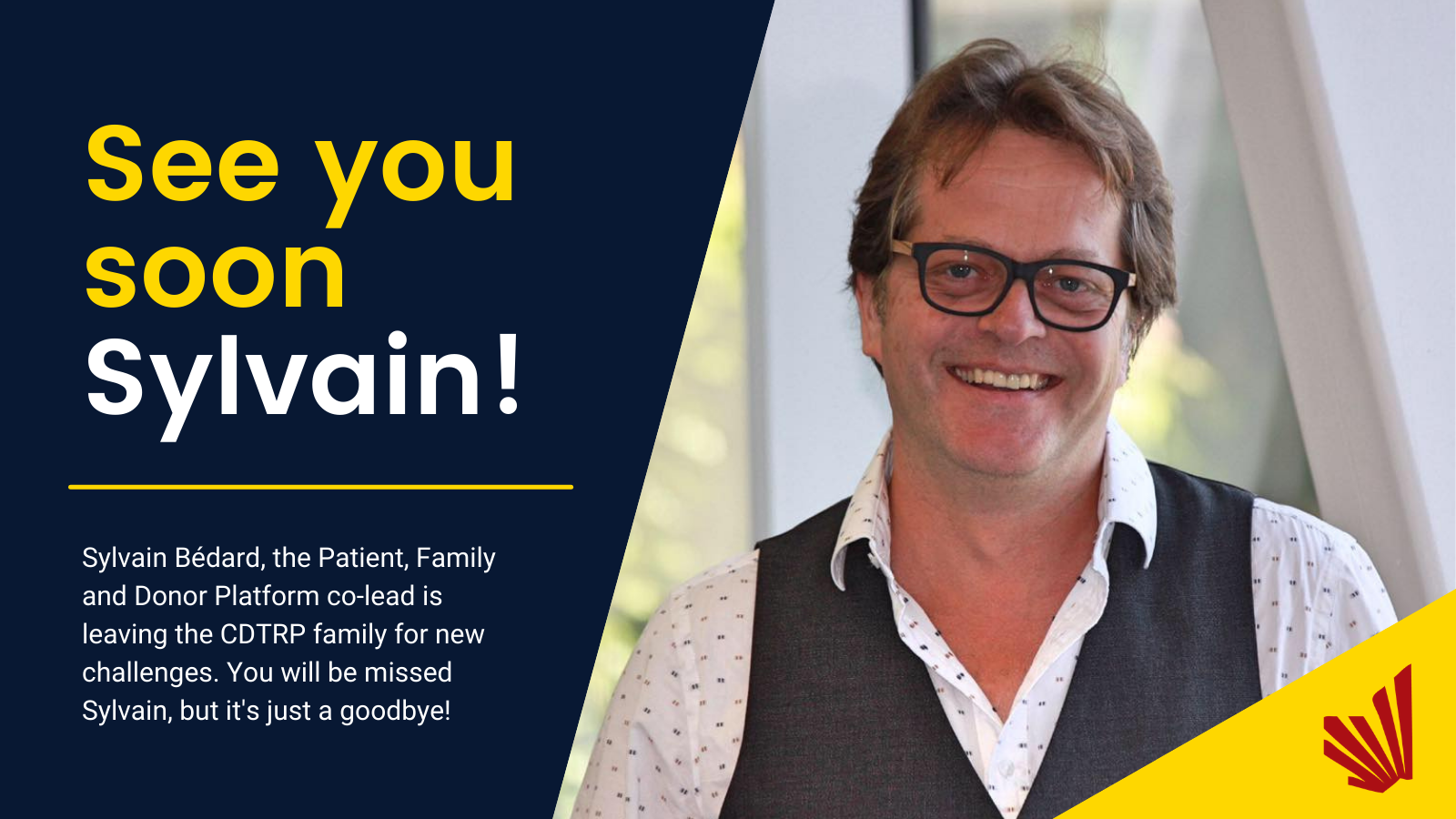 See you soon Sylvain!
It is with mixed feelings that we share the news that Sylvain Bédard has accepted new challenges with the Centre of Excellence on Partnership with Patients and the Public (CEPPP) team and will step down from his role as CDTRP Patient, Family and Donor Platform co-lead. Sylvain will continue to contribute to CDTRP as a patient partner on several CDTRP project. You will be missed Sylvain, but it's not goodbye – rather a "see you soon!"
Two-time heart transplant recipient, Sylvain has been involved in research for almost 40 years now. Sylvain joined the CDTRP team in 2015 and was instrumental to develop the CDTRP Patient, Family and Donor (PFD) Partnership Platform in close collaboration with Marie-Chantal Fortin. This platform is now recognized internationally as a model for effectively integrating patients, family members and/or living donors into research projects. With his unique vision and his legendary enthusiasm, Sylvain inspires all of us and due to his pioneering work, researchers, both clinicians and non-clinicians, who would never have previously considered engaging PFDs in their research are now arriving with clear objectives for PFD engagement. Other organizations are now regularly seeking the CDTRP's advice on how to involve patients in research. Thanks for your amazing contribution to our network Sylvain!
We are in the final stages of recruitment for a new PFD Platform co-lead and will announce Sylvain's successor to the CDTRP in the coming weeks.
Best of luck with your projects Sylvain!
Here are some messages from the CDTRP team:
Thanks for your vision, your enthousiasm and your crazyness ;)
You have the superpower to inspire people to make the word a better place.
Je garde ta main dans la mienne Sylvain, tu ne pars pas loin ! – Mélanie Dieudé
Thanks for your wonderful dedication to the CDTRP and the PFD platform Sylvain!
Glad you won't be going too far, but I will miss working with you and hearing all your stories!
Keep in touch. Hugs – Stephanie Maier
Wishing you more adventure, more laughter, more levity and sagesse in the years to come.
You're not going far, but hope you always know the way home.
Merci for everything mon ami. – Chelsea Patriquin
Allô Sylvain! J'ai beaucoup aimé travailler avec toi au CDTRP, mais je sais que nous allons nous recroiser, tu seras proche :)
Bonne continuation! – Julie Turgeon
Bon courage Sylvain for this next step in your career.
The CDTRP won't be the same without you! – Patricia Gongal
Mon cher Sylvain,
Quel bonheur de travailler avec toi dans une multitude de projets stimulants.
Et que dire des fous rires, des aventures improvisées à Ottawa et du plaisir que nous avons partagé dans les congrès autour d'un bon gin.
Prends soin de toi et à bientôt! – Stéphanie Larivière
Cher Sylvain,

On peut remercier les gens pour toutes sortes de choses. Pour moi, rien ne suscite davantage la gratitude que le fait d'apprendre de quelqu'un. Ta personne et ton histoire (déjà tout un chapitre…), la justesse de tes interventions et la ferveur de ton engagement ont vraiment façonné ma vision du partenariat avec les patients. De façon plus large, c'est toute ma place dans l'écosystème de la médecine et de la recherche qui s'en trouve modifiée. Je suis très reconnaissant pour tout ça.

À la prochaine donc, et que du bon pour la suite ! – Jean-Sébastien Delisle