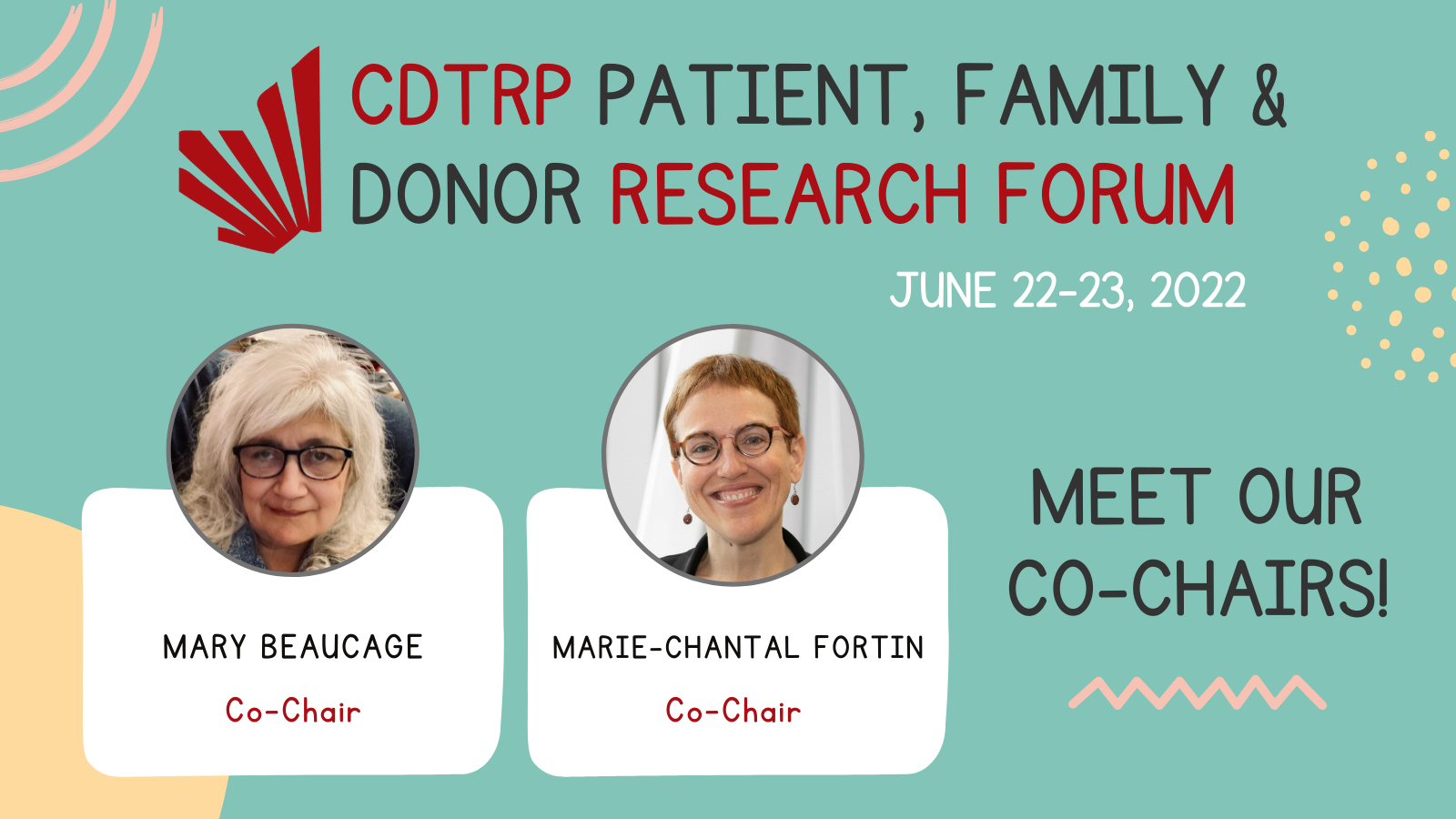 CDTRP's Patient, Family, and Donor Research Forum: Meet our Co-Chairs!
The Canadian Donation and Transplantation Research Program in cooperation with the Organ Donation and Transplantation Collaborative and the Canadian Society of Transplantation will host the 3rd edition of the Patient, Family and Donor (PFD) Research Forum on June 22-23, 2022.
Our PFD Research Forum is designed to encourage and advance collaboration between investigators and PFD partners in research, educate on emerging best practices, and learn firsthand from projects that have evolved with the inclusion of a PFD partner. We are happy to announce that this year's co-chairs are Mary Beaucage and Marie-Chantal Fortin! Get to know them better below.
The Forum is free and open to the public!
Date: June 22-23, 2022
Time: 11 am – 3 pm EDT
Location: Online (Zoom)
Mary Beaucage
Mary Beaucage is Anishnaabe, from Nipissing First Nation, near North Bay Ontario. She spent her career working in Retail Management, honing her skills in hiring, coaching , and succession planning, as well as opening new stores, analyzing markets and business needs. She is a vulnerable and engaging storyteller who trusts you with her story.
Mary has type 2 diabetes and was diagnosed with end-stage kidney disease in 2013, for which she received dialysis. In March 2015, Mary received a kidney from her cousin Janice, who lives in Manitoba.
She is patient lead with CDTRP's Theme 1 research. Mary co-chairs the Can-SOLVE CKD Network's Patient Governance Circle and Indigenous Peoples Engagement Research Council. She holds leadership and board positions with several health based organizations. Mary has been a keynote speaker, panel member and presenter at provincial, national and international nephrology conferences. Mary is interested in educating and advocating in matters of Indigenous health, patient partnership, chronic kidney disease research, as well as organ donation and transplantation.
The CDTRP Patient, Family and Donor Research Forum is a great opportunity for us to gather and learn about what's going on with patient engagement and research projects that are part of the organ donation and transplantation (ODT) landscape. This year we really wanted to focus on how PFDs can become more involved with research, especially those that have never thought about it before. There's also information for those that want to bring their engagement to the next level. We encourage our researchers to make time to join us too; the topics covered are relevant to everyone.
– Mary Beaucage
Marie-Chantal Fortin
Dr. Marie-Chantal Fortin is a transplant nephrologist at the Centre hospitalier de l'Université de Montréal (CHUM), a researcher at the Research Center of the CHUM and a professor at the Faculty of Medicine of the Université de Montréal. She received her medical degree from the Université de Sherbrooke. She completed her nephrology residency at the Université de Montréal. She has completed a PhD in bioethics in 2008 at the Université de Montréal.
She is a researcher within the Canadian Donation and Transplantation Research Program (CDTRP) and the Theme 1 Academic Co-Lead. Her research interests are related to transplantation ethics and patient and researcher partnership in research and clinical care. She is a member of the ethics committee of Transplant Québec, the Canadian Blood Services and the Collège des médecins du Québec. Finally, she is also a research scholar of the FRQS.
Working in partnership with patients in research and in the clinic opens me to different realities and allows me to anchor my work in issues that are relevant to patients.
– Dr. Marie-Chantal Fortin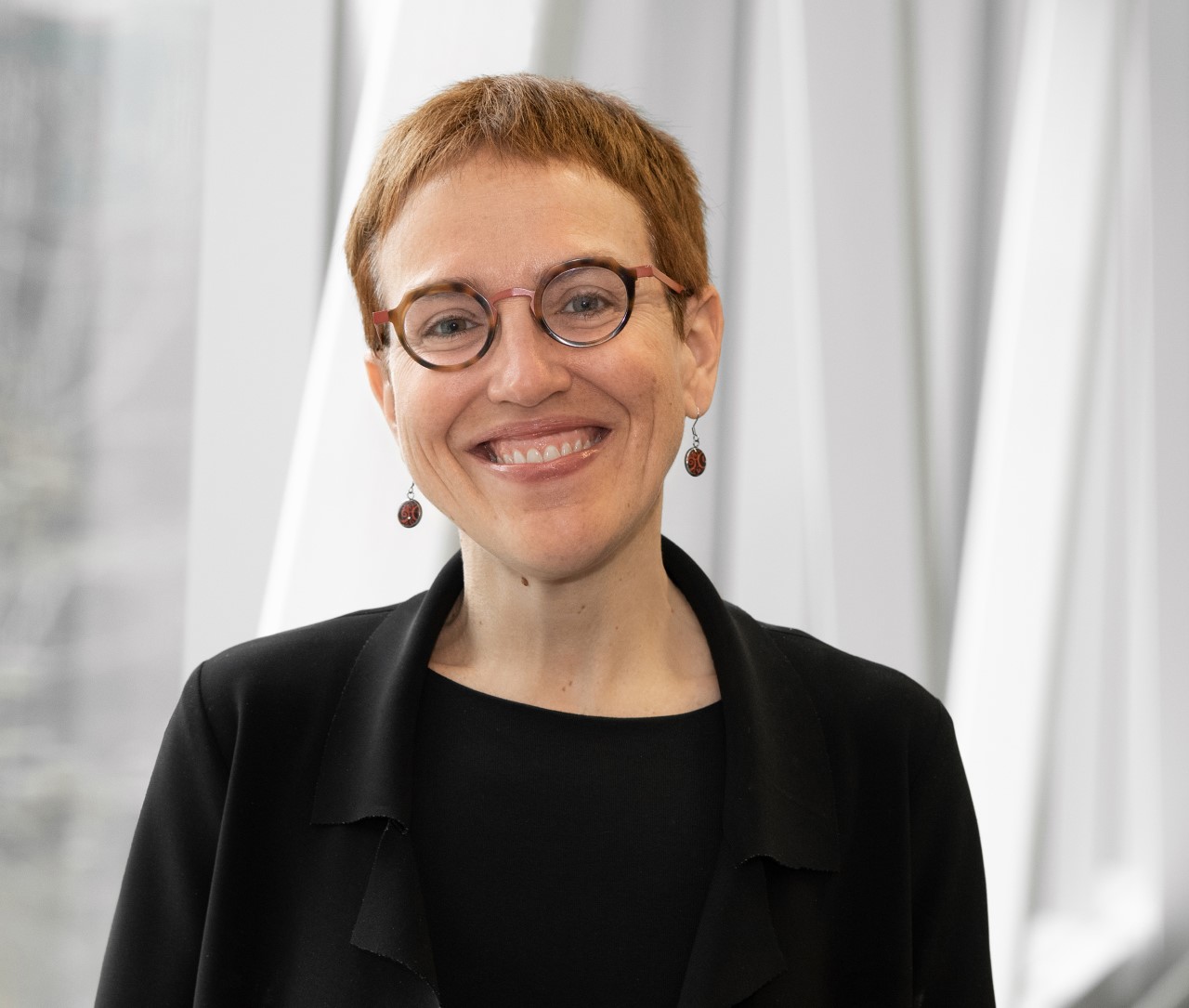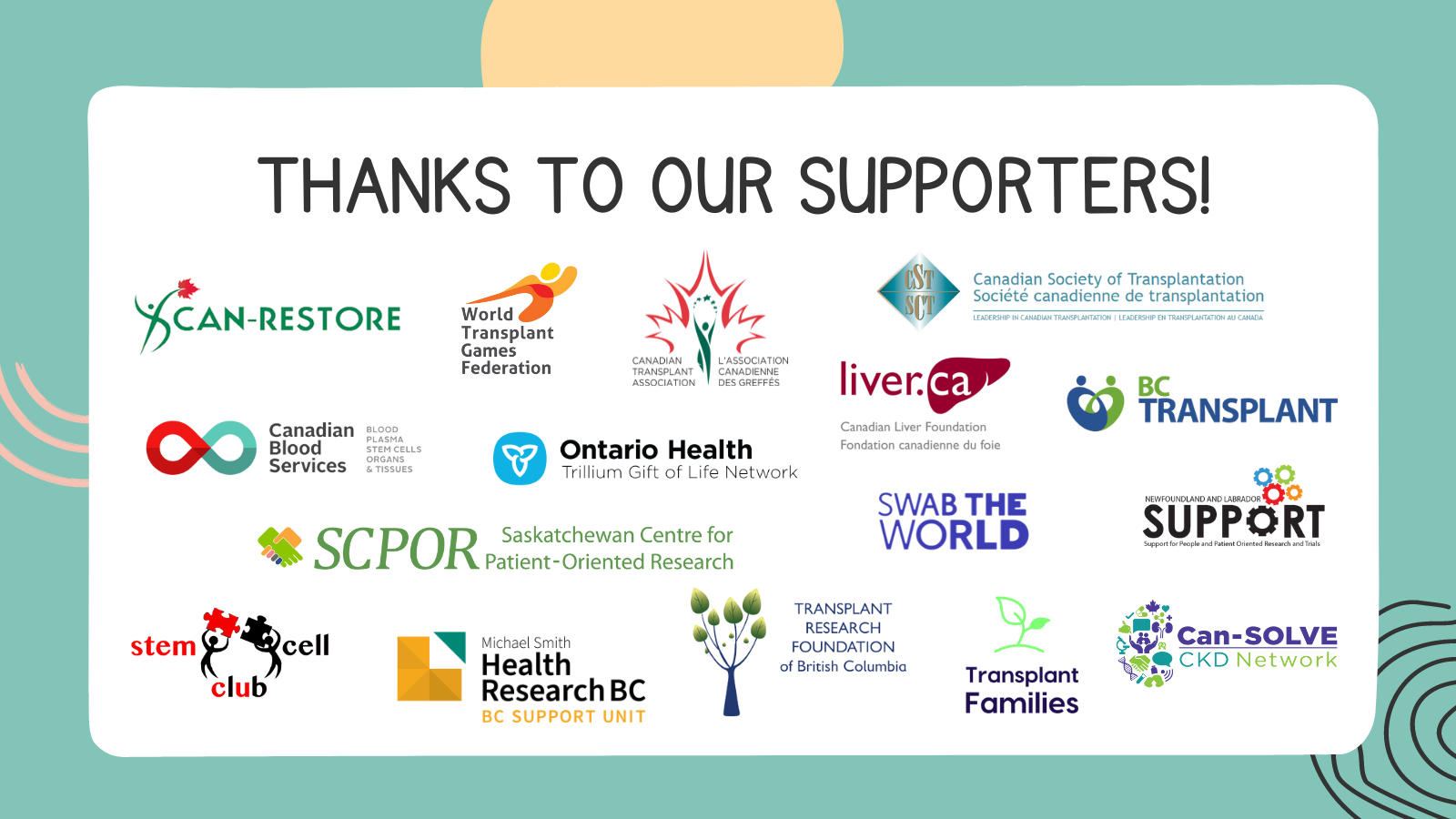 We wish to thank the following institutions, foundations and associations for their support in promoting the 2022 CDTRP Patient, Family and Donor Research Forum (in alphabetical order):