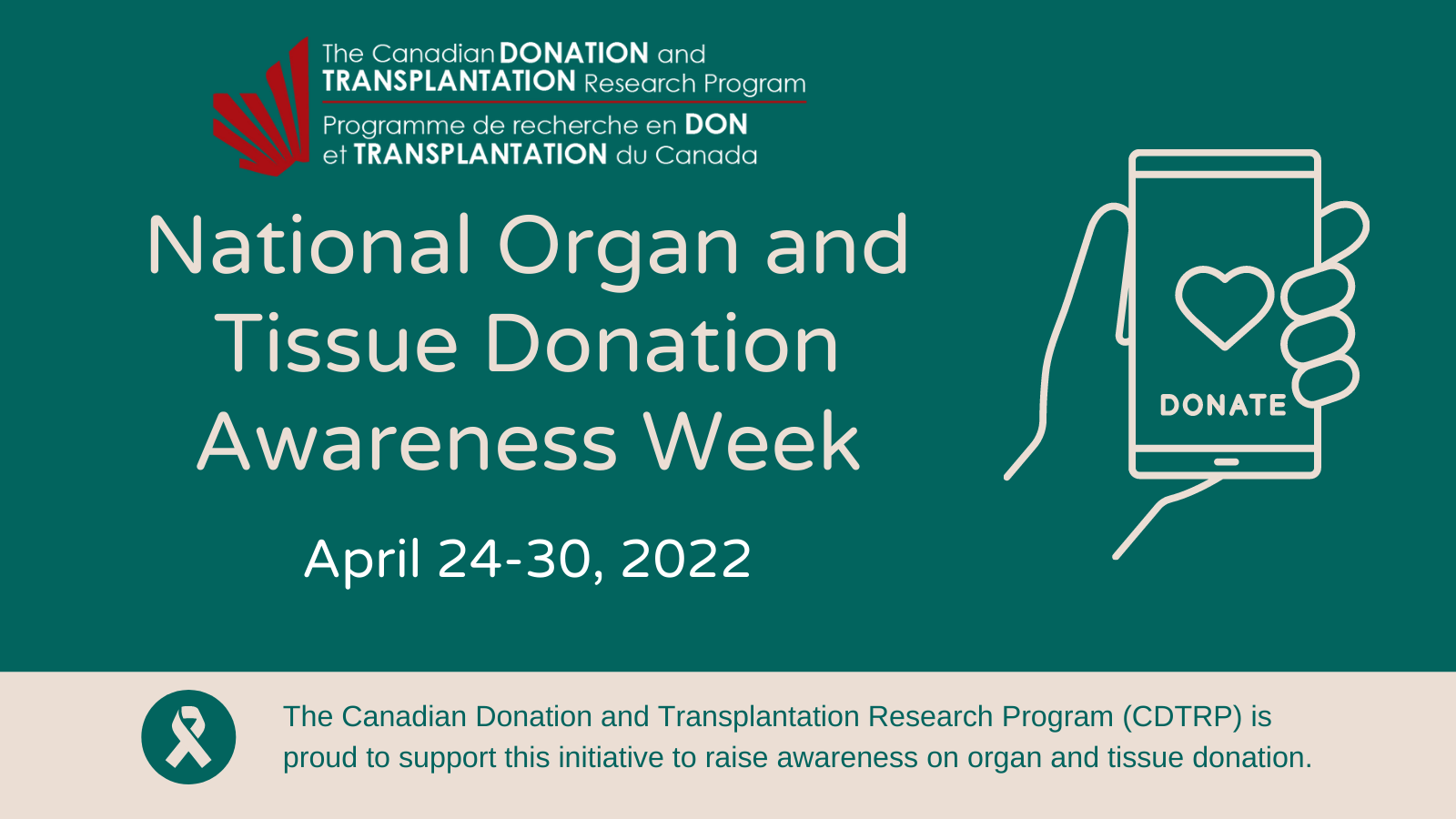 National Organ and Tissue Donation Awareness Week: April 24-30, 2022
CDTRP is happy to highlight the National Organ and Tissue Donation Awareness Week (NOTDAW) happening each year on the last week of April. This year marks the 25th anniversary of NOTDAW. Bill C-202, enacting National Organ and Tissue Donation Awareness Week in Canada was passed unanimously by the Senate Committee on Social Affairs, Science, and Technology on Feb. 4, 1997. The bill was brought forward by former Liberal Member of Parliament Dan McTeague. The last full week of April was chosen to mark the occasion and to commemorate the death of Stuart Herriott, a toddler killed in a motor vehicle incident in McTeague's riding of Pickering-Scarborough East. Parents of two-and-a-half-year-old Stuart donated his organs and, in turn, helped to save and improve the lives of four others. Source.
Partnership highlight
To celebrate the 2022 NOTDAW, we are happy to highlight one of CDTRP's long time partner: Canadian Blood Services (CBS). CBS implemented a Public Education & Awareness Committee (PEAC) with various representatives from the organ and tissue donation community. Committee priorities include increasing the number of registered donors in Canada, increasing the number of opportunities for the public to talk about organ and tissue donation, improving the quality and availability of education and awareness resources, evolving a national public education strategy, and supporting collaborative and sustained awareness campaigns.
A key role Canadian Blood Services plays in the national organ and tissue donation and transplantation landscape is to facilitate national collaboration around public education and awareness.
A focus on youth education
In 2021/22 focused work to improve youth education, in collaboration with community partners and members of a national public education and awareness committee, realized an new Education Portal for Organ and Tissue Donation and Transplantation resources. Developed for teachers, parents and students (K-12), this portal provides access to a collection of learning resources from across Canada and around the world. Learn more here.
The Orgamites arrive in Canada
The Orgamites are a colourful team of animated organs that represent the most-donated parts of the body and are designed for elementary school-aged students. It's never too early to start learning about organ and tissue donation. When families have access to accurate information, they are equipped to decide if donation is right for them and their loved ones if ever the time comes. Through educational programming, Canadian Blood Services aim to improve the availability of quality educational resources for teachers, students and parents to help them tackle a subject that is often perceived as too difficult for kids. Learn more about the Orgamites here.
For any questions about the PEAC or CBS' initiatives for organ and tissue awareness, contact otdt@blood.ca
New stamp raises awareness of organ and tissue donation
More than 4,400 Canadians are waiting for a donation of a life-saving organ, and many more, for healthy tissue to recover from a potentially fatal illness. Today, Canada Post released a new stamp to raise awareness of their need and encourage more people to register as organ and tissue donors.
A single organ donor can save up to eight lives, and a tissue donor can help save or improve the lives of up to 75 people. While the majority of Canadians support organ and tissue donation, fewer than one third have registered to do so. Registration usually takes minutes. Visit organtissuedonation.ca.
The stamp illustration, created by artist Christopher DeLorenzo, features two figures who form a heart connected by a pair of hands, each cradling a glowing star. Within the heart are abstract representations of the spirit of life, including flowers in bloom, a droplet of water and a bird in flight. Green, the official colour of organ and tissue donation, symbolizes hope and appears in various shades on the stamp design.
These stamp products are available at canadapost.ca and at postal outlets across the country.