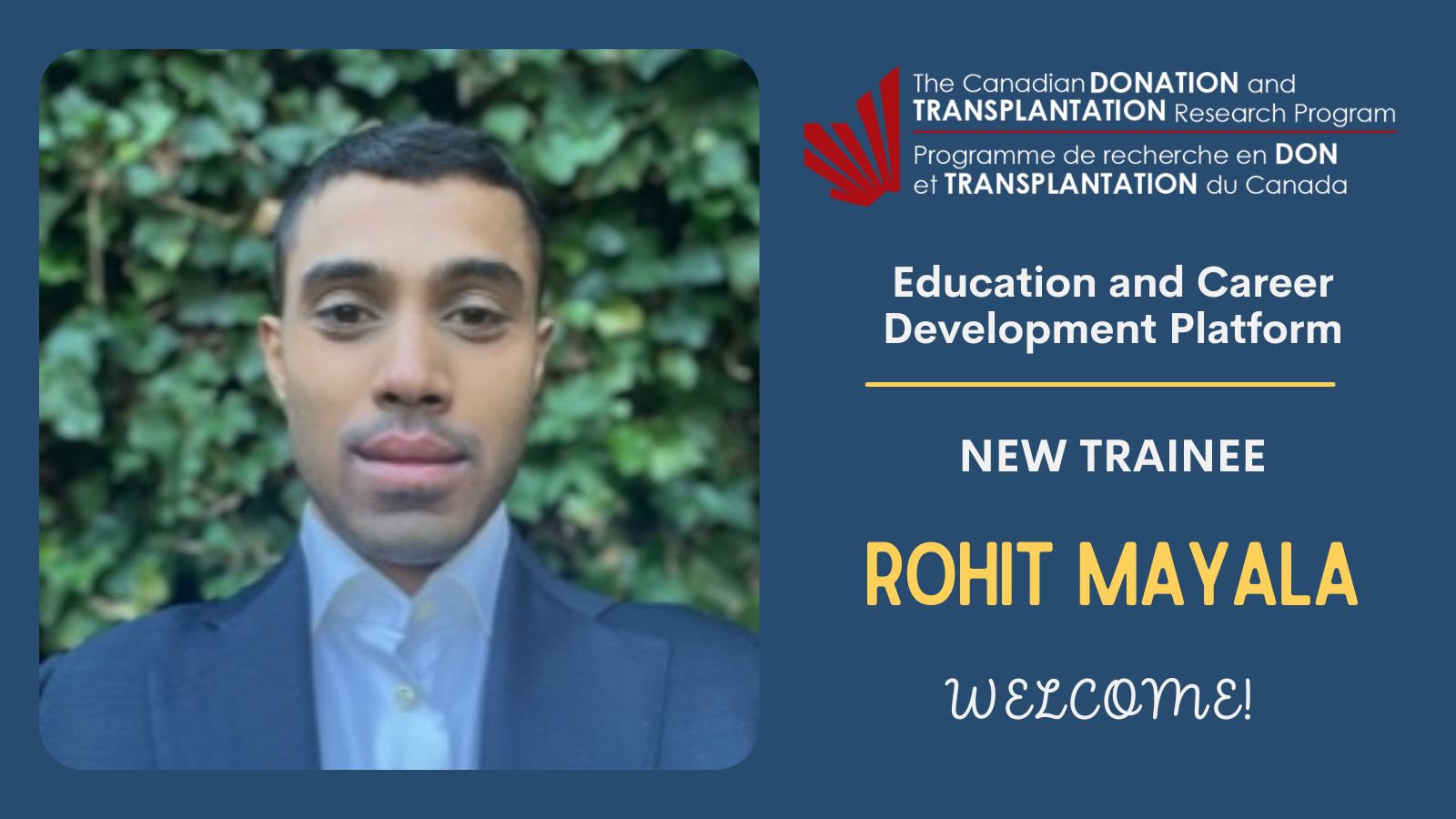 Welcome to new Trainee: Rohit Malyala
The CDTRP's Education and Career Development Platform is growing, and we're pleased to welcome our newest member, Rohit Malyala. Rohit is a fourth-year MD Candidate at the University of British Columbia and is part of Theme 3 – Engineer and Allocate Better Grafts. His project is entitled "Determination of blood pressure targets for goal-directed anesthesia in renal transplant" and is supervised by Dr. Christopher Nguan.
Education and Career Development Platform Manager, Manuel Escoto, caught up recently with Rohit to understand more about what his goals are for being a trainee with the CDTRP.
What are your fields of expertise and interests in research?
I am a fourth-year MD Candidate at the University of British Columbia. Prior to medical school, I earned my BHSc. from McMaster University in 2019. I have a passion for working at the nexus of machine learning, classic statistics, and medical device engineering with clinical research to yield actionable insights for the selection and treatment of renal transplant patients, and to optimize post-surgical outcomes in urologic patients. My past experiences have led me to present and publish work in virtual reality in anatomy education, devices to prevent post-op complications in endourology patients, and transplant epidemiology. Most recently I am getting involved in investigating the role of anesthesia and peri-operative decision-making to optimize outcomes in kidney transplant.
What new areas of interest would you like to develop or with which different disciplines or specialist(s) would you like to collaborate within the CDTRP?
Moving forward, I want to continue to cultivate my interests in transplant. I am especially looking to learn and work on projects relating to equity in transplantation, and responsible data science in transplantation.
What new areas of interest do you want to explore, and which skills would you like to build on?
I'm looking to explore the realm of causality analysis, and making more of limited data in situations where causality is hard to determine.

I'm also looking to build on new interests in medical device innovation and engineering, as applied in transplantation.
Tell us a fun fact about yourself!
I am an avid motorcycle tourer and enjoy the art of motorcycle maintenance. Rain or shine, I will never turn down an offer for a day trip!
About the Education and Career Development Platform
Providing resources to meet diverse education, training and career development needs, the Education and Career Development Platform incorporates academic programs to give trainees a broad overview of knowledge and issues related to the practice of donation and transplantation while providing them with tools on how to be better communicators, managers, scholars and professionals via webinars, mentoring programs and in-person meetings.