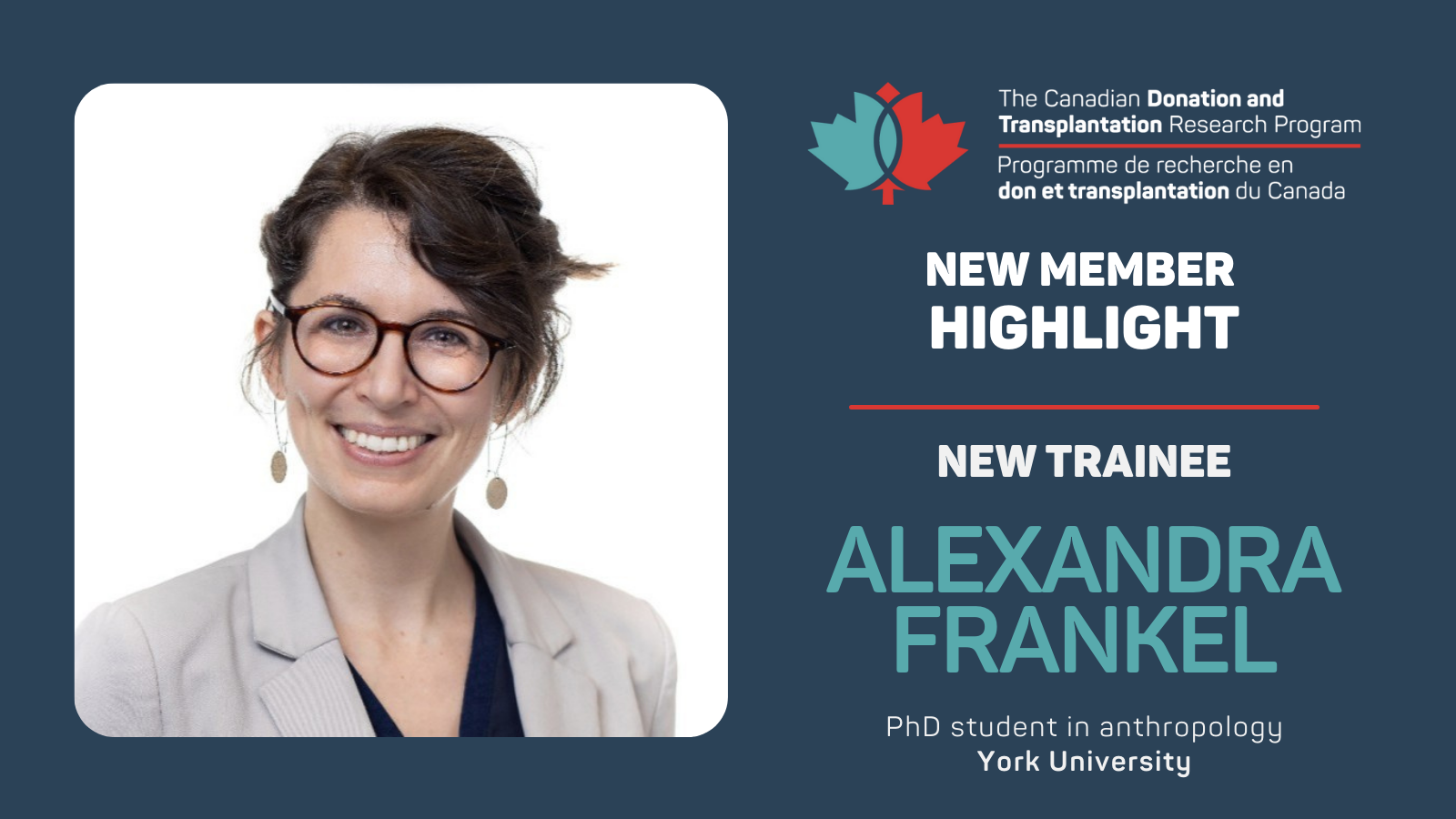 New Trainee Profile: Alexandra Frankel – PhD student in anthropology at York University
We are happy to welcome to the Canadian Donation and Transplantation Research Program (CDTRP) new members of diverse areas to join our community of researchers, clinicians, patient/family/donor partners and trainees who are dedicated to improving the lives of organ donors and recipients. As a new member, people are an essential part of our mission to advance the science of donation and transplantation and develop innovative, evidence-based approaches to improve outcomes for patients in Canada and around the world.
We are thrilled to have Alexandra Frankel joining CDTRP Education and Career Development Platform, as a new trainee. Alexandra is a PhD student in anthropology at York University, and working with Dr. Suze Berkhout on the Frictions in Futurity and Cure in Transplant Medicine project.
We have asked Alexandra a few questions that you can read below.
Tell us more about yourself and your background.
I am a PhD Student in sociocultural anthropology at York University, where my research focuses on connections between human and environmental health. My work examines the histories and social structures that shape access to livable spaces and create toxic ones. Since 2021, I have been working as a research assistant with the Frictions in Futurity and Cure in Transplant Medicine project with Dr. Suze Berkhout at the University Health Network. In this project, I build on my undergraduate and master's training in anthropology to conduct research using innovative arts-based research methods to develop better understandings of the experience of solid-organ transplantation, with the goal of creating stronger psychosocial supports for recipients and their families. My interest in creative research started in my master's program, where I integrated fiction and creative nonfiction into my scholarly writing as a way of better representing the feelings and textures of the experiences my research participants relayed. While that work focused on gender and politics in Istanbul, it nonetheless attuned me to the questions that motivate my research today: how to respond to violence, and who gets support from the state and who does not. These are not new questions for me. I grew up with them as the second-generation descendant of immigrants fleeing violence. Through personal and research experience, I have gained an intimate understanding of how struggles and triumphs extend through generations—which my work thus far has shown to be central to the social communal lives that come together in transplantation.
What are your fields of expertise and interests in research?
I am a PhD student in sociocultural anthropology interested in medical anthropology and science and technology studies—and a research assistant for a project focusing on psychosocial supports for transplant recipients. I love integrating creative, art-based approaches into research methods and outputs.
What new areas of interest would you like to develop or with which different disciplines or specialist(s) would you like to collaborate within the CDTRP?
I would like to learn more about patient research and outreach and how to develop strong ethics protocols for working with vulnerable medical populations. I would also like to explore the different opportunities for qualitative research in transplant settings and grow my skills in qualitative research interviews to include more applied research that translates into actionable change.
Tell us a fun fact about yourself!
I once played guitar in front of 500 people!
About the CDTRP Education and Career Development Platform
The Education and Career Development Platform provides continuing education opportunities, training, and resources to meet the diverse education and career development needs of our trainee community. The Platform focuses on providing trainees with a broad overview of knowledge and issues related to the practice of donating and transplantation, while providing them with tools on how to be better communicators, managers, scholars, and professionals. Trainees are provided with the opportunity to join national and international CDTRP initiatives, network with each other and experts in numerous disciplines, and present their work to a national audience.