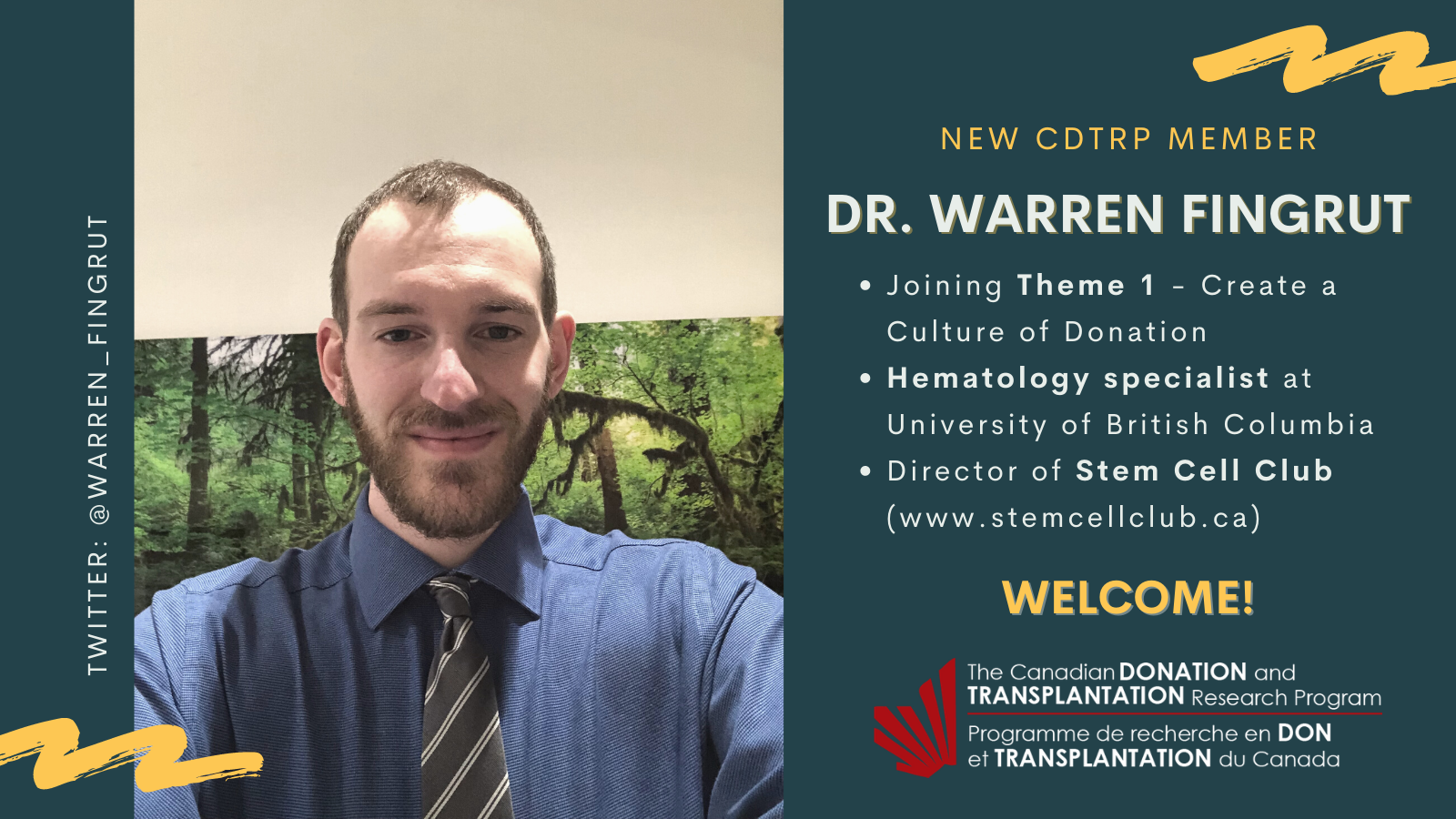 New Member Profile: Dr. Warren Fingrut, Hematology Specialist, Director of Stem Cell Club, and Social Media Aficionado
The CDTRP has been delighted to welcome many new members in 2020. We'll be sharing information on their research expertise and interests through our New Member Profile series. Please join us this week in welcoming Dr. Warren Fingrut to Theme 1 (Create a Culture of Donation) of the CDTRP!
What are your fields of expertise and interests in research?
I completed hematology training at University of British Columbia, and I'm currently pursuing additional clinical training in stem cell transplantation. I serve as director of Stem Cell Club, a non-profit organization with chapters across Canada that recruits Canadians as potential stem cell donors. Since I founded the organization in 2011, Stem Cell Club has recruited over 20,000 Canadians as potential stem cell donors (>50% male and >50% non-Caucasian). Patients in need of stem cell transplantation are more likely to find a matching donor from within their own ethnic group; however, non-Caucasian peoples are dramatically underrepresented as donors both in Canada and worldwide. My teams work to address the racial/ethnic disparity in access to a matching donor, by engaging and recruiting non-Caucasian peoples as donors. My research seeks to develop and evaluate resources and approaches to support and improve donor recruitment efforts, and to support development of a culture of donation in Canada. I run a community of practice in stem cell donor recruitment in Canada, with over 350 active participants, lead @WhyWeSwab which reports and shares stories in stem cell donation, and I spearhead national campaigns to support stem cell donor recruitment. I also lead efforts to engage gay, bisexual, and other men who have sex with men as stem cell donors in Canada.
What new areas of interest would you like to develop or with which different disciplines or specialist(s) would you like to collaborate within the CDTRP?
I look forward to sharing my expertise in stem cell transplantation and my work in stem cell donor recruitment to advance the development to a culture of donation in Canada. I am also interested to collaborate on efforts to address racial/ethnic disparities in access to transplantation and to support efforts to build a more inclusive donor registry (including engaging gay, bisexual, and other men who have sex with men to be stem cell and organ/tissue donors).

Further, the donor recruitment resources and approaches I develop and evaluate are of strong relevance to other investigators and stakeholders across organ donation and transplantation. I am happy to share my experience in running national campaigns (including to support in-person and virtual donor recruitment), storytelling (including on social media), infographic and multimedia development (including whiteboard videos and TikToks), media engagement, and engaging specific populations to be donors.
Tell us a fun fact about yourself!
Since the start of the pandemic, I've become a big fan of TikTok! I've led my teams to work on making TikToks to support recruitment efforts, and here are some of my favourites here and here!
In addition to on TikTok (uwostemcellclub), you can find Warren on Twitter @warren_fingrut and more information on Stem Cell Club website.
WELCOME DR. FINGRUT!