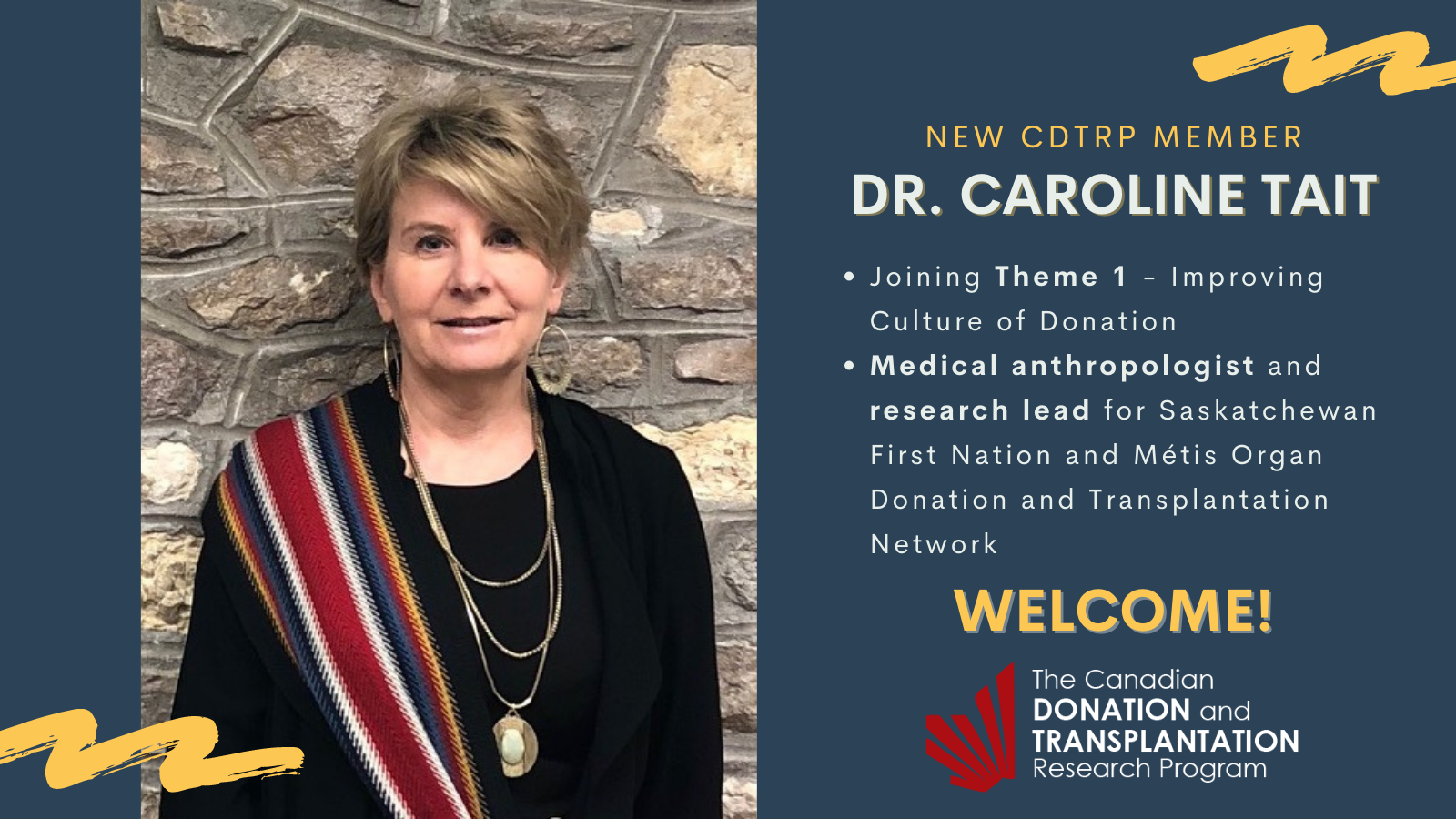 New Member Profile: Dr. Caroline Tait, medical anthropologist specializing in Indigenous Health and expert social distancer
The CDTRP has been delighted to welcome many new members in 2020 and we are planning to welcome many more in 2021. We'll be sharing information on their research expertise and interests through our New Member Profile series. Please join us this week in welcoming Dr. Caroline Tait of University of Saskatchewan to Theme 1 (Improving Culture of Donation) of the CDTRP! 
What are your fields of expertise and interests in research?
I am Métis from MacDowall, Saskatchewan and trained as a medical anthropologist. My research area of expertise is the health and wellness of Indigenous people in Canada. In the area of organ donation and transplantation, my research focuses on the lived experience of Métis and First Nations people. I am interested in Indigenous perceptions of the body, personhood and spirituality and how this impacts decision making about organ donation and transplantation. My research also focuses on health inequities experienced by Indigenous people that contribute to end stage organ failure. I am the research lead for the Saskatchewan First Nation and Métis Organ Donation and Transplantation Network. The Network supports building collective intelligence grounded in Indigenous and biomedical knowledges, with the aim of informing public health and health care policies and service delivery to Indigenous people.
What new areas of interest would you like to develop or with which different disciplines or specialist(s) would you like to collaborate within the CDTRP?
I am interested in collaborating with Indigenous people with lived experience; Indigenous Elder/thought leaders; researchers, physicians and other health care experts/practitioners; and advocacy groups to prevent end stage organ failure and to improve health care delivery for Indigenous patients and families. Creating culturally safe care is key to improving health care delivery to Indigenous people. This is an area where I feel significant gains can be made across the country and internationally.
Tell us a fun fact about yourself!
I am an introvert who tries very hard to be an extrovert… so I secretly enjoy COVID-19 social isolation despite falsely portraying myself to the world as struggling as much as others are, with the necessary lockdowns measures etc. Is this a fun fact or a true confession?