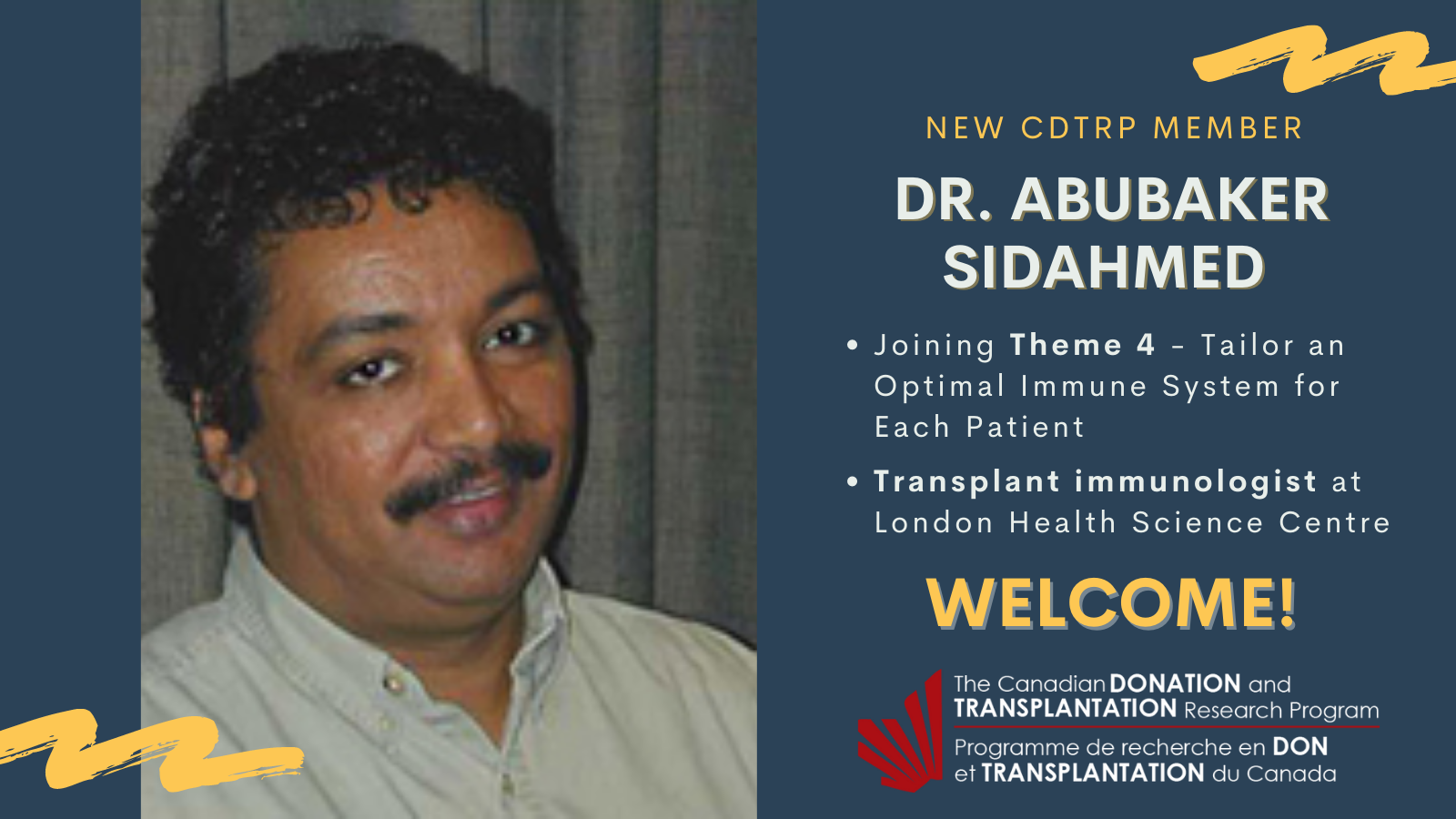 New Member Profile: Dr. Abubaker Sidahmed, Transplant Immunologist at London Health Science Centre
The CDTRP is delighted to welcome many new members and share information on their research expertise and interests through our New Member Profile series. Please join us this week in welcoming Dr. Abubaker Sidahmed  from  to Theme 4 (Tailor an Optimal Immune System for Each Patient) of the CDTRP! 
What are your fields of expertise and interests in research?
My main research interests are around transplantation immunology.

I want to improve the present and to develop additional clinical applicable assays and to look at clinical outcomes based on the interpretation of HLA laboratory testing data. non-HLA antibodies and their role in solid organ transplantation outcomes.

It is well documented that BK virus infection to renal epithelial cell induce phosphorylation of 3′-phosphoinositide-dependent kinase-1 (PDK-1), the protein kinase Akt, mammalian target of rapamycin (mTOR), and 70 kDa ribosomal protein S6 kinase. I believe that will make these cells immortal and might induce cancer.
What new areas of interest would you like to develop or with which different disciplines or specialist(s) would you like to collaborate within the CDTRP?
I believe that solid organ rejection and graft versus host disease (GVHD) start with innate immunity. I am interested in investigating the roles of innate immunity in solid organ rejection and GVHD.

A long-term goal is to study the mechanisms of immune tolerance and targeting to develop approaches to induce allo-HLA tolerance in the transplant recipients.

All these area of research I would not be possible without collaboration within the CDTRP.