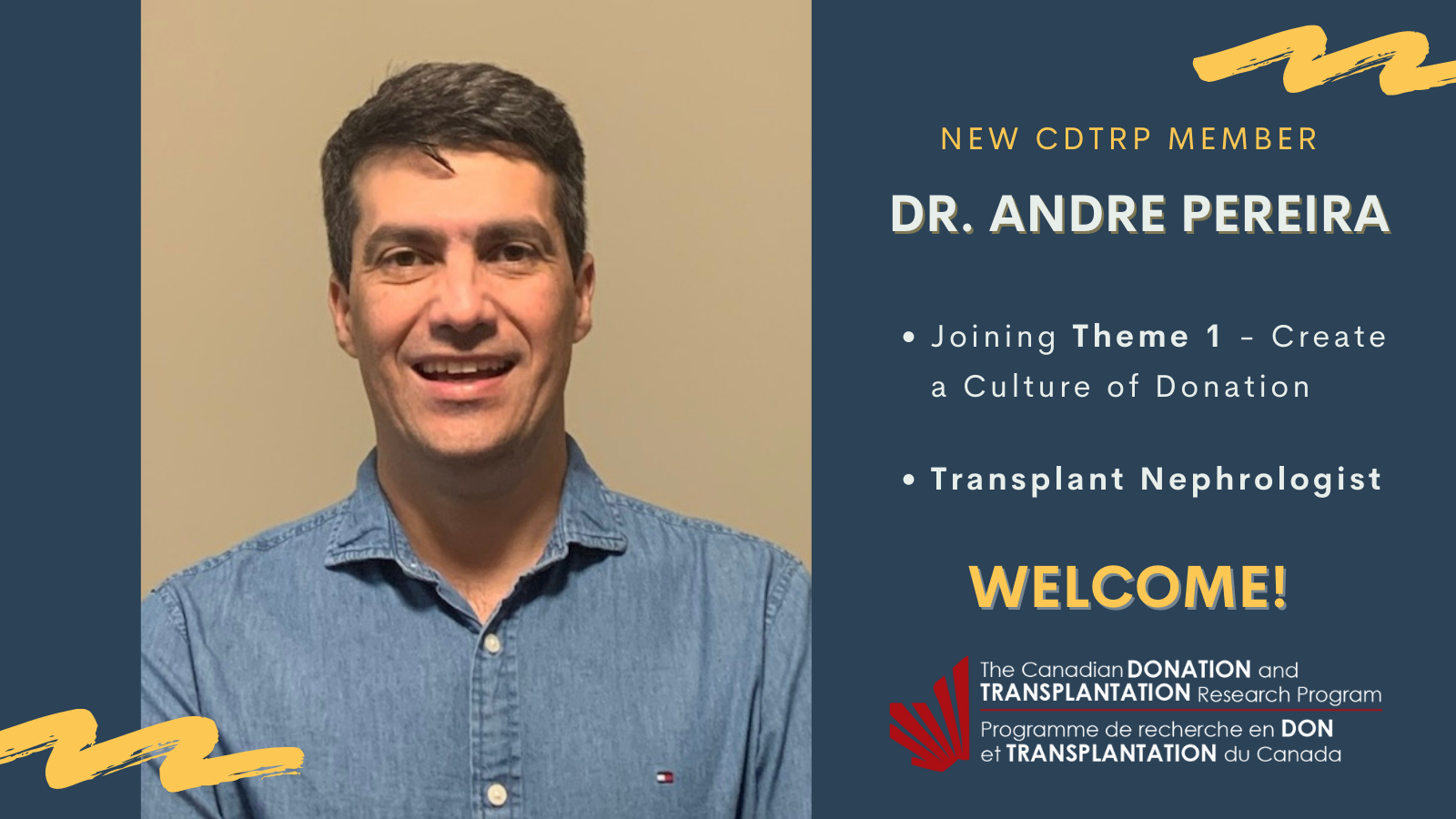 New Member Profile: Dr. Andre Pereira, Transplant Nephrologist
The CDTRP is delighted to welcome many new members and share information on their research expertise and interests through our New Member Profile series. Please join us this week in welcoming Dr. Andre Pereira to Theme 1 (Improve a Culture of Donation of the CDTRP! 
What are your fields of expertise and interests in research?
I successfully coordinated and worked as a transplant nephrologist at three different kidney transplant centers in Brazil (distant 916 km to 2882km from each one), with extreme contrast regarding social economy and deceased organ donation numbers (3, 11 and 40 deceased donors pmp). Therefore, I learned to deal with different challenges through the process of kidney transplant. Nowadays, I am living in Canada, and I hope I can help with the organ donation process.

I am very interested in studying the consequences of donation in living kidney donors, analyzing the effectiveness of transplant centers and developing processes to increase the number of deceased organ donors.
What new areas of interest would you like to develop or with which different disciplines or specialist(s) would you like to collaborate within the CDTRP?
I would like to:

develop an idea I started about an app to facilitate the notification of deceased donors, helping the healthcare workers on it, mainly when the facilities are in distant areas;
improve the transplantability score I developed to analyse how transplant centers are dealing with grafts from deceased donors offered to them
Tell us a fun fact about yourself!
I was born in Varginha, Brazil. This city is famous in Brazil due to the so-called UFO incident in 1996, and tourism in the city has been stimulated by this ever since. As a result, some sculptures and lamps spread around the city referring to this. When they ask me where I was born, my answer is: "In Varginha or another planet… My mother said it was in that city, but we never know…"