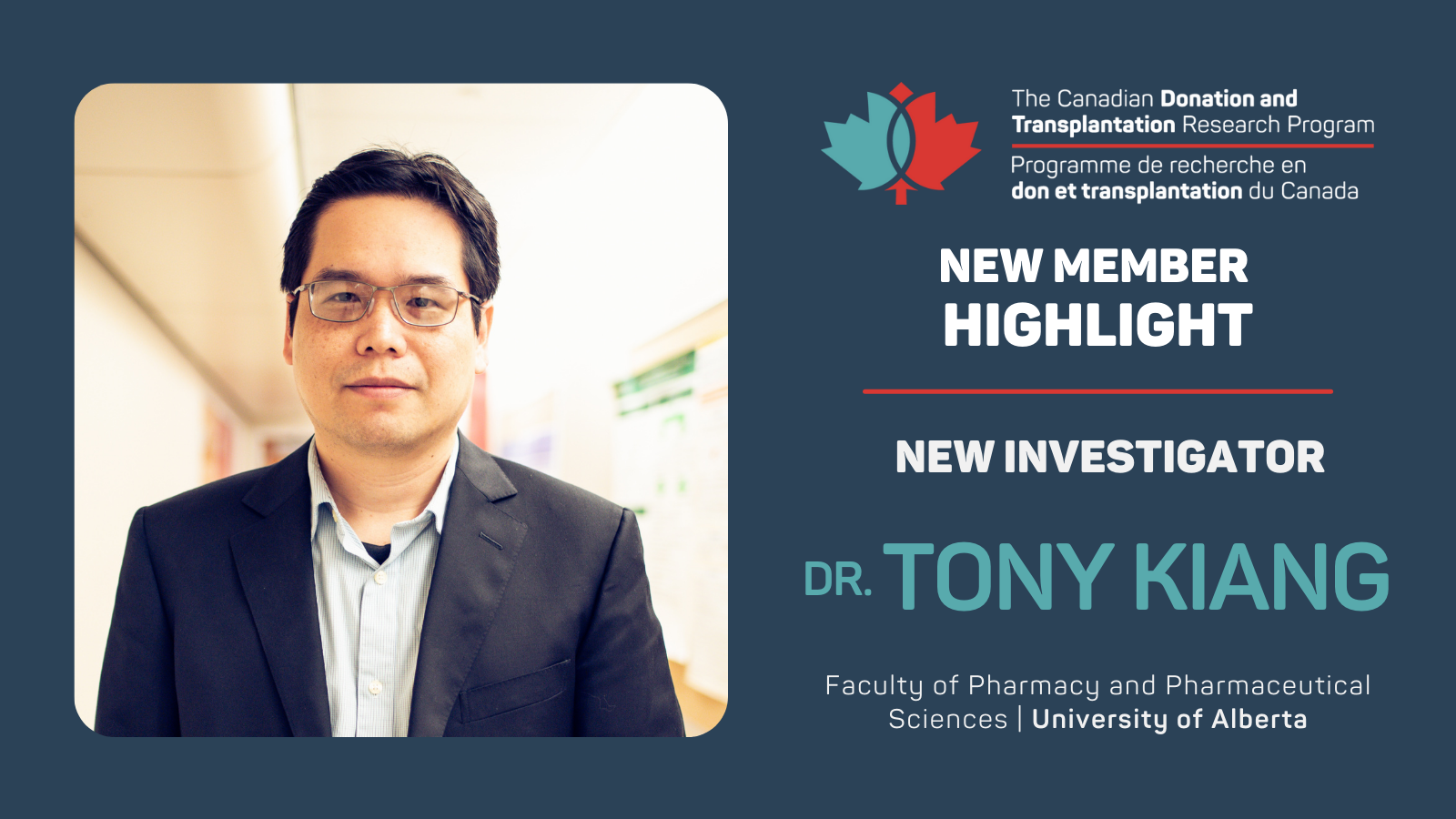 New Member Profile: Dr. Tony Kiang, residency and clinical pharmacologist/toxicologist at University of Alberta
We are happy to welcome to the Canadian Donation and Transplantation Research Program (CDTRP) new members of diverse areas to join our community of researchers, clinicians, patient/family/donor partners and trainees who are dedicated to improving the lives of organ donors and recipients. As a new member, people are an essential part of our mission to advance the science of donation and transplantation and develop innovative, evidence-based approaches to improve outcomes for patients in Canada and around the world.
We are thrilled to have Dr. Tony Kiang joining CDTRP Research Theme 4 – Tailor an Optimal Immune System for Each Patient, as a new investigator. Dr. Kiang is a residency and and a postdoctoral fellowship-trained clinical pharmacologist / toxicologist in a tenure-track appointment at the Faculty of Pharmacy and Pharmaceutical Sciences at University of Alberta
We have asked Dr. Kiang a few questions that you can read below.
What are your fields of expertise and interests in research?
I am a residency-, PhD-, and postdoctoral fellowship-trained clinical pharmacologist/toxicologist in a tenure-track appointment (awarded Tenure and Promotion, starting July 2023) in the Faculty of Pharmacy and Pharmaceutical Sciences at the University of Alberta. I am in a unique position for being able to teach and research at high levels in both clinical and experimental sciences. I have extensive experience with solid organ transplantation, pharmacokinetic modeling, drug analysis, and toxicological assessment in various disease states, as evident by my 46 peer-reviewed full papers (mostly as the primary or the corresponding author), 2 books, and 7 book chapters in high impact publications.

Although still considered a new investigator, I have already been cited 1900 times (h-index 20; i10-index 30; Google Scholar analytics: Kiang publications) and serves on the editorial boards of a number of well-regarded journals. I am also sought-after internationally by the pharmaceutical industry for my consulting expertise in drug kinetic modeling and therapeutic drug monitoring. My laboratory is funded by multiple grants, including tri-council funding to support my unique role in facilitating the translation of research knowledge from the bench to the bedside.
What new areas of interest would you like to develop or with which different disciplines or specialist(s) would you like to collaborate within the CDTRP?
I am interested in exploring new areas of research within the CDTRP, specifically focusing on liver, lung, and cardiac transplantation. In addition, I would like to collaborate with specialists in therapeutic drug monitoring and pharmacokinetic modeling to develop innovative transplant strategies that optimize patient outcomes.
Tell us a fun fact about yourself!
I am very keen in photography!