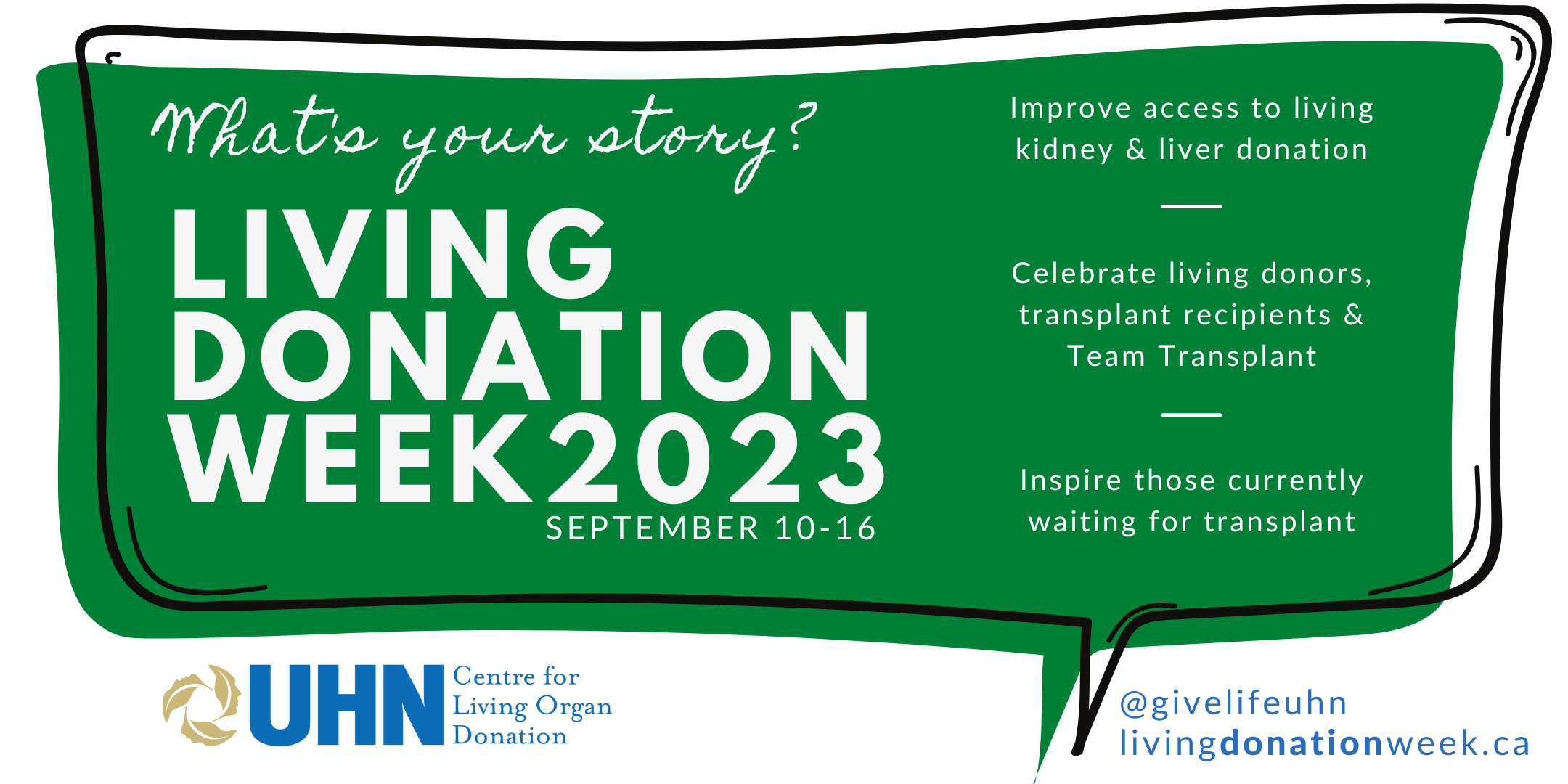 Living Donation Week 
Living Donation Week is an annual event, organized by the University Health Network (UHN) Centre for Living Organ Donation, that aims to create awareness, improve access and equity in living organ donation, and celebrate the incredible individuals who have chosen to save lives through this selfless act. This year, the event is taking place from September 10-16, for a week filled with virtual and in-person events, social media campaigns, and inspiring stories.
The event also strives to shine a spotlight on the significance of living organ donation and the impact it can have on the lives of individuals awaiting a transplant. By fostering awareness, the event aims to educate the public about the importance of organ donation and inspire more individuals to become living donors. Through social media campaigns and free events, the hope is to eliminate barriers and ensure equitable access to living organ donation for all.
Join us in sharing gratitude, hope, light, education and information!
CDTRP Special Interview with Julia King
In this special interview for Living Donation Week, Stéphanie, CDTRP Communications & Events Manager, sat down with Julia King, Emergency Nurse at Vancouver Coastal Health and two-time living organ donor. In an act of selflessness, Julia donated both a portion of her liver and a kidney to help two strangers on the waiting list. As an active participant in donation and transplantation research and a member of the CDTRP Patient, Family, and Donor Partnership Platform, Julia shared her inspiring journey and provided valuable insights for those considering living donation.
 
Julia's interview serves as a powerful testament to the transformative impact of living donation. Her unwavering commitment to advancing donation and transplantation research is truly inspiring, making her an invaluable member of the CDTRP community.
Listen to the interview below.
Learn more on Julia's extraordinary journey to living donation in this special piece by the Canadian Blood Services back in 2022: Emergency room nurse becomes two-time living organ donor.
Her incredible story of compassion and sacrifice serves as an inspiration to all of us, highlighting the power of human kindness and the immense impact one person can have on the lives of others. The article dives into Julia's journey, exploring the challenges she faced, and the profound impact her actions have had on the lives of those she saved.
"It's definitely eye-opening to see the difference that an organ transplant makes in a person's life," Julia says. "Donating has also provided me with connections in the transplant community, and I now have friends that are donors and recipients."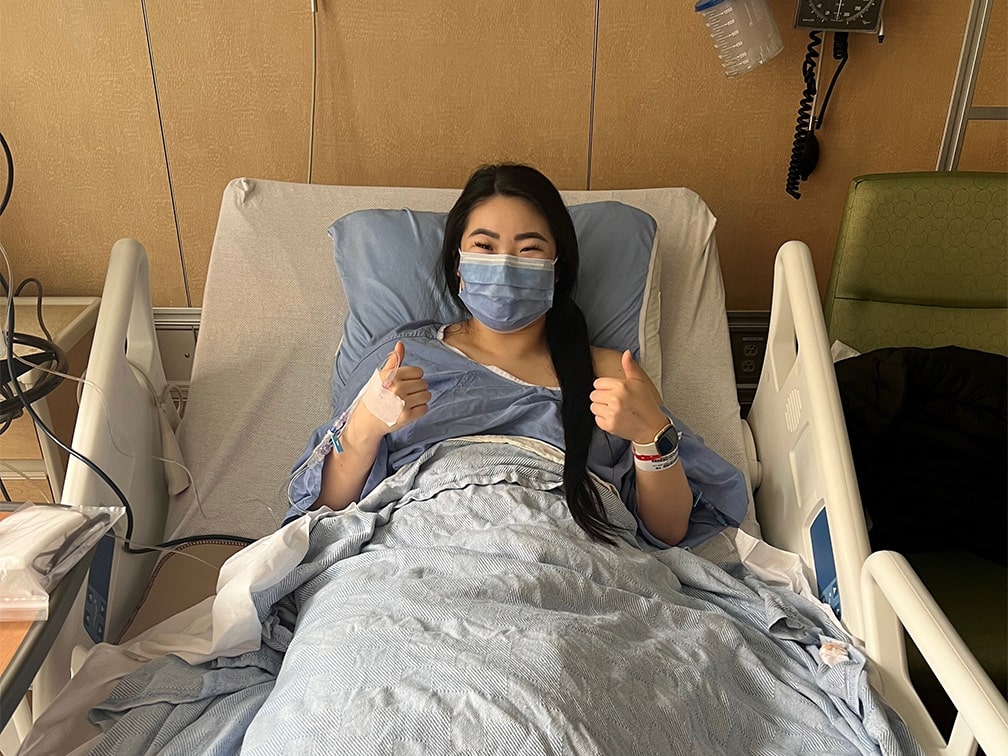 In 2022, 576 healthy Canadians donated a kidney or a part of their liver to someone on the transplant waitlist. Of these, 485 were living kidney donors and 91 were living liver donors. (

source

)
Wednesday, September 13, 2023
On September 13, join the "Finding a Living Donor Interactive Session", a peer-led event designed to empower kidney and liver transplant candidates and advocates on their journey towards finding a life-saving donor. This interactive session hosted by Candice Coghlan, Heather Badenoch and Afsana Lallani, aims to foster a supportive community, provide valuable insights, and equip individuals with the knowledge and tools needed to navigate the often complex process of finding a living donor.
In this immersive event, participants will have the unique opportunity to engage with patient partners, advocates, and healthcare professionals who understand the challenges and triumphs of the donor search. Through a series of interactive discussions, informative presentations, and shared experiences, attendees will gain a deeper understanding of the intricacies involved in finding a suitable living donor.
For Living Donation Week 2022, we had the pleasure to meet with two exceptional living donors: Heather Badenoch and Leonard Hodder, who will both be participating in the "Finding a Living Donor Interactive Session". Watch the interview below where they discussed their path to living donation, advices for future living donors and what type of research they would like to see around living donation.
Living organ donation offers a shorter wait for transplant. The wait time for a living donor kidney transplant is about 1 year, while those waiting for a deceased donor transplant wait 4 years or more depending on blood type and other factors. (source)
Thursday, September 14, 2023
On September 14, do not miss the special episode of the Living Transplant podcast featuring patient partner and living donor Sylvie Charbonneau, and Dr. Joseph Kim, Director of the Kidney Transplant Program at the University Health Network in Toronto. In this interview, Sylvia and Dr. Kim will discuss living donation, organ donation policies, barriers, solutions, and the big picture.
Stay tuned for the episode to go live!
About the Living Transplant podcast from the Ajmera Transplant Centre and the Centre for Living Organ Donation
The podcast is osted by Candice Coghlan, a kidney transplant recipient and Education & Outreach Coordinator at the Centre for Living Organ Donation. Each episode she is joined by a guest host with lived transplant experience to interview an expert in the field of transplant. Candice and her guest hosts will tell the incredible stories of transplant recipients, donors and caregivers, and together, they will explore transplantation through the perspective of frontline staff, researchers, innovators and transplant pioneers.
Since January 2009, over 1,000 living donors across Canada have shared the gift of life through the national Kidney Paired Donation (KPD) program run by Canadian Blood Services (CBS) – source.
About the Centre for Living Organ Donation

For those in need of a kidney or liver transplant, living organ donation may offer a shorter pathway to better health-providing faster access to transplant and a quicker recovery. But not enough Canadians know about this lifesaving option.
The Centre for Living Organ Donation was created by the Ajmera Transplant Centre in 2018 to improve access to living organ donation for people who need a life-saving kidney or liver transplant and those who want to give a transformative gift of life. The Ajmera Transplant Centre at the University Health Network (UHN) is one of the largest organ transplant programs in North America. It also partners with SickKids on the largest pediatric living donor transplant program in Canada.
The Centre for Living Organ Donation raises awareness, provides support, promotes research, and offers hope to thousands of people across Canada who are waiting for a kidney or liver transplant-and everyone who wants to be part of their future. The Centre is funded by the UHN Foundation and collaborate with transplant centers, dialysis units and kidney care clinics, community organizations and research groups across Canada and beyond.
For more information about the Centre and what they do, please visit www.livingorgandonation.ca  or connect with them @givelifeuhn | livingorgandonation@uhn.ca | 416-340-5400.