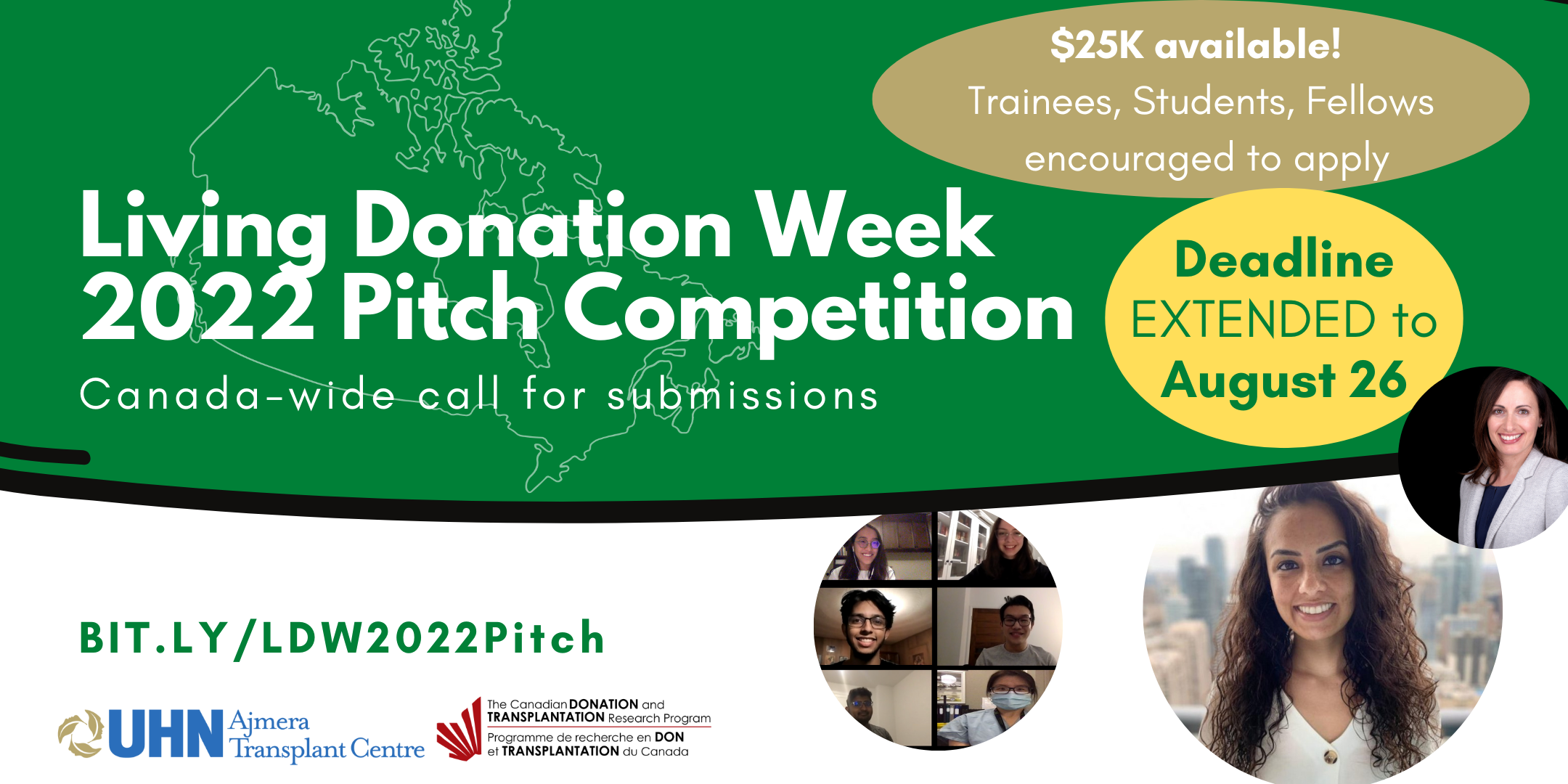 CDTRP is proud to be sponsoring the Living Donation Week 2022 Pitch Competition
Do you have an important research topic or brilliant idea to increase access, raise awareness or dramatically improve the outcomes or experience of living kidney or liver donors, recipients and caregivers?
If your answer is "YES", consider pitching your project to the #LDW2022 Pitch Competition! Submissions will consist of:
a 2-4 minute video pitch recorded on your computer or mobile device, and
a backgrounder explaining your study or project and why it merits attention and resources. The backgrounder can be an academic research poster or a PDF document (max 500 words).
info on you/your team and optionally, a relevant graphic appropriate for sharing on social media.
CDTRP is offering a $10K award to the best trainee pitch and additional awards will be provided from the Centre for Living Organ Donation.
SUBMIT NOW!
Extended deadline: Friday, August 26, 2022. The top entries will participate in an online Pitch Competition and Awards Presentation to be livestreamed on Friday, September 16, 2021, starting at 12 noon Eastern. Entries from across Canada are welcomed!
Videos submitted as part of the application will be available on the Centre for Living Organ Donation's YouTube Channel, starting August 22.
To increase your chances of being shortlisted for the competition, encourage friends and colleagues to "Like" your project on YouTube in the lead up to the competition. The audience favourite will automatically earn a wildcard spot in the live Pitch Competition.
Trainees, students and fellows with an interest in living organ donation are encouraged to apply.