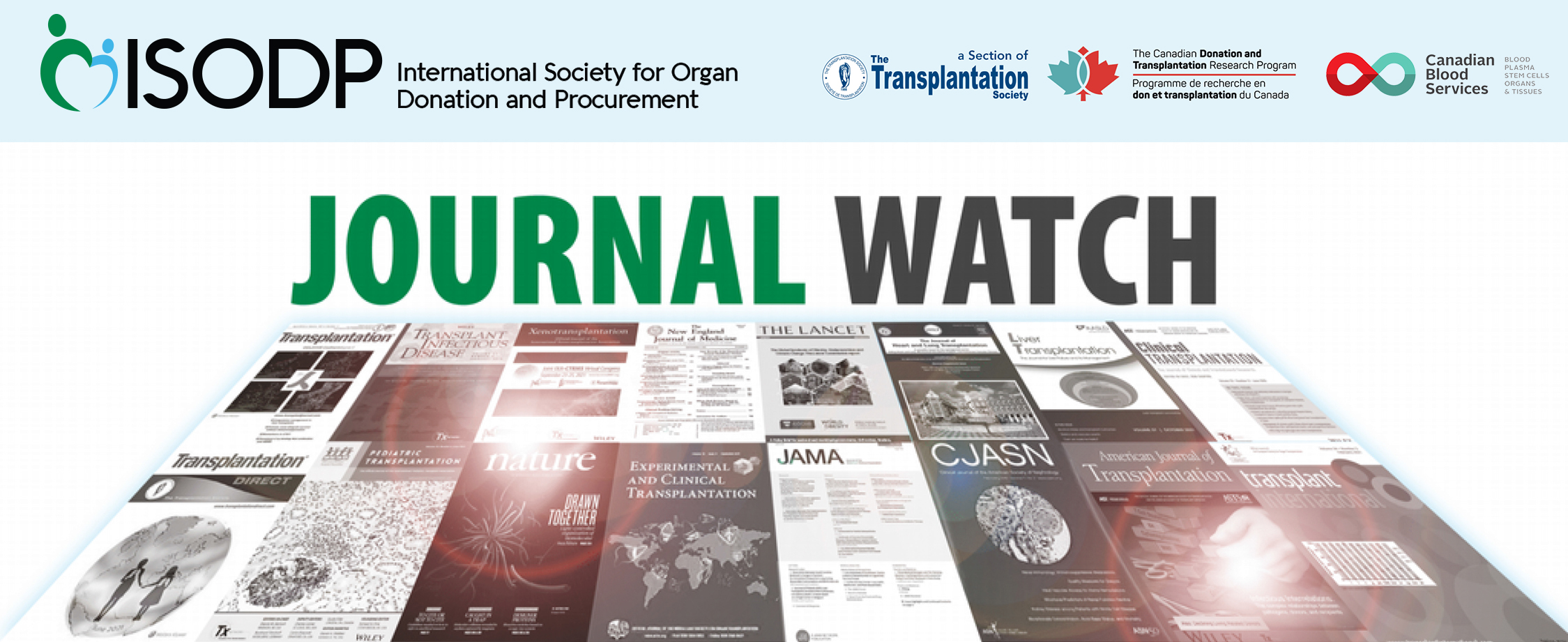 ISODP Journal Watch
The International Society for Organ Donation and Procurement (ISODP) is the organization advancing donation through science, developing professionals and inspiring networks supporting organ donation to improve organ transplantation worldwide (source). The ISODP Journal Watch is an educational resource and benefit to the ISODP members. "Two of the primary goals for the Society are to enhance resources to improve donation practices and to establish an integrated network of donation professionals."
The ultimate goal of Journal Watch would be to lead to the creation of a journal entirely dedicated to organ donation.
A Canadian team led by Dr. Sonny Dhanani and Dr. Matthew Weiss is hosting the ISODP Journal Watch in 2023, having previously taken care of the 2022 issues as well. The team has organized a collaborative effort to review and compile the most relevant donation and transplantation manuscripts from various sources. The Canadian Donation and Transplantation Research Program (CDTRP) and the team ensure that the editions are delivered in a practical dissemination format for Canadian and international colleagues. The editions are prepared with significant assistance from CDTRP trainees Amina Silva and Aisha Adil, as well as CDTRP Communications Manager Stéphanie Larivière.
The team welcomes feedback and is looking forward to an interesting year in review!
June 2023 issue
This all Canadian edition highlights the publication of two major Canadian-led best practice statements. The first is a major overhaul of the definition of death guidelines in Canada. While the main guideline document is impressive in and of itself, the accompanying publications, all available as Open Access publications of the Canadian Journal of Anesthesia, represent an enormous amount of work by dozens of multi-disciplinary professionals who worked to summarize the existing literature informing the topics that were included in the guidelines. The result is the world's most up-to-date examination of what death is, how it should be determined, and how best to communicate the concept of death to families.
The other Canadian-led best practice series is the output of the International Donation and Transplantation Legislative and Policy Forum. This Forum assembled 61 donation and transplantation stakeholders – from ODO administrative leads to patient partners – in the hope of creating general recommendations that jurisdictions around the world could apply to creating or improving a donation and transplantation system. The resulting seven manuscripts available Open Access from Transplantation Direct (with one more still underway!) cover a huge range of legal and policy issues that could be adapted to any local reality.
Finally, we included a scoping review of transplant outcomes from donations after medical assistance in dying (often referred to as voluntary euthanasia elsewhere) work that was co-authored by members of our Journal Watch team.