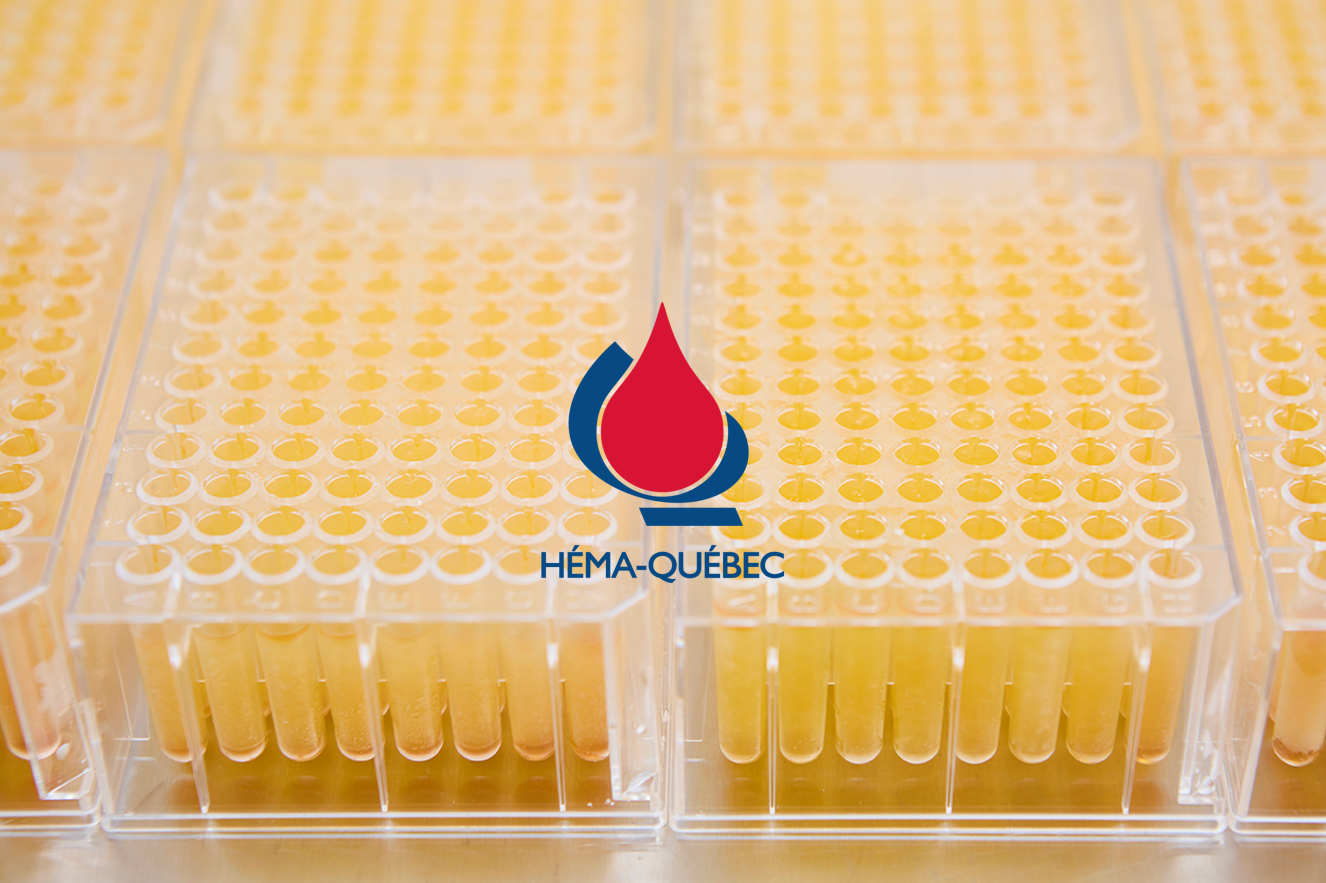 Héma-Québec – Tracking plasma donors – Impact on the immune response from the vaccination against SARS-CoV-2 that causes COVID-19
Since the beginning of the COVID-19 pandemic, Héma-Québec has been playing a supportive role to the Québec and Canadian health care networks by conducting SARS-CoV-2 seroprevalence studies in blood donors. The biobank and the studies arising from it will be a continuation of this collaboration, by facilitating studies pertaining to the evolution of the COVID-19 pandemic in the context of the deployment of the vaccination.
Description of the Plasma Donor Biobank
An expedited COVID-19 vaccination program by the government was introduced in March 2021 in the context of the health emergency in Quebec and aims to immunize the majority of the Quebec population as soon as possible. The speed of immunizing the Quebec population prompted Héma-Québec to quickly recruit a cohort of its frequent plasma donors and accumulate relevant biological samples. These donors give plasma that is intended for fractionation, through a process called apheresis. The biobank consists of 3-mL plasma samples collected at each donation from these plasma donors. The ten Héma-Québec donation centres that collect biobank-dedicated samples from plasma donors are located in Saguenay, Québec City (Lebourgneuf and Sainte-Foy), Trois-Rivières, Sherbrooke, Laval, Montreal, Kirkland, Brossard and Gatineau.
Sample collection is continuing as planned; at the last count, we had more than 60,000 samples obtained from more than 12,000 individual donors. Data on vaccination and infection events are also collected. All plasma donors who qualify for donating during the recruiting period are included in the biobank if they give their consent. Some of those criteria are available on Héma-Québec's website. The full list is found in the blood donation criteria manual, which can be accessed here.
Biobank's objectives
To build a cohort of frequent plasma donors who consent to participating in studies in the pre- and post-COVID-19 vaccination context.
To systematically collect and store plasma samples obtained from the biobank's donors.
To develop a database that will contain certain information pertaining to the biobank's donors.
To allow internal or external researchers to have access to the biobank's samples and data for the purpose of conducting studies pertaining to COVID 19.
To ensure the diligent management of the biobank, its compliance with confidentiality rules, and the robustness of the process for assessing the scientific quality of research projects.