Green Shirt Day Celebrates 5 Years!
The Canada-wide Green Shirt Day was created to remember the victims and families of the tragic Humboldt Broncos bus crash in Saskatchewan in 2018. And, to continue Logan Boulet's legacy by inspiring Canadians to register as organ donors and to talk to their families about their wishes.
On April 7, learning that he would not recover, Bernadine and Toby Boulet offered to donate their son, Logan Boulet's organs. They did so because Logan had registered as an organ donor and had spoken to his parents about his wishes. His generous final act inspired almost 150,000 donor registrations across Canada shortly thereafter, which became known as the Logan Boulet Effect.
Green Shirt Day is led by the Boulet Family and Canadian Transplant Association, in partnership with Canada's Organ and Tissue Donation Community, including key partners Canadian Blood Services and The Kidney Foundation of Canada. Green Shirt Day organizers are also grateful for the support of  IA Financial Group.
The goal of Green Shirt Day 2023 is to inspire 100,000 new registered organ and tissue donors nationally.
Let us remember the importance of sharing our wishes with our loved ones. The story of Logan Boulet, who made the selfless decision to become an organ donor and shared his wishes with his family, is a reminder of how one person's actions can make a significant impact on others. His decision not only saved six lives but also inspired a nation and created a movement known as the #LoganBouletEffect.
CDTRP Special Interview with Bernadine & Toby Boulet and Patient Partner Sandra Holdsworth
Long-time CDTRP Patient Partner and 25-year liver transplant recipient, Sandra Holdsworth, had the privileged to meet with Bernadine and Toby Boulet as part of the Green Shirt Day. They discussed the five-year mark of the initiative, the importance of education and what it means for the research on donation and transplantation.
Sandra is a Patient Partner Co-Lead with the CDTRP on the Theme 5 – Restore Long-Term Health. She helps to determine research questions, and co-design studies, recruit study participants and assist with knowledge translation. Her focus has been on exercise, nutrition and mental health & wellness as these are the areas of research that patients and caregivers are interested in seeing done. Sandra was a Steering Committee member of CAN-RESTORE from 2014-2018. Using her lived experience as a transplant patient and as a benefactor of organ donation she has been a passionate advocate for organ and tissue donation and has mentored others afflicted with diseases requiring a transplant on their healthcare journey.
The interview will be posted on our social media platforms on April 7. Stay tuned!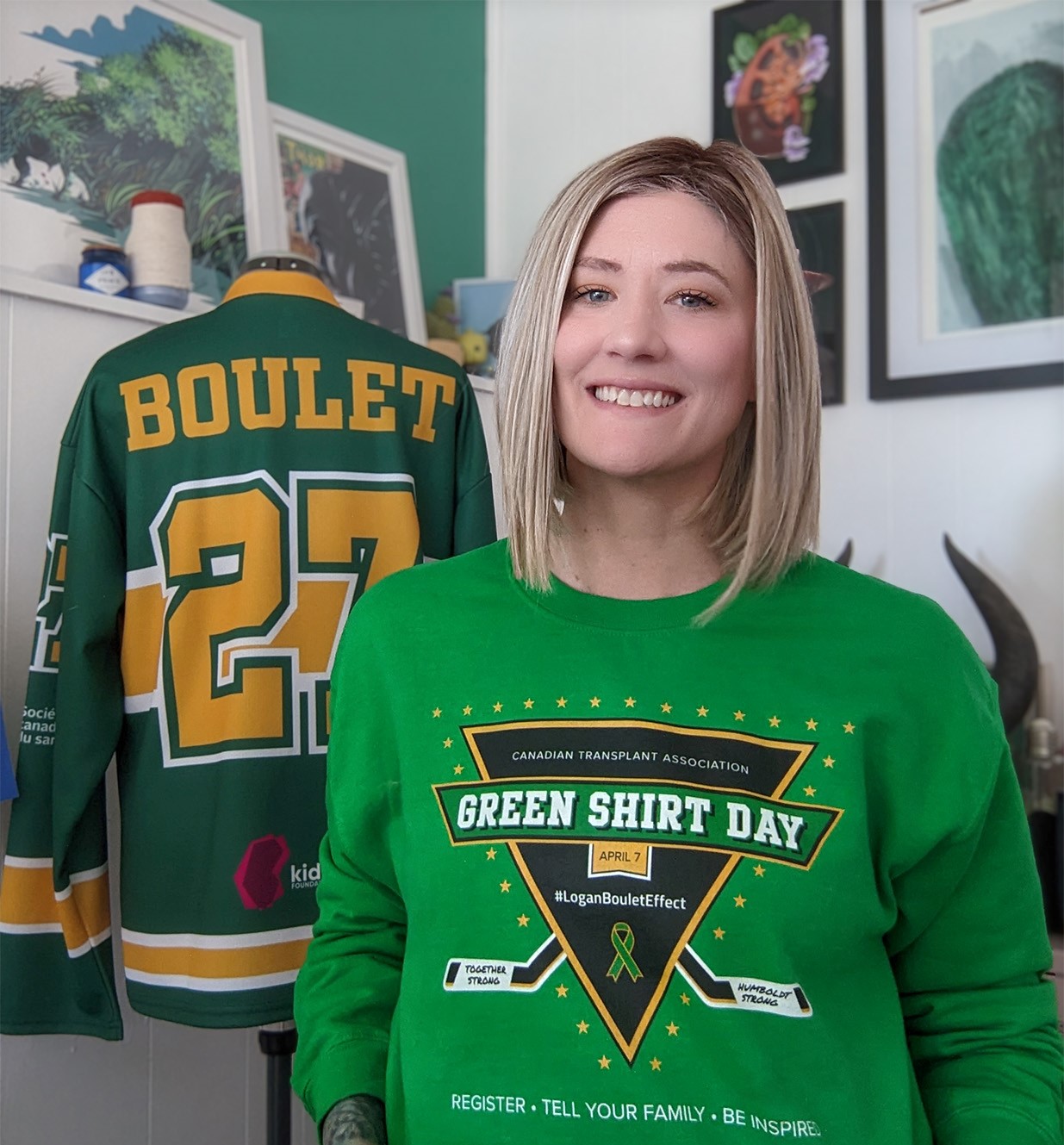 New Shirt Design 2023
The 5-Year design was created by Brandy Hehn, a two-time organ transplant recipient having received her liver in 2009 from a deceased donor in Alberta and her kidney from a deceased Saskatchewan donor, in 2020. Brandy has been a long supporter of Green Shirt Day and an advocate for organ donation awareness since she heard of Logan's decision to become an organ donor after being inspired by his rugby coach Ric Suggitt, who was an organ donor at the time of his passing.
The 2023 Green Shirt Day 5-year design was inspired by the Pittsburgh Penguins logo and their Captain, Sidney Crosby who Logan loved and cheered for since he was a young boy, wearing his favourite "Sidney Cowsby" t-shirt until he outgrew it. The design includes the hashtag #LoganBouletEffect, which is the effect that began when news that Logan's parents had decided to donate his organs and inspired 150,000 Canadians to register as organ donors. The design also includes 29 gold stars, 16 for each of those who lost their lives and 13 for those whose lives were forever changed when the Humboldt Bronco Bus crashed on April 6, 2018.