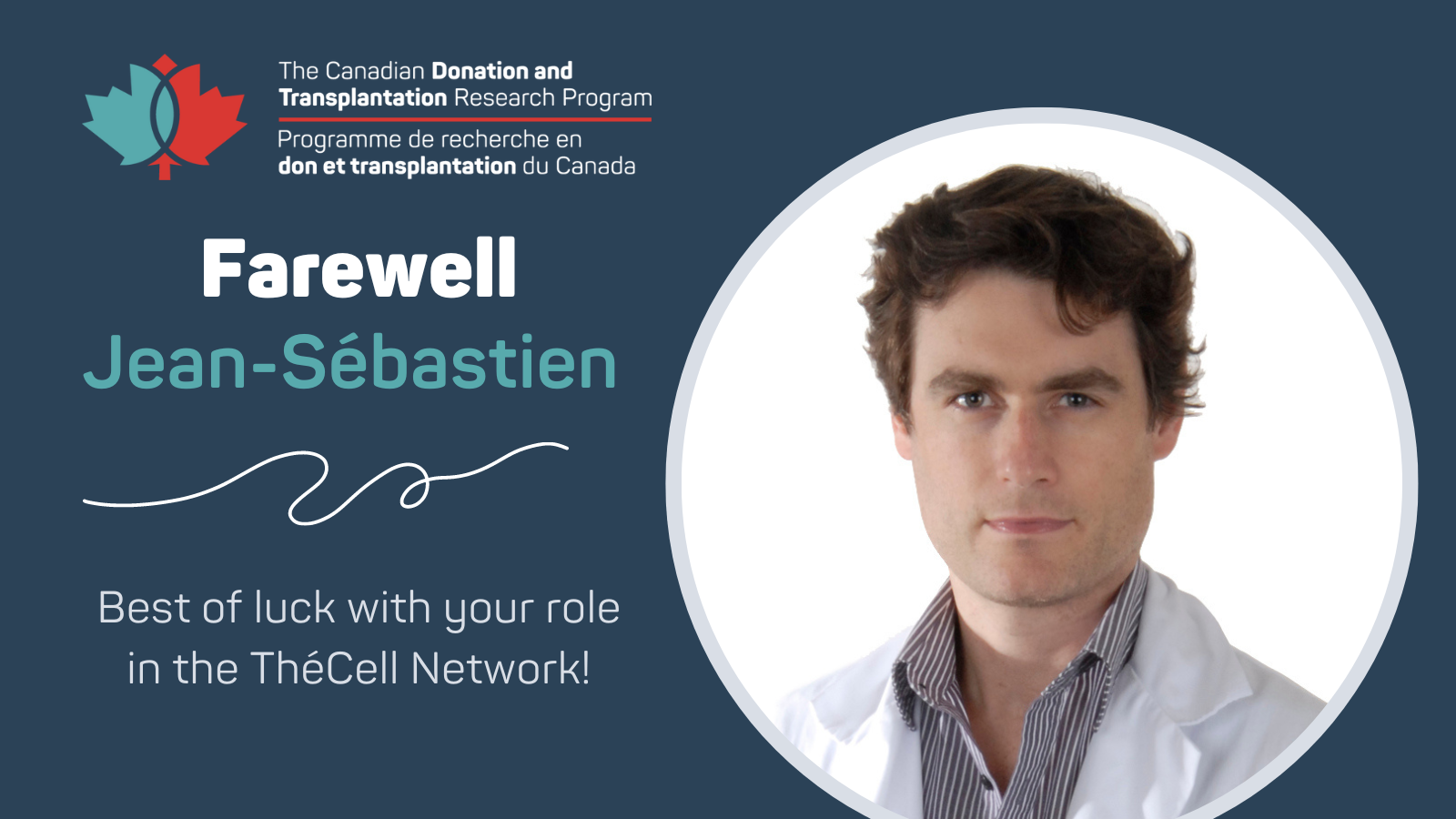 Announcement: Farewell Jean-Sébastien
We would like to take this opportunity to say farewell to Dr. Jean-Sébastien Delisle, who left CDTRP's leadership, taking on a new role as the Director of the Québec Cell, Tissue and Gene Therapy Network (ThéCell). Jean-Sébastien's expertise in stem cell donation and cellular therapies has been invaluable to our organization. Although Jean-Sébastien has moved on to other opportunities, we are grateful that he will remain an active CDTRP member, and we look forward to continuing to work together to advance our research in transplantation and cellular therapies.
During his time at CDTRP, Jean-Sébastien was part of many projects and also served as the CDTRP Associate Director. He was a straight player who thought through the complexity of situations, making him a valuable member of our team. His willingness to work hard and lend his expertise to any project is unmatched, and his ability to tackle complex issues head-on with thoughtful and valuable insights has earned him the respect of his peers. His ability to navigate interpersonal relationships with ease, to empathize with others and put himself in their shoes, and to think through the complexity of any given situation has made him an invaluable member of the CDTRP.
My involvement with the CDTRP came early in my career. It was an exceptional environment in which to grow as a scientist and as a human being, and to understand the importance of collaborative and multidisciplinary science.

– Dr. Jean-Sébastien Delisle
Jean-Sébastien's best memory from his time at CDTRP was meeting people from different backgrounds, and of course, Lori dancing at the network parties! He was always willing to be involved in everything we did, and we appreciated his enthusiasm and dedication to our mission.
We wish Jean-Sébastien all the best in his new role at ThéCell Network, and we are confident that his expertise and dedication will lead to great success in his new endeavor. Thank you, Jean-Sébastien, for all your contributions to CDTRP, and best wishes for a wonderful future.
About the ThéCell Network
The Québec Cell, Tissue and Gene Therapy Network (ThéCell) is funded by the FRQS, and its mission is to support the development of innovative therapies to treat conditions affecting almost all organs and systems, including gene therapies, several regenerative medicine approaches and cellular immunotherapies. The main objective is to promote the translation of cell, tissue and gene therapies into the clinic for the benefit of public health. The group of over 150 research teams works along the entire spectrum of translational research, from basic research to bioengineering and clinical research. Dr. Jean-Sébastien Delisle has been the ThéCell Director since May 2022.