The rich program has been developed by the CDTRP Annual Scientific Meeting Planning Committee, co-chaired by Lorraine Hamiwka (Theme 5) and Marat Slessarev (Themes 1 & 2) and with feedback from the CDTRP community and Theme leads. Other members of the Planning Committee include:
Sabine Ivison (Themes 4 & 5)
Warren Fingrut (Themes 1, 2 & 3)
Vanessa Silva e Silva (Themes 1 & 2)
Nicholas Murphy (Trainee, Theme 2)
Ke Fan Bei (PFD partner, Themes 1, 3 & 4)
Please note these events took place in December 2021
PRE CDTRP ANNUAL SCIENTIFIC MEETING EVENTS
TUESDAY, DECEMBER 7, 2021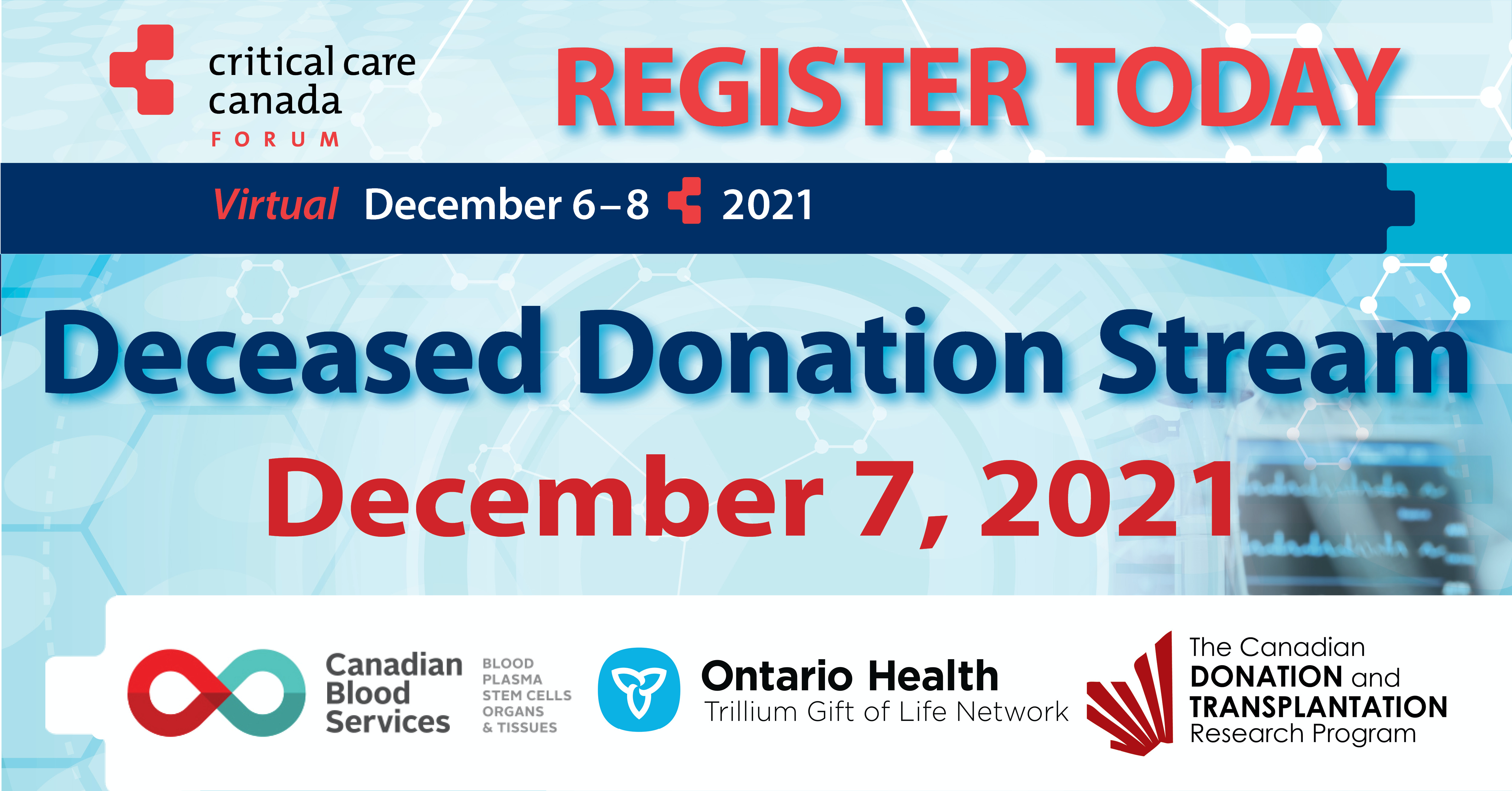 Deceased Donation Stream
On December 7, the CDTRP has been partnering with the Critical Care Canada Forum, Trillium Gift of Life Network/Ontario Health and Canadian Blood Services to support the Deceased Donation Stream of the 2021 virtual Canadian Critical Care Forum.
We were excited to spotlight major CDTRP initiatives and provide a forum for our members to propose new collaborations and discuss future opportunities for individual projects and the overall CDTRP network.    

Women in Donation – A Women in Transplantation Event
Women in Transplantation (WIT) programming and events have covered many critical issues over the last decade, including a focus on gender in careers in transplantation. This will be the first WIT event related to the careers of women specifically involved in donation. Presentations will highlight their career trajectories (e.g., how they became interested in the field, how it fits into their larger view of their work and essential issues that they think are important.) 
This virtual event has included an overview of the Women in Transplantation initiative and several short presentations from Women in Donation (personal stories about experiences, challenges, opportunities), followed by open discussion and Q&A.
Speakers:
CDTRP ANNUAL SCIENTIFIC MEETING
WEDNESDAY, DECEMBER 8, 2021
THURSDAY, DECEMBER 9, 2021
FRIDAY, DECEMBER 10, 2021