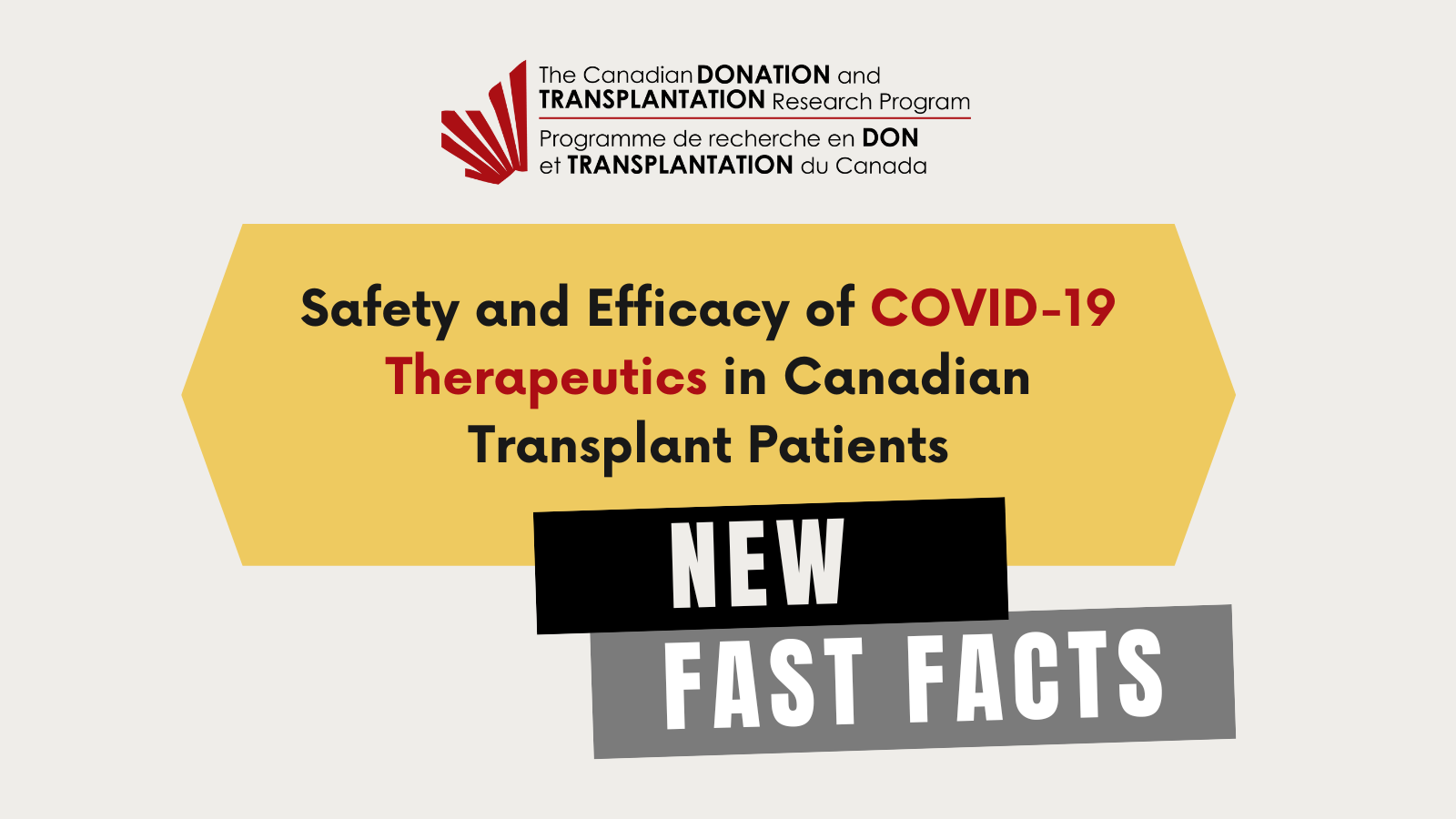 New Fact Sheets for the CDTRP Safety and Efficacy of COVID-19 Therapeutics in Canadian Transplant Patients Knowledge Mobilization Plan
The CDTRP continues to leverage its infrastructure to understand the needs, concerns, and priorities of our patient, family and donor (PFD) community. Our goal is to provide accessible, trustworthy, and up-to-date information to support pre-and-post transplant recipients and their families, to become partners in their care. We have heard that understanding the effectiveness of treatments and their implications for the diverse spectrum of transplant recipients is a priority for them and their families.
As such, we have made available two fact sheets, called Fast Facts, on Evusheld and COVID-19 Therapeutics in Transplant Patients. The last one provides an overview of approved monoclonal antibody therapy treatments in Canada for early and severe COVID-19, approved antivirals, and a listing of treatments offered by each province. Each therapy outlined in the fact sheet includes the most recently available data and links for further readings about each product.
Our next COVID-19 priority-setting discussion will occur during the CDTRP 2023 Patient, Family and Donor Research Forum.
CDTRP Special Webinar – What is known and unknown about COVID-19 therapeutics for transplant recipients?
Since the start of the pandemic, CDTRP leveraged its infrastructure to understand the ongoing needs of patients, families, and donors (PFD). With the ongoing pandemic and changes in variants, we hosted a special webinar on January 25, 2023 to learn the latest in research and therapeutic development from experts Dr. Sara Belga and Dr. Catherine Burton. This webinar provided the latest data and facts on COVID-19 therapeutics, as well as an opportunity to ask questions to the experts. You can watch the recording on the right.