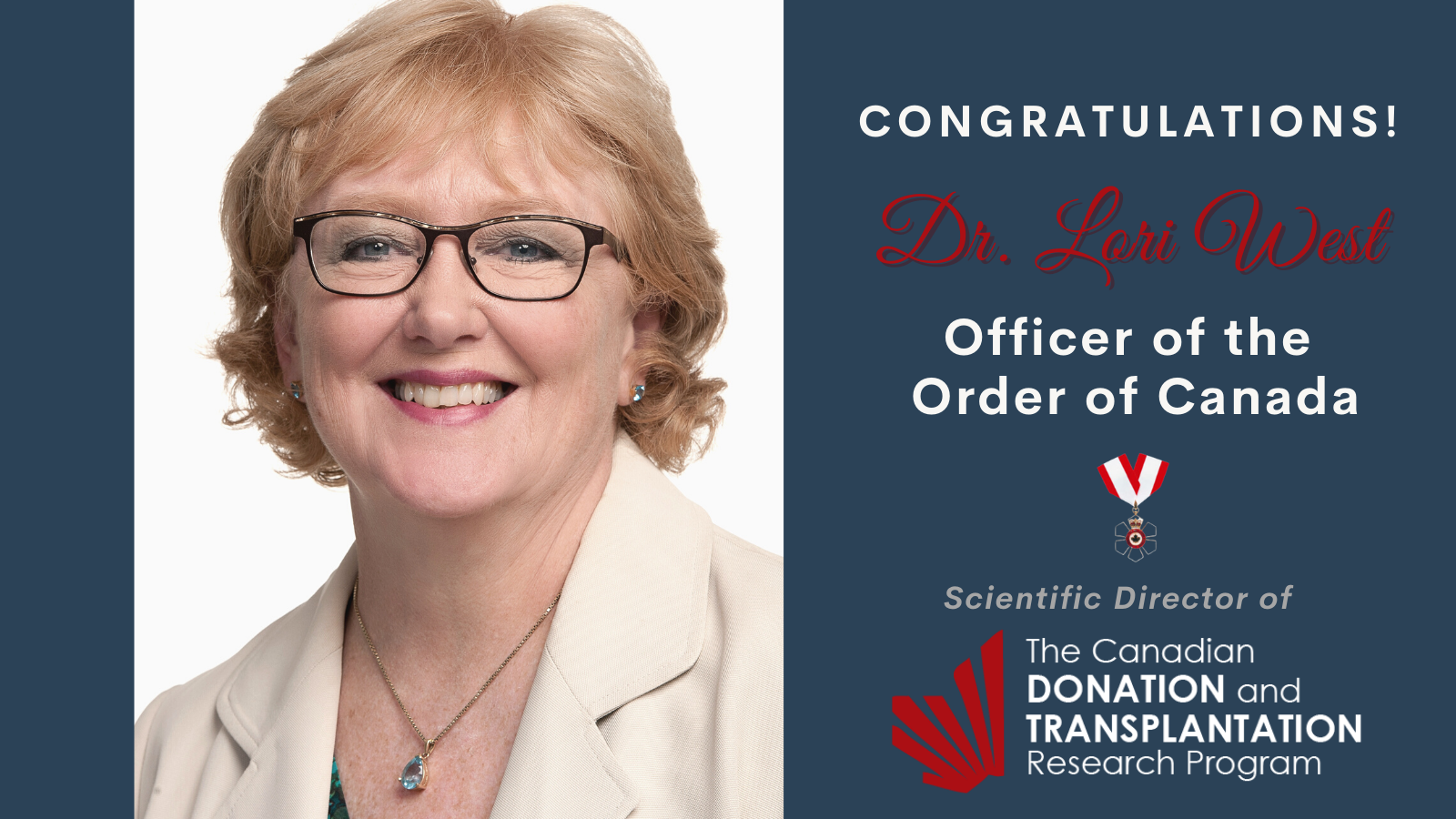 Congratulations Dr. Lori West – Appointment to the Order of Canada
Dr. Lori West has been appointed as an Officer of the Order of Canada, one of our nation's highest honours. The Order of Canada is awarded by the Governor General and recognizes outstanding achievement, dedication to the community, and service to the nation. Dr. West has been recognized for her leadership in transplantation and donation, particularly for her breakthrough research in infant heart transplantation.
As a clinician-scientist, pediatric transplant cardiologist and basic science transplant immunologist, Dr. West is founding Scientific Director of the Canadian Donation and Transplantation Research Program (CDTRP) and Director of the Alberta Transplant Institute. Bringing together the Canadian donation, solid organ transplant, and hematopoietic stem cell transplant research communities with dozens of partners across sectors and disciplines, alongside patient, families and donors, the CDTRP created a new national framework for collaboration and team science.
Through her research program, Dr. West also leads international multi-site projects examining clinical and immunological implications of ABO-incompatible transplantation. As just one example of her seminal work, Dr. West and colleagues successfully transplanted hearts between infants of incompatible ABO blood groups and identified the induction of B-cell tolerance as a critical mechanism, with major implications for pediatric transplantation. Her work has led to policy changes to donor organ allocation for children around the world.
Dr. West was awarded the Lifetime Achievement Award from the Canadian Society of Transplantation (CST), the 2017 Outstanding Science Leadership Award from the Alberta Science and Technology Leadership Foundation and has served in leadership positions in major societies, including as President of both the International Society of Heart & Lung Transplantation and the CST. She holds the Tier 1 Canada Research Chair (CRC) in Cardiac Transplantation and is a Fellow of the Royal Society of Canada and the Canadian Academy of Health Sciences.
CONGRATULATIONS!