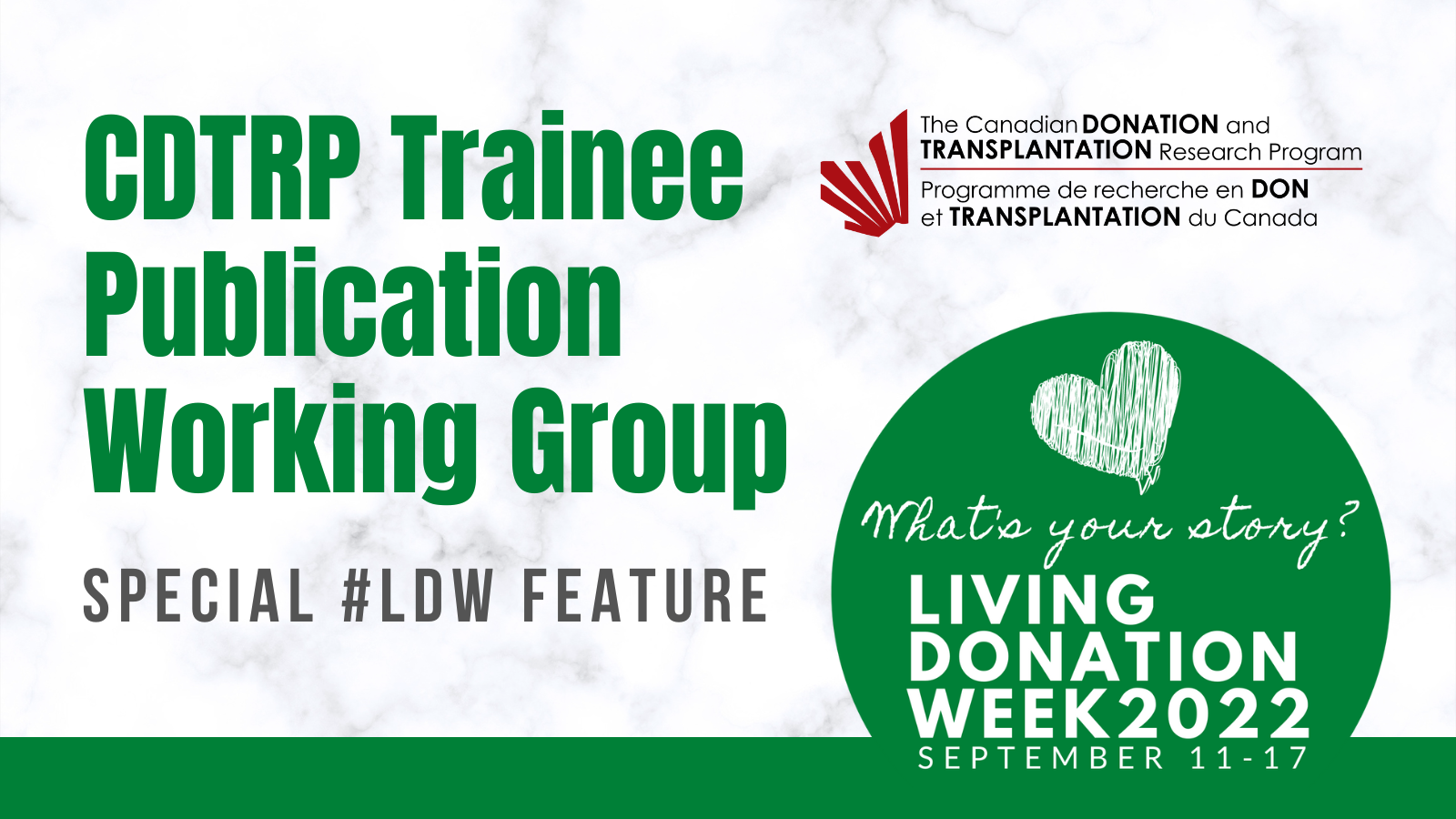 CDTRP Trainee Publication Working Group Feature
CDTRP has a growing network of dedicated trainees initiating cutting-edge donation and transplantation research. This week, we are delighted to highlight the work of Somaya Zahra (Ph.D.), Ke Fan Bei (MSc), Aisha Adil (BSc), and Princess Okoh (MBBS), who are utilizing their expertise to collaborate on the publication, Evaluation of indications for genetic assessment in living kidney transplant donors and relevant Canadian practices in light of the current international guidelines.
This group came together during CDTRP's 2021 Annual Scientific Meeting with the goal of developing their research skills, expanding their networks, and gaining hands-on experience in publishing in a peer-reviewed journal by exploring an innovative research topic.
Trainee Publication Research Highlight
This group's research focuses on the need for genetic assessment in living kidney transplant donors. End-Stage Renal Disease (ESRD) is a prevalent problem with the tendency to familial clustering in up to 30% of the affected individuals. Living kidney donor transplantation (LDKT) is a superior treatment option for kidney failure as it offers more favourable graft outcomes than a deceased donor. However, in the United States, 40% of all living kidney donors (LKDs) are biologically related to their recipients, which makes them liable to worse long-term outcomes [Chronic kidney disease (CKD)].
The diagnostic value of genetic assessment of living kidney donors is undetermined in the light of the current international living kidney donors' assessment guidelines. Within the Canadian context, there is no standard of practice that unites different transplant centers regarding the indications of genetic assessment for LKDs. The group is reviewing the current international guidelines for LKDs genetic assessment and to investigate the Canadian transplant centers' practices.
This study aims to provide an overview of the current practices of the Canadian transplant centers regarding the genetic assessment of LKDs, hoping to guide future directions to promote their outcomes.
Stay tuned for the continuity of this interesting project!