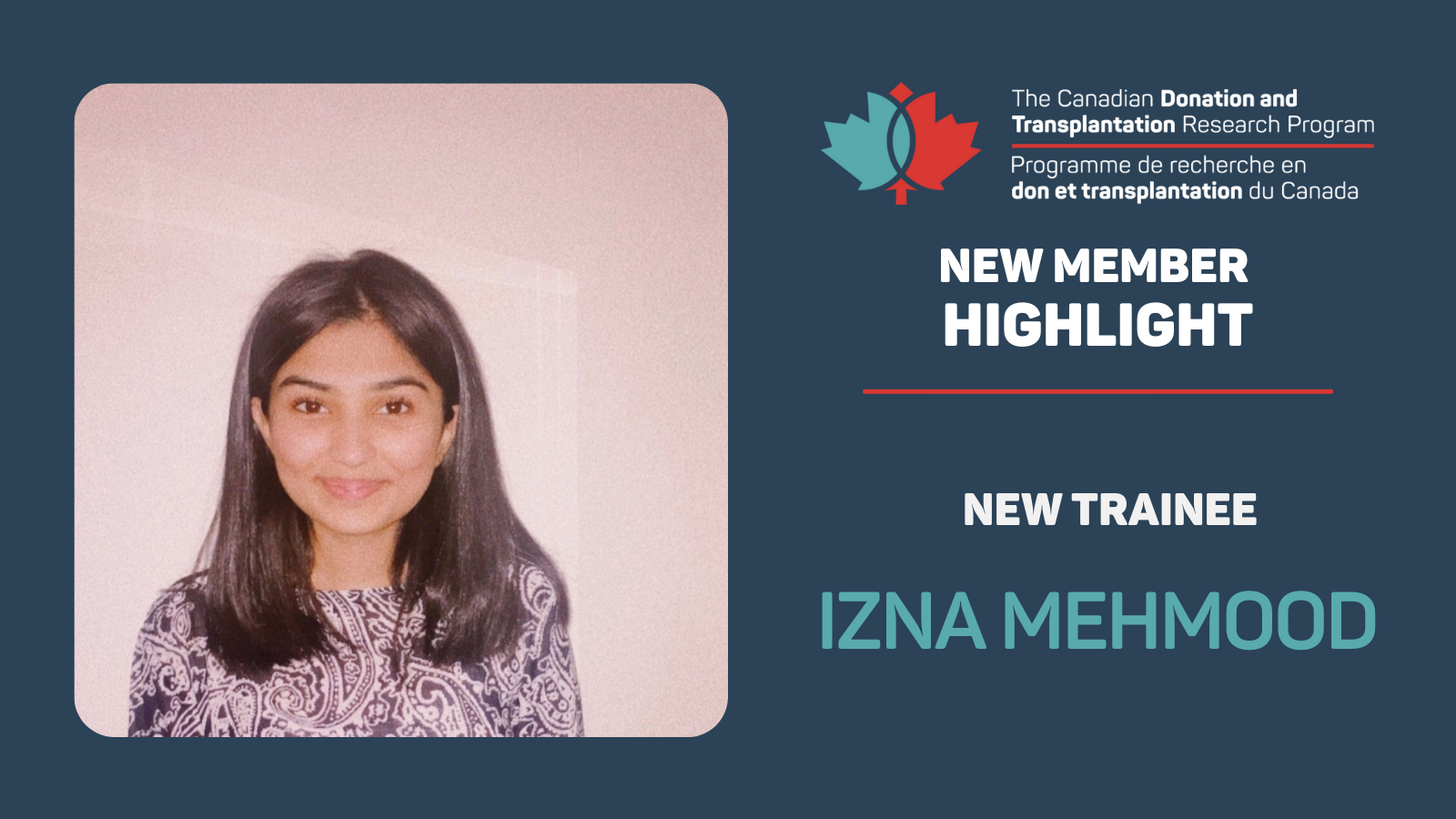 New Trainee Profile: Izna Mehmood – Building a Career in Organ Transplantation
We are happy to welcome to the Canadian Donation and Transplantation Research Program (CDTRP) new members of diverse areas to join our community of researchers, clinicians, patient/family/donor partners and trainees who are dedicated to improving the lives of organ donors and recipients. As a new member, people are an essential part of our mission to advance the science of donation and transplantation and develop innovative, evidence-based approaches to improve outcomes for patients in Canada and around the world.
We are thrilled to have Izna Mehmood joining CDTRP Education and Career Development Platform, as a new trainee. Izna has recently completed her postgraduate diploma in clinical research and now wishes to apply for her master's in medical sciences in the Toronto area. She is joining CDTRP because she hopes to broaden her knowledge of organ transplantation and help raise awareness for it. She also desires to become part of a team advocating for organ donation.
We have asked Izna a few questions that can be read below.
What are your fields of expertise and interests in research?
Neuroscience is the focal point of my academic pursuits, where I have diligently engaged in numerous courses to gain an extensive understanding of its intricacies. These courses have not only equipped me with a profound comprehension of the potential for physical and chemical changes within the nervous system but have also shed light on the remarkable adaptability of the brain. Within this realm, my research has predominantly revolved around the fascinating phenomenon of neuronal rewiring and the fortification of synaptic connections across various cortical regions of the brain. Additionally, I have delved deep into the realm of critical periods, temporal windows characterized by heightened levels of plasticity during which experiences profoundly shape the structural and functional aspects of the brain.

My exploration of neuroplasticity has unveiled an array of captivating mechanisms underlying this phenomenon. One notable aspect I have extensively investigated is the impact of phosphorylation signaling on sodium channel function, a pivotal determinant of ion permeability. Understanding the intricacies of this process has elucidated how such changes can have profound consequences on the overall functionality of neuronal networks. Moreover, I have delved into the intricate interplay between random mutations and epigenetic modifications, unraveling their potential to exert profound influences on sodium channel function and, consequently, the efficiency of saltatory conduction.

By delving deeper into these domains, I have broadened my comprehension of the intricate interplay between cellular processes and molecular mechanisms, further enriching my understanding of the dynamic nature of the nervous system. This multifaceted approach has empowered me to engage with neuroscience in a comprehensive and analytical manner, driving me towards unraveling the mysteries that underlie the complexities of the brain.
What new areas of interest would you like to develop or with which different disciplines or specialist(s) would you like to collaborate within the CDTRP?
Immunology represents a compelling avenue for my research pursuits, as I am deeply intrigued by the progression of autoimmune disorders and the intricate cellular and genetic mechanisms that underlie them. Through rigorous study, I have acquired substantial knowledge pertaining to both innate and adaptive immunity, as well as an in-depth understanding of the etiology of specific autoimmune conditions such as Multiple Sclerosis and Type 1 Diabetes. To augment my expertise in this field, I am eager to delve further into the realm of inflammatory cells, namely macrophages, dendritic cells, and neutrophils, elucidating their roles in orchestrating immune responses. Furthermore, my exploration of immunology courses has acquainted me with the intriguing phenomena of synaptic pruning and white matter degradation, which are inherently prevalent in Multiple Sclerosis. To deepen my understanding, I aspire to investigate the underlying cellular processes that drive these phenomena.

Additionally, I harbor a keen interest in the domain of physiology, with a specific focus on diseases pertaining to the circulatory and respiratory systems. I am driven to unravel the molecular and genetic underpinnings of conditions such as Asthma, Cystic Fibrosis, and Pneumonia. My comprehensive coursework in physiology has revealed the pivotal role played by alveolar type 2 surfactant cells in regulating these disorders, as well as the intricate involvement of chemosensors. Building upon this foundation, I am eager to expand my knowledge in these areas, which will further facilitate a comprehensive understanding of the complex mechanisms that contribute to the development and progression of these diseases.
Tell us a fun fact about yourself!
A fun fact about myself is that I have a diverse range of hobbies that bring me joy and help fuel my creativity. I am an avid reader and can easily get lost in the captivating worlds of literature. Additionally, I have a knack for drawing and enjoy expressing my artistic side through various mediums. Long walks in nature are also a cherished activity of mine, allowing me to find solace, gain inspiration, and appreciate the beauty of the world around me.

Furthermore, I must confess that I am a self-proclaimed coffee addict. The aroma and taste of a perfectly brewed cup of coffee bring me immense pleasure and provide that extra burst of energy to kick-start my day. It has become a delightful ritual for me, and I take great pleasure in exploring different coffee flavors and brewing methods to create the perfect cup.

These hobbies and interests not only bring me personal fulfillment but also enhance my creativity, attention to detail, and ability to find inspiration in the world around me.
About the Education and Career Development Platform
The Education and Career Development Platform provides continuing education opportunities, training, and resources to meet the diverse education and career development needs of our trainee community. The Platform focuses on providing trainees with a broad overview of knowledge and issues related to the practice of donating and transplantation, while providing them with tools on how to be better communicators, managers, scholars, and professionals. Trainees are provided with the opportunity to join national and international CDTRP initiatives, network with each other and experts in numerous disciplines, and present their work to a national audience.