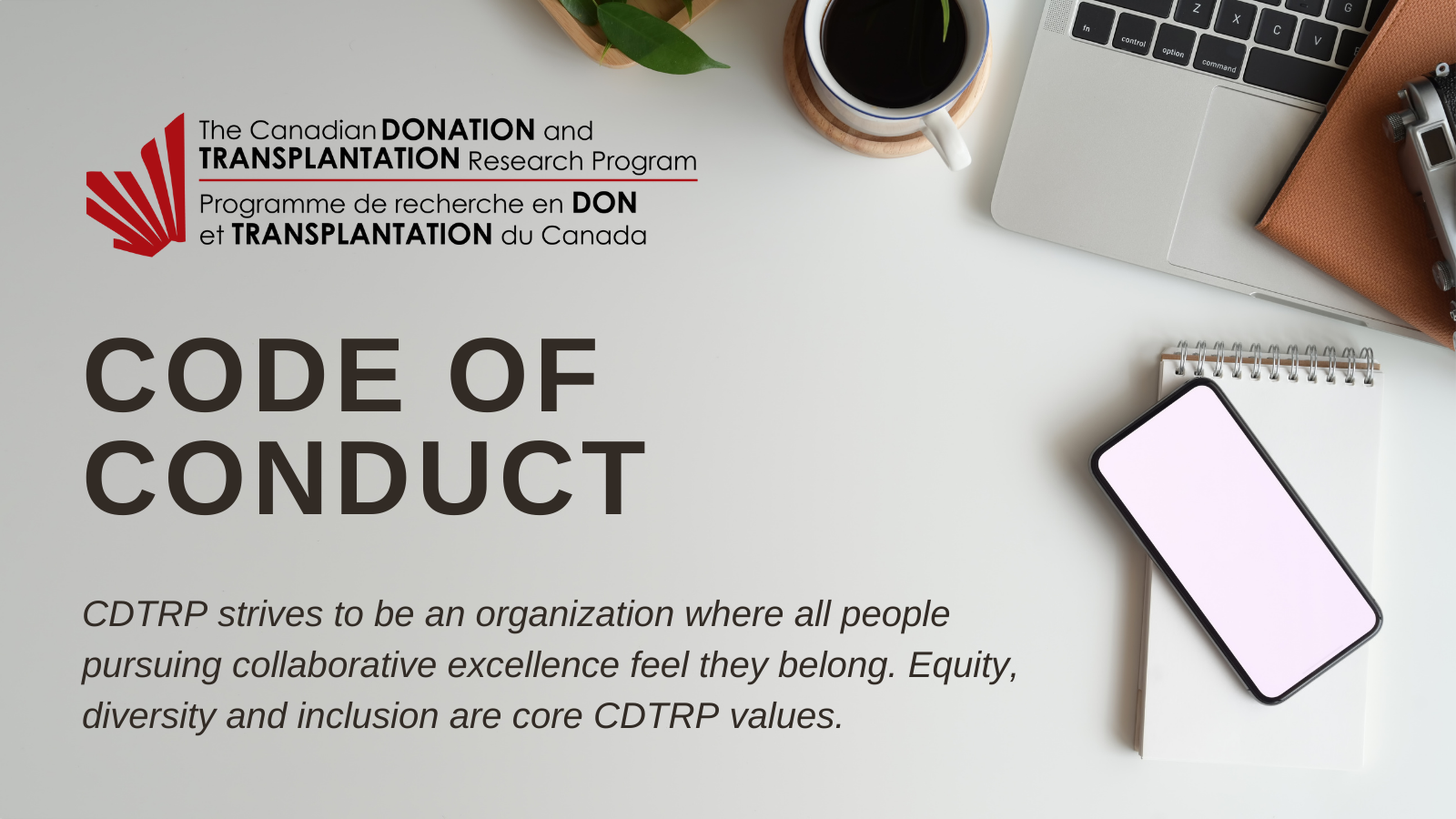 CDTRP Code of Conduct
CDTRP strives to be an organization where all people pursuing collaborative excellence feel they belong. Equity, diversity and inclusion are core CDTRP values. We are very proud to have gender balanced senior leadership, and in fact, our leadership has been gender balanced since our inception. Our Executive Committee is also similar to the Canadian population demographics in terms of proportions of racialized groups and people who identify as Indigenous. We are considering how best to assess how diverse and inclusive we are for other protected groups, such as people with disabilities, and minority gender identities and sexual orientations.
"We know that there is much work to be done to make research a fully inclusive space. As part of our ongoing efforts to create a safe working environment for everyone, we have established a general CDTRP Code of Conduct, built on policies we developed in 2020 and 2021 for our virtual events."
The Code of Conduct is below, which we invite all CDTRP members to review. If at any point a member experiences behaviour that is not in line with the code, please contact any CDTRP staff member or send a message to info@cdtrp.ca. We thank all of our members for valuing all voices as we pursue the One Transplant for Life mission together.
– Patricia Gongal
CDTRP Executive Director
The CDTRP Code of Conduct
The CDTRP is committed to providing a professional, friendly, safe, and inclusive environment for its members regardless of gender, sexual orientation, disability, race, or any other characteristic of a person's identity. The CDTRP is committed to providing a collaborative and learning environment that allows full participation from all members.
All CDTRP members will act with personal and professional integrity to ensure positive interactions and successful collaboration. At all times, members will treat others with respect and dignity. Discrimination, harassment, and other unacceptable behaviour will not be tolerated.
All members, including investigators, trainees, and patient, family, and donor partners, are responsible for adhering to this policy during CDTRP meetings, events, and public discourse (including social media platforms).
Example of unacceptable behaviour includes, but is not limited to:
Intimidating, harassing, abusive, discriminatory, or demeaning speech or actions.
Inappropriate verbal or written comments or images
Racial, ethnic, gender or religious slurs and/or jokes
Inappropriate use of nudity and/or sexual images
Inappropriate disruption of presentations either verbally or in the chatbox
Consequences of unacceptable behaviour include, but are not limited to:
Immediate removal from meeting or event without warning
Restrictions from attending and participating at future CDTRP meetings and events
Termination of CDTRP membership
Should a member express views that may be harmful to the CDTRP network, other members, and do not reflect the values outlined in our code of conduct, CDTRP will discuss the matter with the individual and determine what, if any consequences, will be issued.