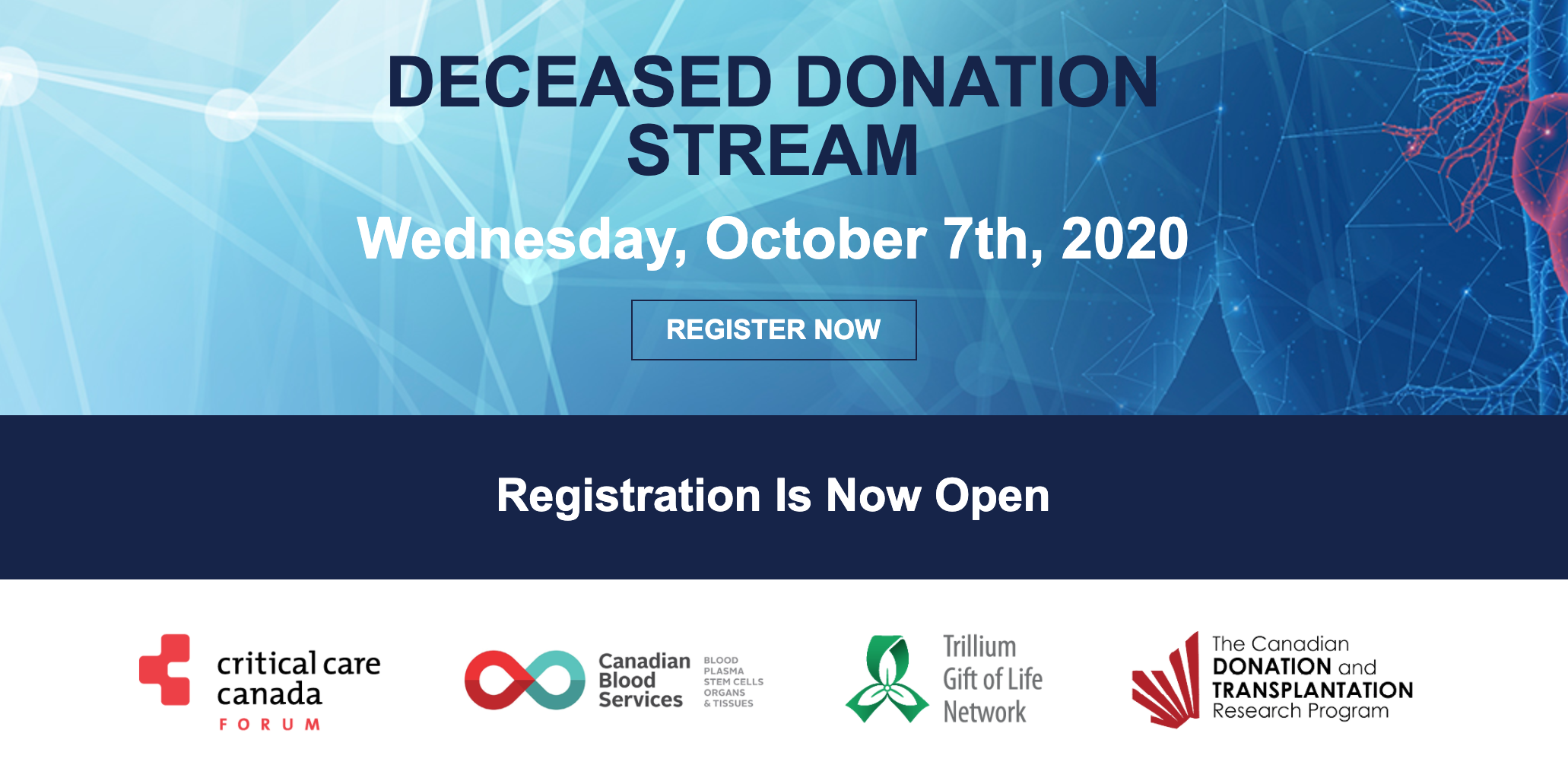 CCCF Deceased Donation Symposium
Join us virtually for the for the Deceased Donation Stream on Wednesday October 7, 2020, jointly organized by the Canadian Blood Services, Trillium Gift of Life Network, and the Canadian Donation and Transplantation Research Program. The Deceased Donation Stream promotes scientific research in organ donation and transplantation and its application to critical care practice.
The program contains:
An international session discussing Covid-positive donation and transplantation
Concurrent rounds on pediatric cases and the future care of organ donors
A plenary session contrasting DCD and non-Donors in adult end-of-life care
Groundbreaking work on the use of machine learning to optimize organ donation
A case presentation and discussion around challenges in deceased donation
View the full program below and access the DDS page here.
The Deceased Donation Stream is part of the larger virtual Critical Care Canada Forum, being held October 4-7, 2020. We encourage you to visit the CCCF website for more information about the entire event. 
Reaching the world! 
All scientific tracks and plenary sessions will be available in English, 普通话, Español and Français. 
Your time zone is not an issue! 
If LIVE participation is difficult because of your time zone… no problem! All sessions will be recorded for later viewing during and after the conference. 
EXPERIENCE: 
The top speakers in the world

 

The best science in critical care

 

A new and impactful way to get connected

 

The newest critical care data in sepsis, ARDS, AKI, brain injury, coagulation, inflammation, organ donation, ethics, inter-professional teamwork, and of course, COVID-19