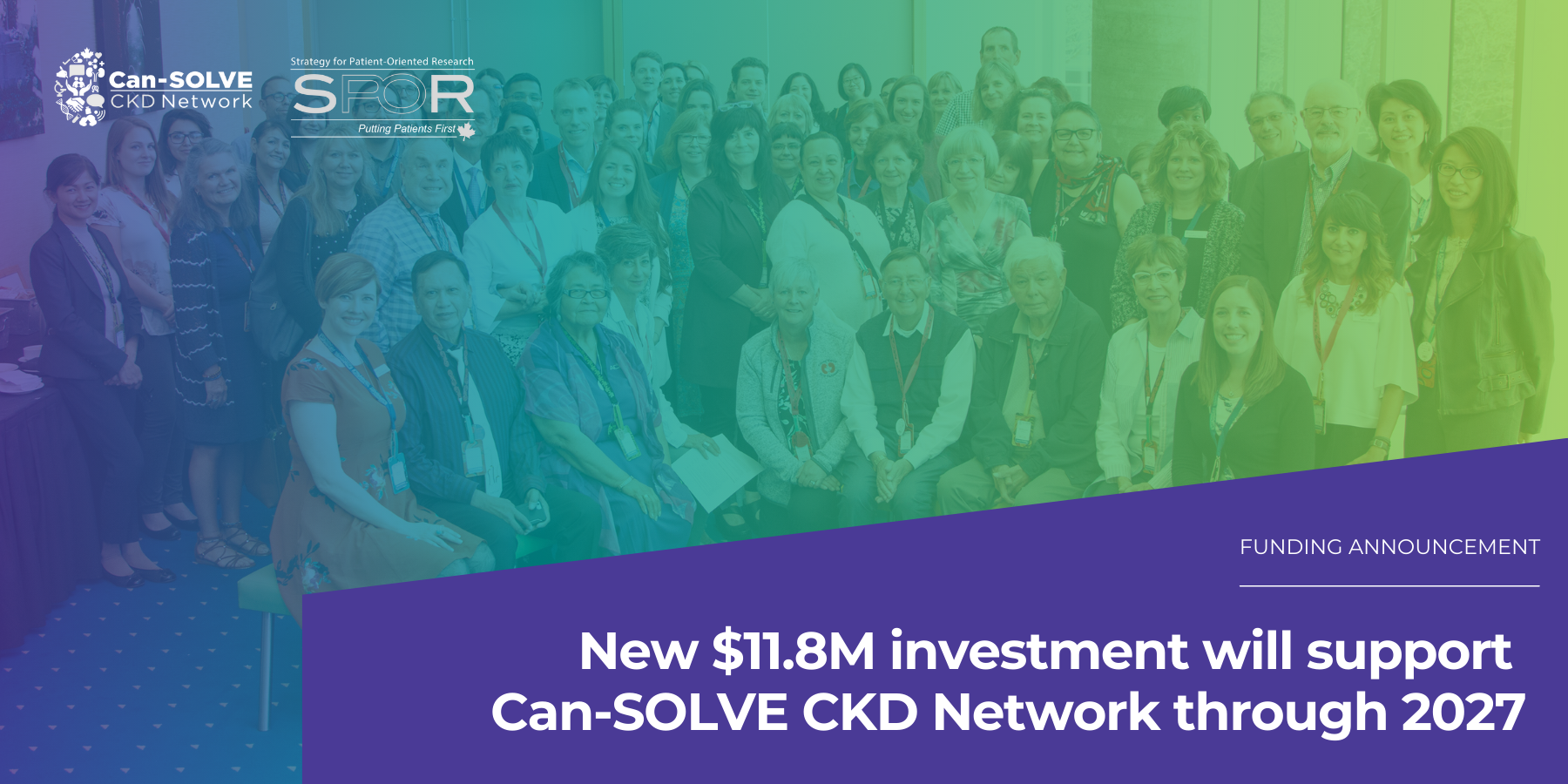 New funding boosts patient-oriented kidney research in Canada
Since 2016, the Can-SOLVE CKD Network has advanced innovative kidney care solutions to help the millions of Canadians affected by chronic kidney disease.
A new investment announced last week by the Canadian Institutes of Health Research (CIHR) supports the continuation of this transformative work through 2027. Can-SOLVE CKD will receive $3.75 million in new funding from CIHR matched by more than $8 million raised through the generous support of more than 60 partners. This funding, more than $11.8 million in total, enables the network to mobilize innovations in diagnosis, treatment, and care that will enhance kidney health.
"This is a significant boost for Canadian kidney research that builds upon the successes of Can-SOLVE CKD's first phase," said Dr. Adeera Levin, Co-Principal Investigator of the Can-SOLVE CKD Network. "We are striving to change the culture of research, create new knowledge about kidney health, and enhance Canada's kidney research landscape. Now, as we look towards Phase 2, this investment by CIHR and our partners will take our work to the next level and effect real changes in how Canadians with kidney disease are treated and cared for."
"Can-SOLVE CKD represents a new way of doing research – one that puts patients at the centre and is shaped by our needs and priorities. Reflecting on Phase 1, we have much to be proud of. We built a robust model for involving patients in research that endured even in the face of unprecedented challenges. As a testament to this success, more than 75 patients have taken part in innovative studies as true partners. As we look to Phase 2, we are excited to expand our network of patients across the country and see the fruits of our research projects deliver even better kidney care to Canadians. We also look forward to leading the way to a more inclusive research system that celebrates diversity and practices cultural competency. We are thrilled that CIHR and our partners recognize the potential in our vision and have made a strong commitment to continuing this important work." 
Congratulations to the Can-SOLVE CKD Network!