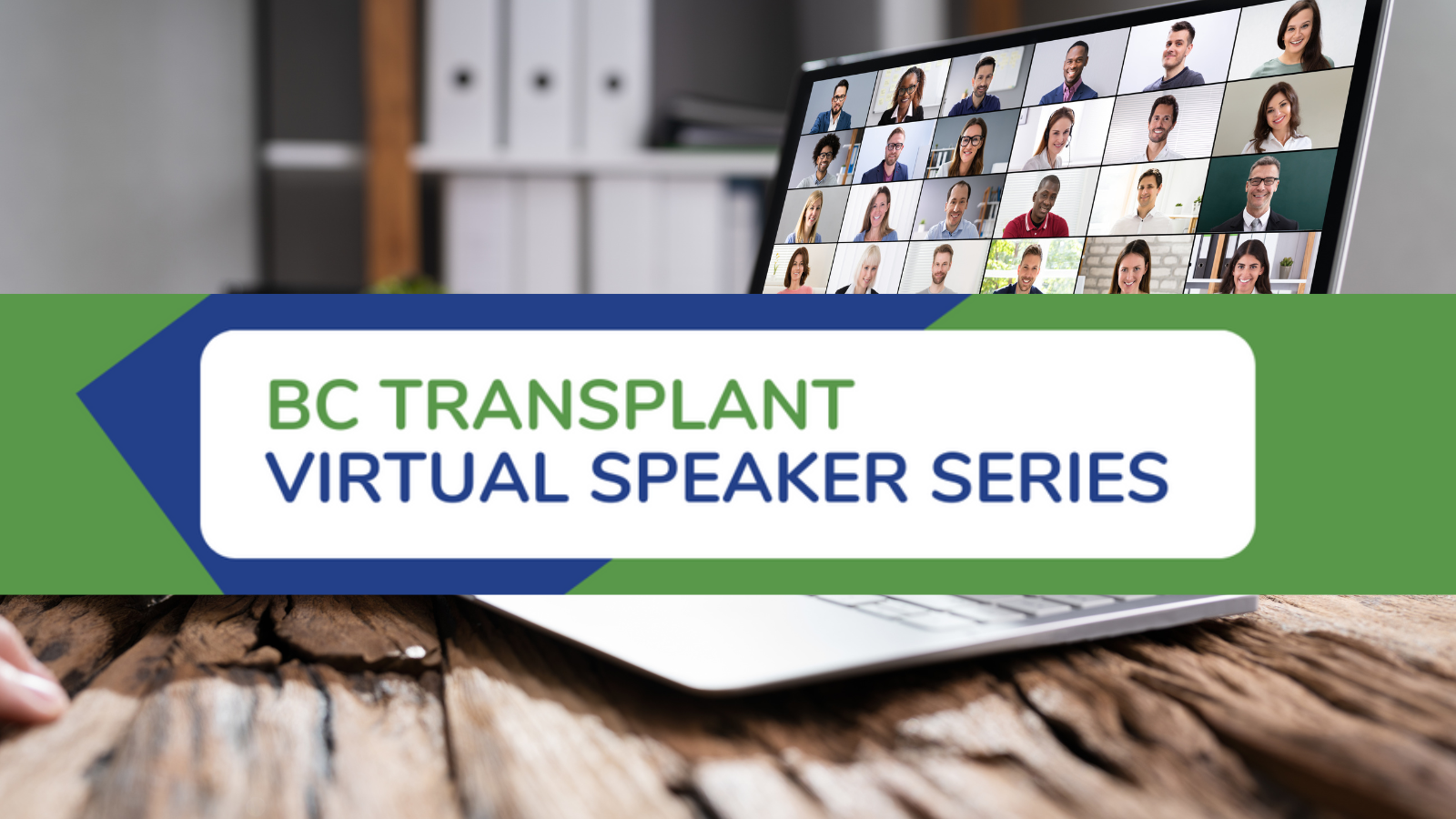 BC Transplant Speaker Series: Fall 2022
Join BC Transplant for their fall Speaker Series!
In fall 2022, BC Transplant is planning a speaker series consisting of virtual and interactive sessions dedicated to topics of interest. Register online now for the sessions that will be hosted on October 20, November 3, and November 17, 1-2pm PT.
Speakers
Kristi Coldwell, Carrie Thibodeau & Lydia Lauder
Description
The organ donation and transplantation (ODT) system in Canada is made up of a complex network of organizations and health authorities. This can create challenges and barriers for people on a transplant journey as they attempt to navigate the system and advocate for themselves.
The Improving Engagement and Empowering Patients on Their Transplant Journey project was a two-year initiative with the goal of developing patient-led and patient-focused recommendations for improving the ODT system.
This presentation will focus on what we learned from over 900 patients and families with lived experience and how the ODT system in Canada can better respond to their needs.
Speakers
Caren Rose & Max Xie
Description
In the last decade, rates of deceased donation have increased in British Columbia; in part related to an increase in donation from individuals dying of drug toxicity poisoning (DTP). DTP is an on-going public health crisis that has resulted in more than 10,000 deaths in British Columbians between 2011-2021. Researchers analyzed the characteristics of DTP donors and transplant recipients over time, and examined transplant recipient survival after transplant from DTP donors compared with survival after transplant from non-DTP donors. During this session, researchers will present their project and share the results of this analysis.
Speakers
Jagbir Gill & Reetinder Kaur
Description
Longstanding inequities in access to living donor kidney transplantation (LDKT) have been reported for the Indigenous and racialized communities in Canada. The BRIDGE to Transplant Initiative and the ACTION (Improving Access to Living Donor Kidney Transplantation in Communities Marginalized by Race and Ethnicity in Canada) project focus on addressing barriers to LDKT for Indigenous and South Asian communities in BC. In this presentation, we will review the role of digital storytelling in education around LDKT and discuss the key role of community and patient partners in the development of these interventions in BC.