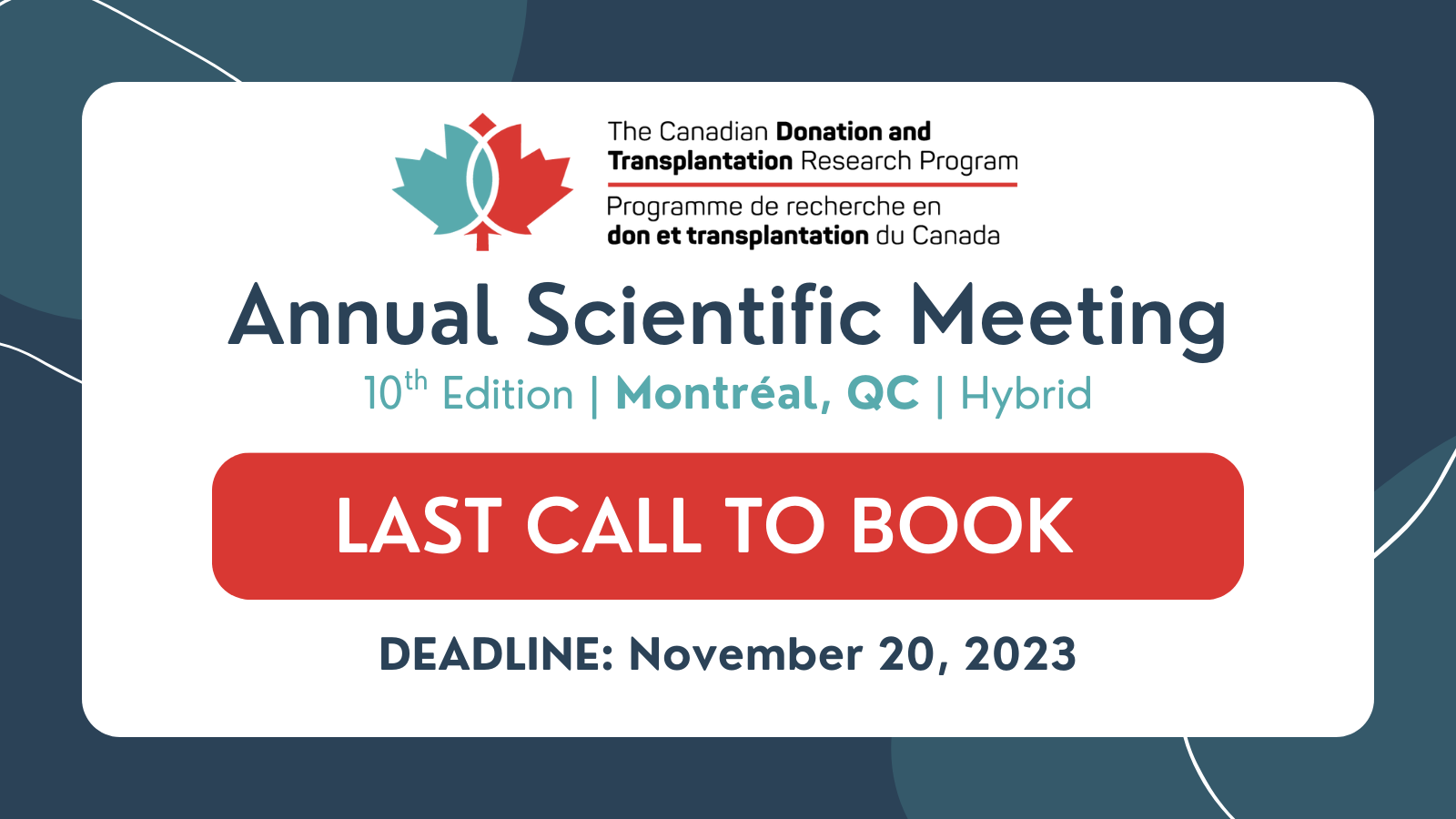 LAST CALL to secure your place at the CDTRP 10th Annual Scientific Meeting!
The clock is ticking for those who wish to attend the CDTRP 10th Annual Scientific Meeting in Montréal. With the last call to register in-person, participants are asked to secure their place and take advantage of the discounted rate by booking their accommodation before November 20, 2023. Don't miss out on this opportunity to engage with researchers, trainees, allied health professionals and patient, family and donor partners and contribute to research in the field of donation and transplantation. This is also your chance to celebrate with us the 10th Anniversary of the network!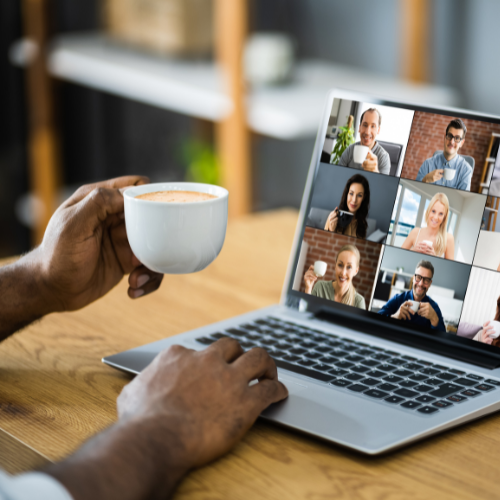 VIRTUAL ATTENDANCE
You cannot join us in Montréal? No worries, we have a virtual option for you to make sure you do not miss any of the sessions. Follow the link below to register!
We also invite you to join us for a virtual networking activity right before our Annual Scientific Meeting on Tuesday, December 5 at 11:00 am EST.
Unlock your inner riddle master and immerse yourself in an event of captivating enigmas, collaborative puzzle-solving, and forging connections at our Social Brain Twister event – a dynamic fusion that promises to challenge your intellect while igniting new friendships. At this event, you will team up with fellow participants in interactive breakout rooms and collectively unravel puzzles that will not only tantalize your mind but also create lasting bonds beyond the event!
CDTRP 10TH ANNIVERSARY CELEBRATION BANQUET & NETWORKING – in-person only
Join us to celebrate a decade of success and achievements in donation and transplantation research at CDTRP's 10th Anniversary Celebration Banquet. Our gourmet dinner will be accompanied by inspirational presentations from two incredible individuals – Simon Keith (CM), the first athlete in the world to play professional sports after undergoing a heart transplant, and Mai Duong a leukemia survivor and co-founder of Swab the World.
Sip on your favorite drinks from our cash bar while mingling with fellow attendees, including researchers, clinicians, patients, and policy-makers in the field of donation and transplantation research. Don't miss this unforgettable evening to commemorate our achievements and renew our commitment to improving transplant outcomes across Canada. Reserve your seat today, and don't forget your dancing shoes!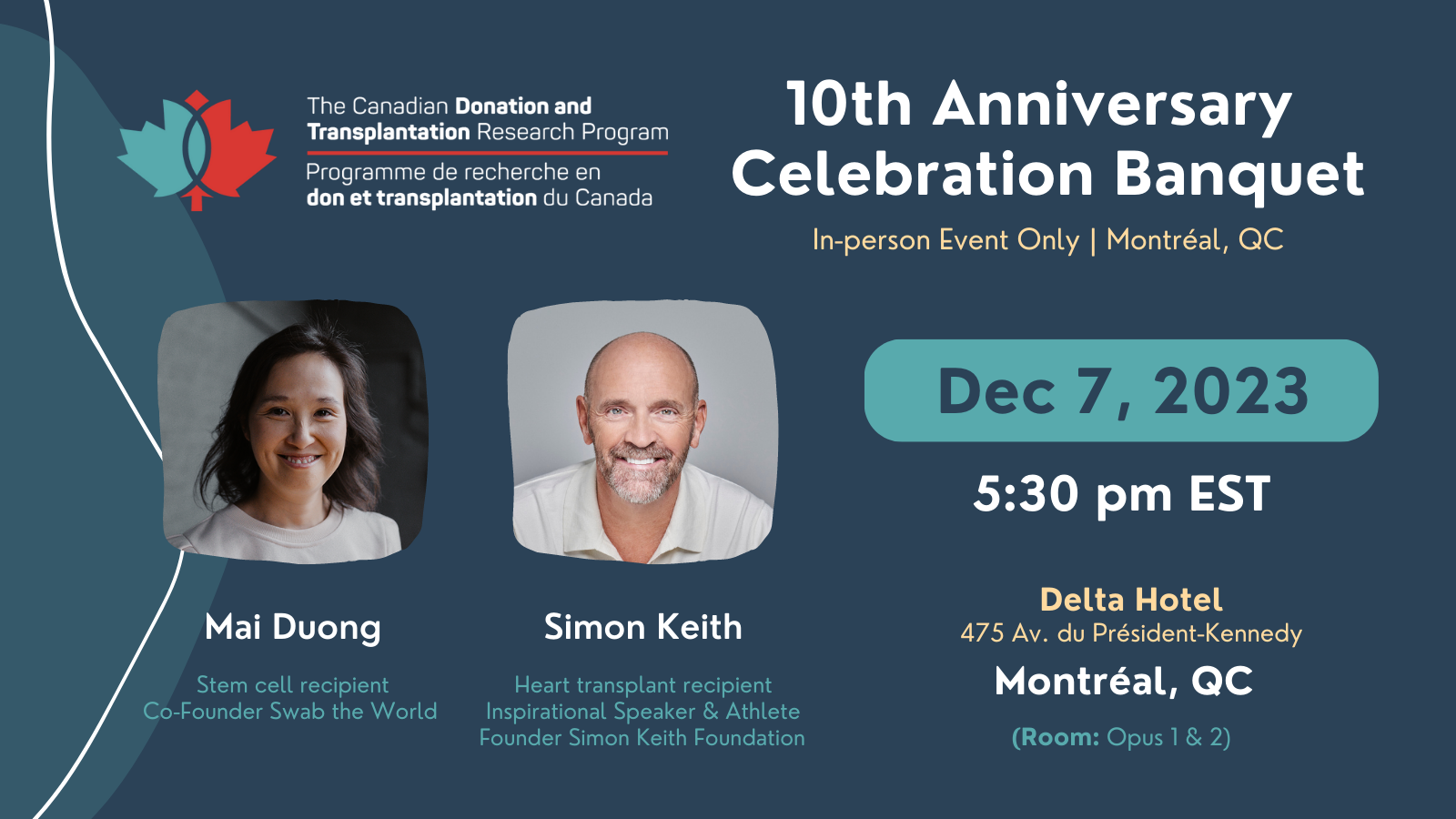 We wish to thank the Accelerating Clinical Trials Consortium, Alberta Transplant Institute, Astellas Pharma Canada, Inc., AstraZeneca, Canadian Blood Services, Paladin Labs Inc., Takeda and the UHN Ajmera Transplant Centre for sponsoring this event!