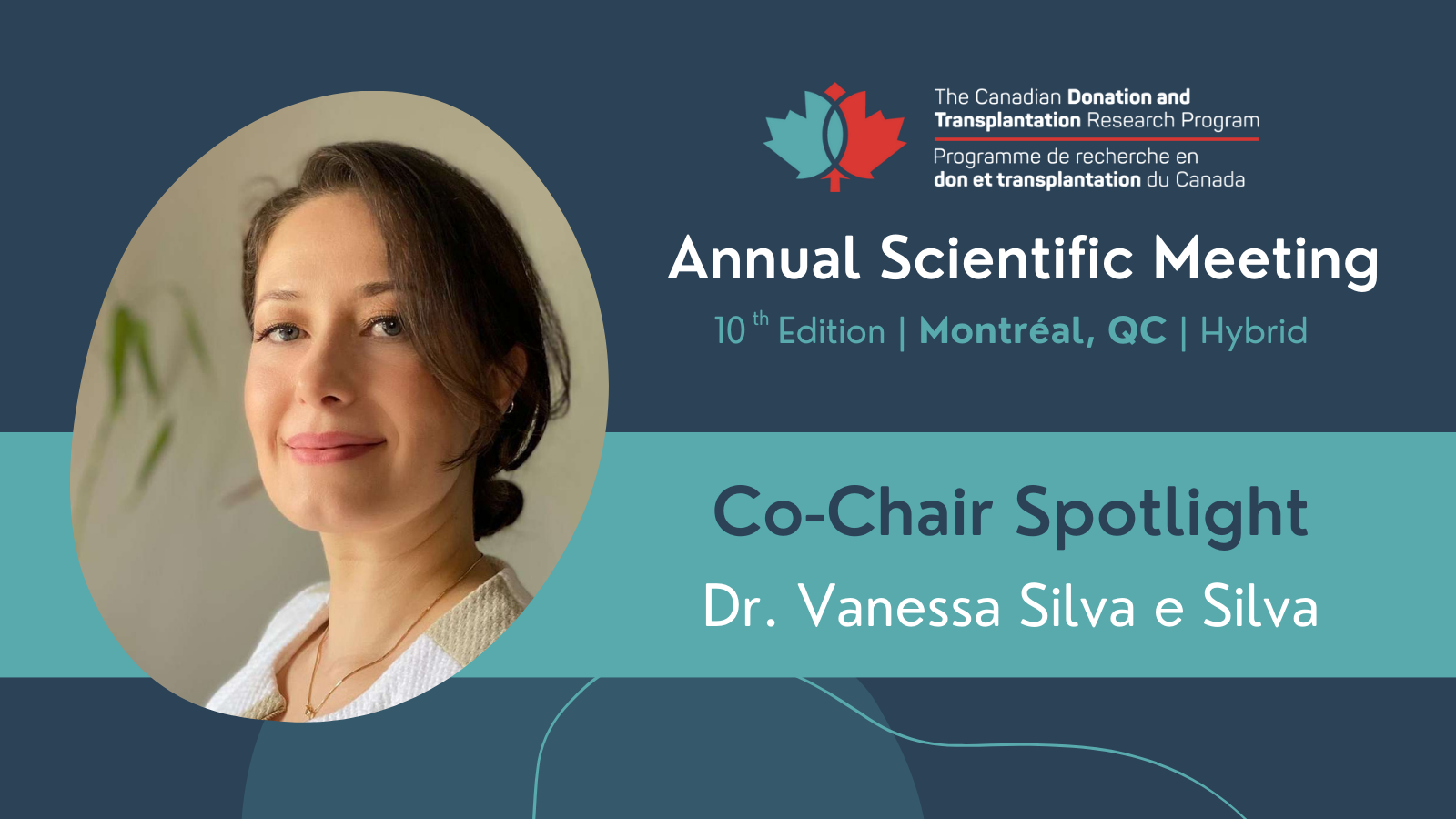 CDTRP 10th Annual Scientific Meeting – Co-Chair Spotlight: Dr. Vanessa Silva e Silva
As the Canadian Donation and Transplantation Research Program (CDTRP) gears up for its 10th Annual Scientific Meeting, we're shining a spotlight on one of its co-chairs – Dr. Vanessa Silva e Silva. With over a decade of experience in Organ Donation and Transplantation, Dr. Silva e Silva is a PHD-nurse and a former Organ Donation Coordinator turned Assistant Professor at Brock University. Her commitment to both research and active involvement in these critical areas make her an invaluable asset to the CDTRP. Join us in getting to know Dr. Silva e Silva and learn more about what she's looking forward to as co-chair of this year's highly-anticipated scientific meeting!
Tell us about yourself and your research.
I am an Assistant Professor in the Department of Nursing at Brock University and a former organ donation coordinator. My current research program is focused on improving the quality of organ donation programs and structures worldwide. My main research project is called BRIC and is focused on understanding and improving work-life experience of organ donation coordinator nurses, more specifically burnout and compassion fatigue and to find solutions to those issues.
What do you appreciate the most about CDTRP?
The fact that despite being one of largest networks in organ donation and transplantation in Canada it feels like a close family and we collaborate to foster each other's growth.
What do you hope to achieve as Co-Chair of the CDTRP Annual Scientific Meeting?
I hope that we are able to build an ASM program that is inclusive and highlights with the same importance all the different types  and methods of research from the different areas, basic science, bioengineering, qualitative research, allied health etc.
Tell us a fun fact about yourself!
Even though I may not look like it, I do crossfit every morning and I can do some heavy weightlifting!
Mark your calendars!
Our highly anticipated Annual Scientific Meeting (ASM) is coming soon, and we hope to see you there. The event will be in a hybrid format, with the in-person component in Montréal, QC, on December 5-7, 2023. 
The ASM aims to promote interdisciplinary collaboration among CDTRP members, including investigators, trainees, and patient, family, and donor partners in all areas of donation and transplantation research. The rich and varied program will feature presentations, panel discussions, interactive workshops, and networking sessions. It will also provide a venue for national research teams and working groups to collaborate and advance project planning, fostering collaboration and innovation.
Take advantage of this unique opportunity to connect with colleagues, build collaborations, learn about the latest research, and gain inspiration for your work.
Registration will open at the beginning of August!