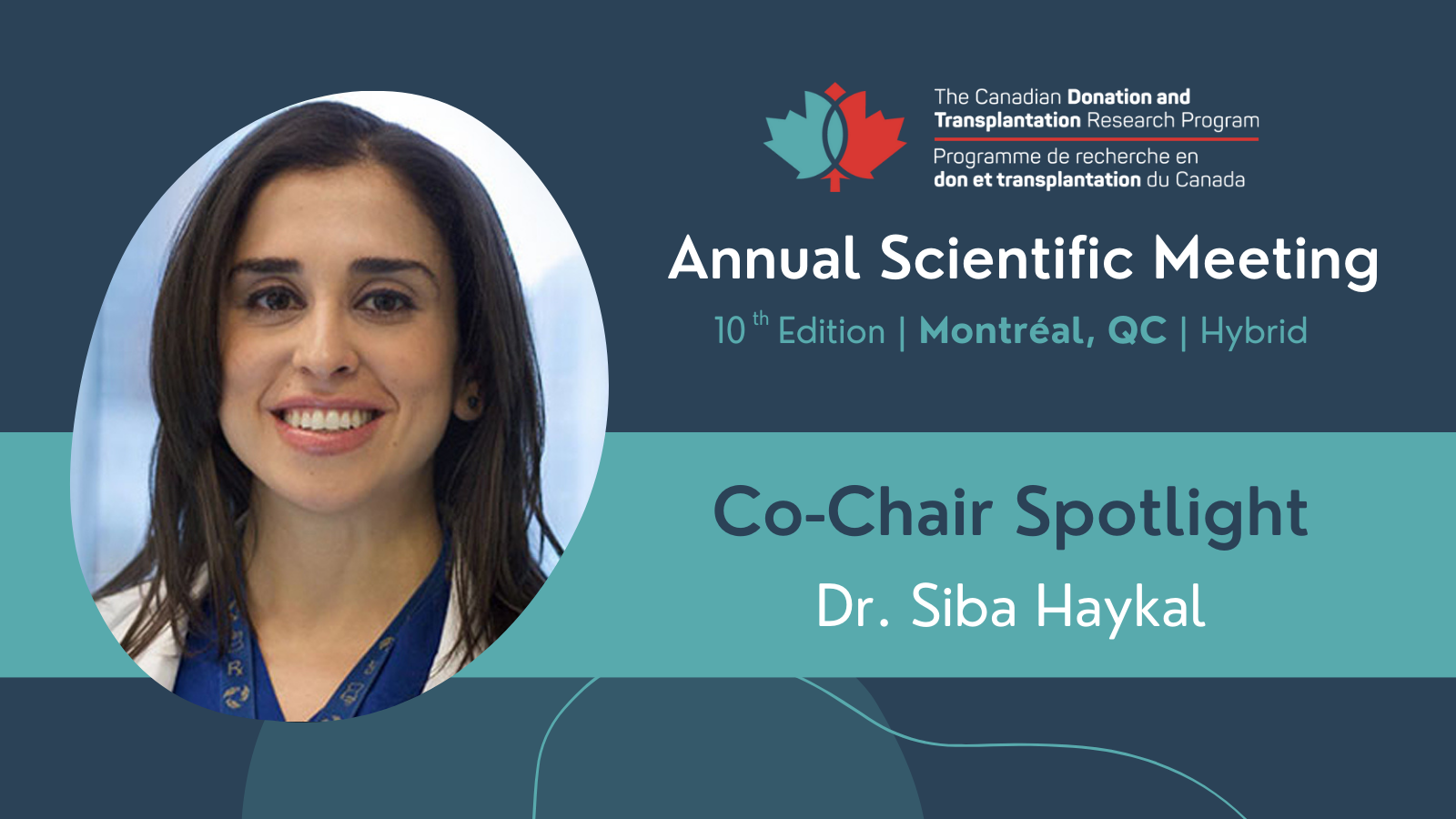 CDTRP 10th Annual Scientific Meeting – Co-Chair Spotlight: Dr. Siba Haykal
As the CDTRP 10th Annual Scientific Meeting approaches, we are thrilled to introduce one of our Co-Chairs – Dr. Siba Haykal. Dr. Haykal is an Assistant Professor at the University of Toronto and a plastic and reconstructive surgeon who also serves as a surgeon-scientist at the University Health Network. Co-chairing the Annual Scientific Meeting is an exceptional opportunity for her to engage with a diverse range of individuals and build collaborative relationships within the transplant community. Her responsibilities include identifying critical topics and speakers, creating captivating sessions, and ensuring the event runs smoothly, with the help of the planning committee. Recently, we had the chance to speak with her about her role as co-chair and her passion for research.
Tell us about yourself and your research.
I am a plastic and reconstructive surgeon, a surgeon-scientist at the University Health Network and an Assistant professor at the University of Toronto. My research focuses on themes related to vascularized composite allotransplantation including strategies to decrease immunosuppression and mitigate ischemia reperfusion injury. Specifically, we are looking at establishing tissue-engineered scaffolds with pluripotent stem cells.
What do you appreciate the most about CDTRP?
The diversity within the CDTRP has been great. Its members come from different backgrounds which makes the group very interesting. I have been able to meet people from across the country. It is a great way to network and to forge relationships ad collaborations.
What do you hope to achieve as Co-Chair of the CDTRP Annual Scientific Meeting?
I hope that we will create an exceptional program which will allow multiple different groups to come together, to exchange ideas and to create networks. The ASM will be a good opportunity for the theme leads to collaborate amongst each other and to set up strategic goals for the CDTRP moving forward.
Tell us a fun fact about yourself!
I've been a fitness addict my whole life and hope it rubs off on my two kids (aged 4 and 1)!
Mark your calendars!
Our highly anticipated Annual Scientific Meeting (ASM) is coming soon, and we hope to see you there. The event will be in a hybrid format, with the in-person component in Montréal, QC, on December 5-7, 2023. 
The ASM aims to promote interdisciplinary collaboration among CDTRP members, including investigators, trainees, and patient, family, and donor partners in all areas of donation and transplantation research. The rich and varied program will feature presentations, panel discussions, interactive workshops, and networking sessions. It will also provide a venue for national research teams and working groups to collaborate and advance project planning, fostering collaboration and innovation.
Take advantage of this unique opportunity to connect with colleagues, build collaborations, learn about the latest research, and gain inspiration for your work.
Registration will open at the beginning of August!