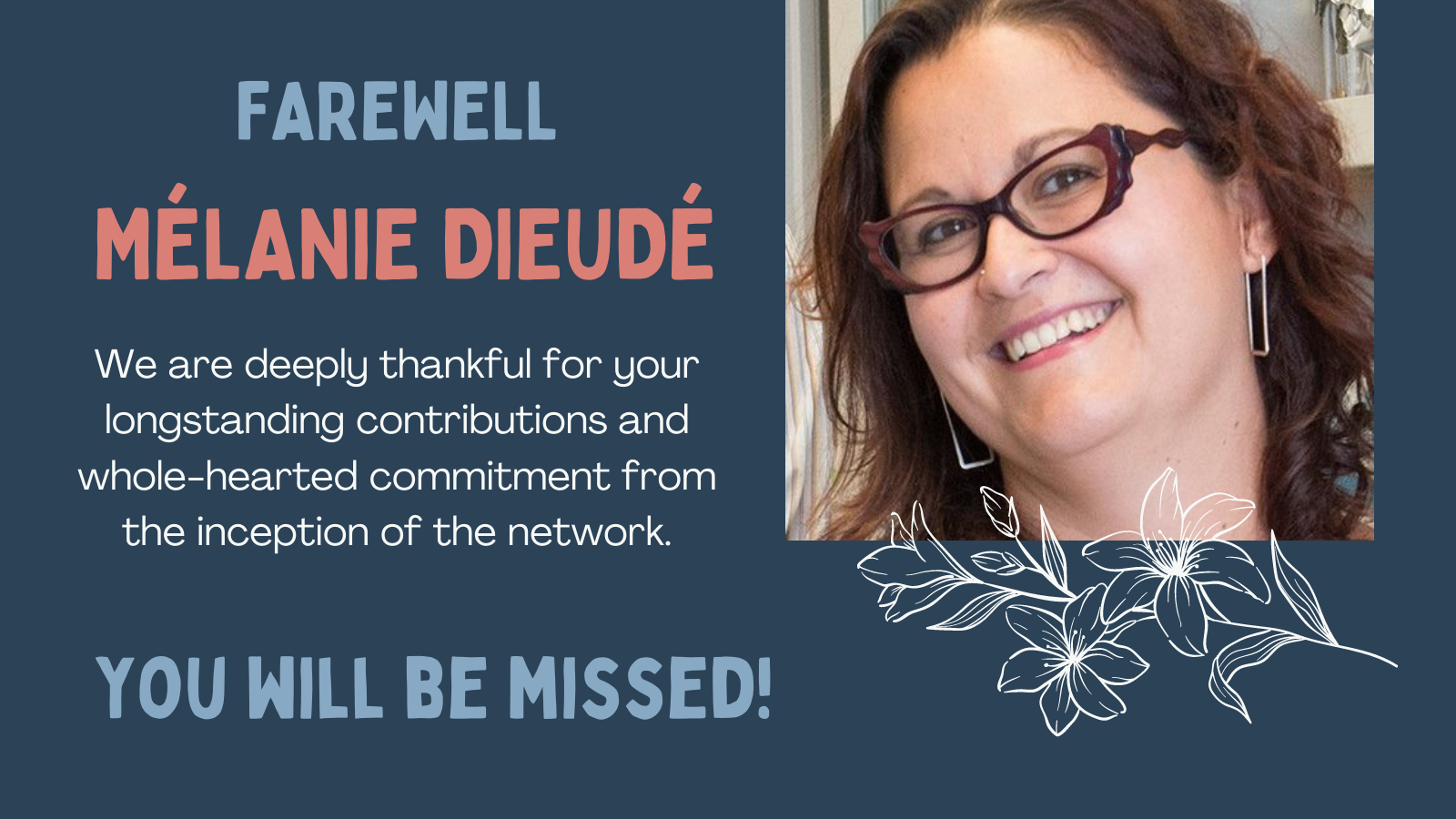 Announcement: Farewell Mel
We are sharing the news that Mélanie Dieudé will take on the role of Director of Research Operations at Héma-Québec starting at the beginning of January. We are delighted for Mel and this step forward in her career, which will allow her to build on the research leadership she has demonstrated during her tenure as CDTRP Executive Director. While we will miss her skills and talents as part of the CDTRP team, we look forward to working with her in her new role, as a partner and as an active researcher and CDTRP member of Theme 4.
As you all know, Mel has been CDTRP Executive Director since January 2020 and has been instrumental to the evolution of our unique research network into the organization it is today. We are deeply thankful for her longstanding contributions and whole-hearted commitment from the inception of the network. Her talents in bringing people together at every level, bridging gaps, and mobilizing the energy and voices of our network has allowed CDTRP to accomplish much in the last two years, and will continue to serve the community well in her next endeavours.
Mel, we wish you the greatest of success in your new role and thank you for all that you have done to improve the quality and impact of donation and transplantation research in Canada and internationally.
Mel will continue in her role with the CDTRP until the end of December as we focus on transition. We are pleased to announce that Patricia Gongal, currently CDTRP Director of Strategic Communications, will take on the role of Interim Executive Director. As you may know, Patricia completed a PhD and postdoctoral work in developmental neurobiology. Based in Edmonton, she has worked for nearly a decade in research development roles in Canada, France and the UK, supporting research teams through strategy development, coordination, funding capture, and partnerships.
We encourage everyone to join us in congratulating Mel and warmly welcoming Patricia in their new roles.
'C'est n'est qu'un au revoir'

"It has been a true privilege to work with the CDTRP community since 2013. I am deeply grateful for all the opportunities I was given to develop strong professional and personal relationships with amazing and passionate scientists, clinicians, health care workers, partners and of course inspiring patient donor and family partners. This fantastic journey has confirmed my strong dedication to collaborative research, and I am sure this will shape and influence my future endeavors. 'C'est n'est qu'un au revoir' as I will stay as a researcher and a proud CDTRP contributor. I am thankful to CDTRP Leadership for their trust and support and to my amazingly talented Management team, you are simply the best! CDTRP is in great hands to accomplish so much more in the future, and I look forward to seeing CDTRP successes into the years to come."
– Mélanie Dieudé
"It has been a privilege to work with Mel and see the evolution and maturation of the CDTRP as an organization under her leadership. She leaves very big shoes to fill! I'm excited to step into this new role and support the excellent work that the CDTRP research community is doing to further the One Transplant for Life mission."
– Patricia Gongal