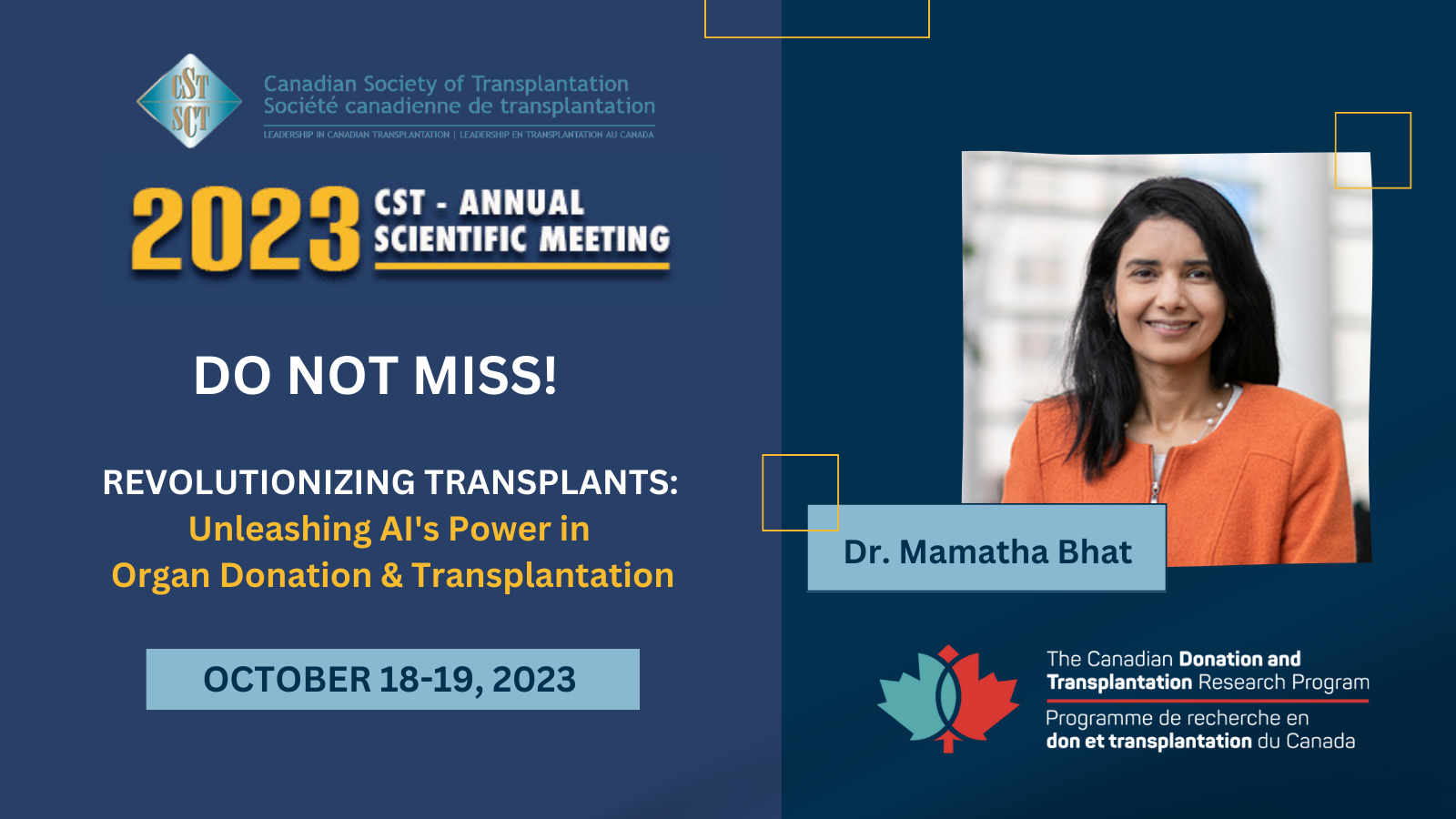 Revolutionizing Transplants: Unleashing AI's Power in Organ Donation & Transplantation – Join Dr. Mamatha Bhat & the Canadian Donation and Transplantation Research Program at the Canadian Society of Transplantation 2023 Meeting!
Do not miss the opportunity to attend Dr. Mamatha Bhat's insightful presentation titled "AI: Could It Make Transplant Prioritization and Allocation More Equitable?". Details for this presentation are as follows:
Session: Optimizing Organ Allocation and Utilization

Date: Wednesday, October 18

Time: 9:00 – 10:15 am CST

Location: West/Midway Ballroom (Available to Live Stream)
Supplementary Activity following Dr. Mamatha Bhat's presentation
Exciting developments are happening in organ donation and transplantation, with growing interest in the potential of artificial intelligence (AI) tools. Our objective is to create and distribute a survey targeted at physicians involved in organ donation and transplantation to gather insights on AI applications in the field. Our overarching goal is to establish a national position paper on the role of AI in donation and transplantation, endorsed by key national societies and stakeholder groups. This supplementary activity at the Canadian Society of Transplantation Annual Meeting will catalyze engaging participants in further online discussions to work towards developing a transplant AI task force.
Key Objectives of the Supplementary Activity:
Identify enthusiastic collaborators.
Review the draft survey and seek valuable feedback on its design and implementation.
Explore different methods for the creation of a national consensus and position paper.
Date: Thursday, October 19

Location: York Room (In-person participation only)
To confirm your participation in this activity or to express interest in engaging in subsequent online discussions if you cannot attend in person, please RSVP with the link below. Your input and involvement are highly valued.